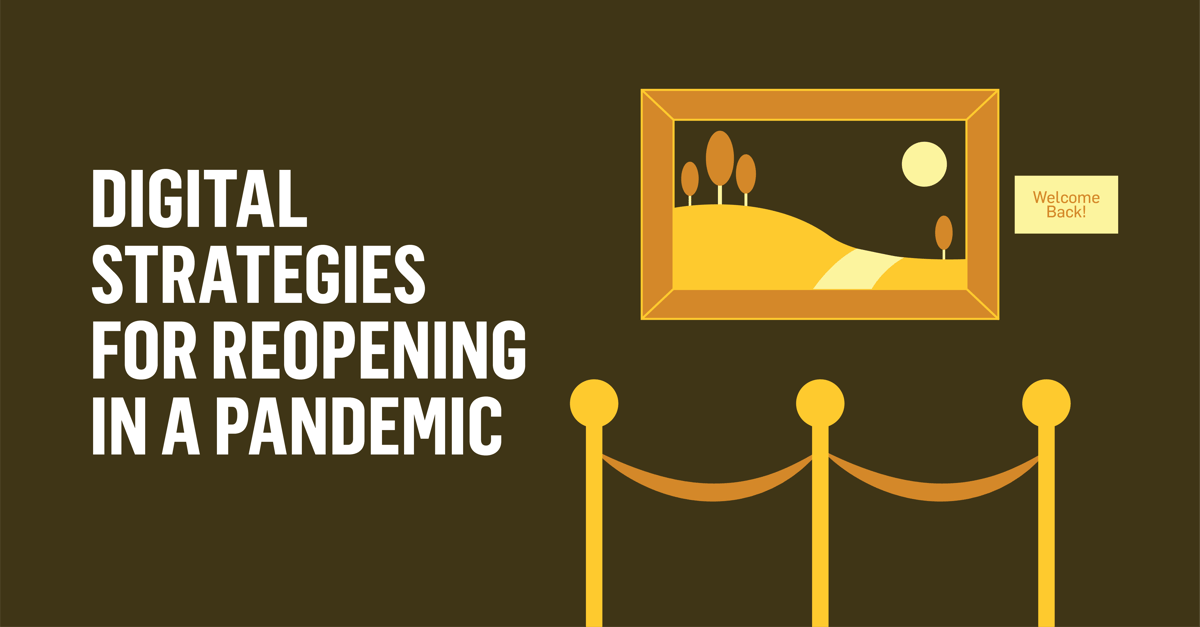 In many ways, The Isabella Stewart Gardner Museum, Sterling and Francine Clark Art Institute, and The Institute of Contemporary Art/Boston could not be more different. One is a historic building with a private permanent collection of European, Asian, and American art with an idyllic courtyard. One is an art museum and research institution featuring Degas, Homer, and other greats, sitting on top of 140 acres in the Berkshires. One is Boston's waterfront museum, which hosts leading contemporary visual artists and performances, recently featuring the works of William Forsythe and Yayoi Kusama.
Despite significant differences, these museums have one thing in common: they were all allowed to open as of July 6th per Massachusetts' Phase III Step 1 of post-COVID reopening.
I've had the pleasure of working with these extraordinary institutions and their marketing teams for several years. For all three organizations, summer is an important time of year, with high attendance, revenue, and engagement. Of course, when COVID-19 hit, we knew that this summer was going to be drastically different—but ironically, no less busy!
As their marketing consultant, I was excited (and honestly, a little paralyzed) to help them navigate their reopenings. It turns out, none of us are experts in what to do during a global pandemic. Although we're still in uncharted territory, we've learned a few things and hope our findings can be a roadmap as you prepare for reopening.
Here are six things I learned while marketing museum reopenings in a COVID-19 world.
---
Don't ghost people who love you
When the pandemic shutdown happened in March, most arts organizations had to take a hard look at their budgets and make cuts anywhere. This is entirely understandable. If there is no money coming in, how can you put money out there?
But the truth is, cutting advertising costs is a short-term solution that can have a more damaging long-term financial impact on your organization. These three organizations realized that this was not the time for them to completely shut off their advertising and instead used it as an opportunity to engage.
The ICA/Boston
The ICA/Boston, who typically runs membership retention campaigns throughout the year, quickly pivoted to a membership renewal message in April.
The renewal campaign focused on thanking their members for continued support and automatically extended their memberships through the closure. This gracious and user-centered messaging led to a 161% return on investment (ROI) and helped the ICA achieve their third-highest membership revenue year to date. To top it all off, they kept their members engaged and top of mind while they were closed.
The Isabella Stewart Gardner Museum
The Isabella Stewart Gardner Museum took an opportunity to create deeper relationships with some of their existing audiences with a Facebook lead generation campaign. We targeted their website visitors and social media engagers with Facebook's lead form, while A/B testing art and experiential messaging.
Arts-focused messaging
Experiential messaging
The campaign was performing so well that we added an acquisition segment focused on arts lovers in the Boston area. To date, this campaign has garnered 2,851 new leads for the museum, at a low cost of $1.14 per lead. The best part? The Gardner has a robust list of potential patrons they can communicate with.
The Clark Art Institute
The Clark Art Institute knew they needed to focus on building their remarketing pools ahead of their summer reopening. We kicked off their campaigns with strong "Hello Again" messaging and reached over 360,000 unique users on Facebook and Instagram, which meant we could talk to them throughout the summer.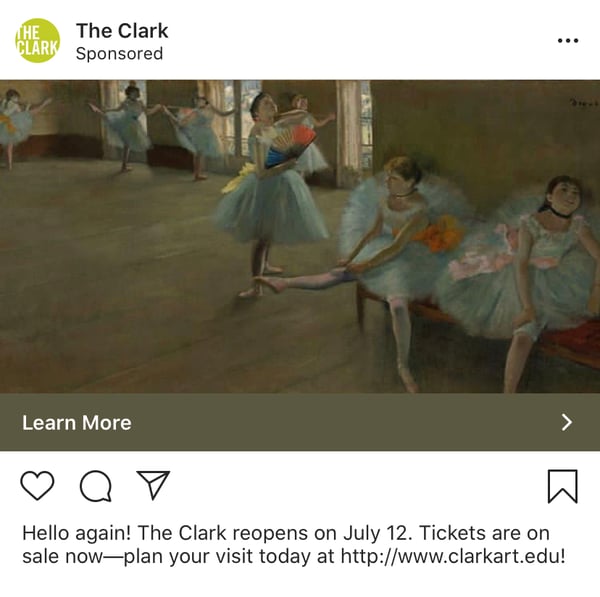 ---
Start prepping now
One of the biggest lessons we learned is you can never prepare enough. Of course, no one was prepared for the pandemic, but we know that things won't be the same moving forward. There are certainly rules for mask-wearing, social distancing, sanitizing, and signage for the organizations. Additionally (as if that wasn't enough!), there were infrastructure factors to keep in mind.
For example, while some of these organizations had the capacity for online timed ticketing, others did not (historically, most people do not buy museum tickets online). Even if organizations have online ticketing in place, they still need to prepare for the influx of online purchases coming their way.
These organizations also had to prepare their staff to answer questions about the museum, ticketing, and safety. They also needed to be mindful of how this information was presented on their website—here's an example from ICA/Boston.
It's essential to state all of the required information and safety protocols so that patrons feel comfortable returning to the museums.
---
Be mindful of who you're talking to
After our initial engagement campaigns and preparation, we started to craft strategies for the reopening campaigns themselves. One of the first questions we asked was, "Who is most likely to return to the museum?" We understood that it would vary: some patrons were likely to return right away, desperate for some uplifting culture, while some others may take time to feel comfortable doing so.
For ICA/Boston and the Isabella Stewart Gardner Museum, we launched their campaigns with a focus on their closest audiences—those who have been to their website, engaged with them on social media, or were on their email list. These were the audiences most efficient to reach digitally with a paired down budget, and we thought would be more inclined to visit. Now that they are both open, they have moved to reach new audiences.
On the other hand, The Clark Institute was hoping to reach a wider audience right out of the gate, as we often do in the summer. Particularly given their vast amount of outdoor space and the tourism in the area, we thought the Clark would be a great escape for both new and existing audiences.
As you plan your advertising around reopening, keep in mind who you want to speak to, who is most likely to come back, and who might need some more time! Until patrons are ready to visit, keep that inspiring digital content coming. All three organizations have created fantastic virtual programming to keep the audiences engaged.
---
Content is still queen
We know that for any kind of digital campaign, content is queen. Finding the right message for the right audience that the right moment has always been tricky—throw in a global pandemic, and these organizations had their work cut out for them.
All three museums have beyond stellar content creators. Still, this situation required capturing additional imagery to display the new normal: think people in masks, hand sanitizer everywhere, and of course, a solo shot of a person in a gallery enjoying some much-needed distraction.
We've tested experiential content vs. artwork to try and speak to what inspires people to attend. Additionally, we have utilized Facebook and Instagram's various ad formats to help tell that story. The beauty of these platforms is the vast amount of data we look at to analyze how multiple audiences respond to different types of content.
While you think about your reopening, remember that old footage or photos of your organization from pre-COVID are not going to cut it: invest in photography and video to evoke the new experience. And be sure to keep testing that content!
The Clark Art Institute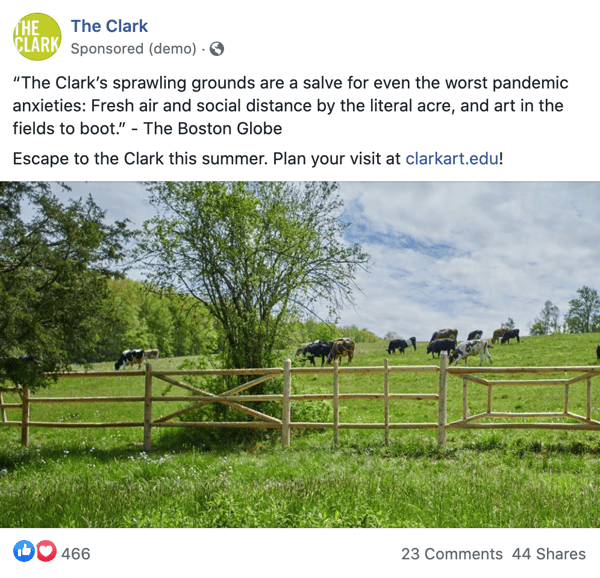 The ICA/Boston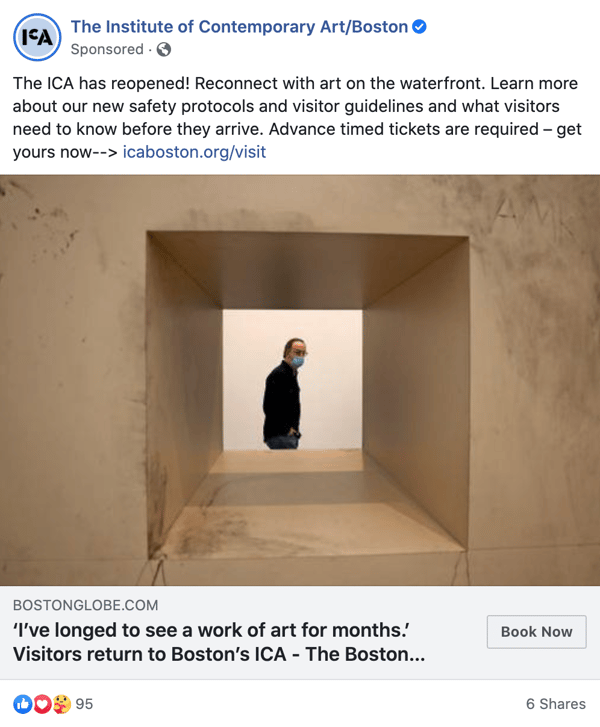 The Isabella Stewart Gardner Museum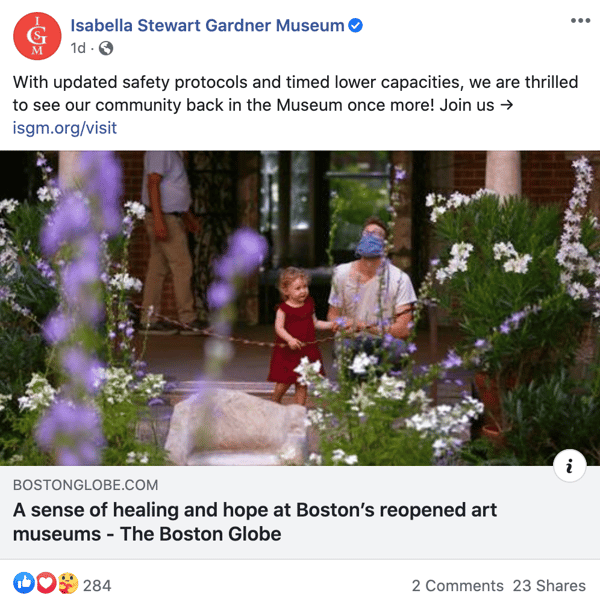 ---
Digital flexibility
The financial impact of the pandemic was a reminder of the greatest superpowers of digital advertising: agility.

The impact of COVID-19 means not only smaller advertising budgets but also a reduction in traditional advertising (for example, it has been a challenge to meet print deadlines with things changing daily). Luckily, with our digital campaigns for these three clients, we have been able to optimize in the moment: adding or reducing budget when necessary, and shifting content and messaging when things change. Our recommendation to make digital the number one line item on your marketing budget has never been more true.

---
Look forward and stay nimble
So the museums are open—now what?
Things are always changing—this is a significant learning throughout this process. This was true during the preparation phase: waiting for the governor to announce COVID-19 phases for opening and then figuring out if the museums were truly ready to do so.
With ongoing concerns of new spikes or reverting to earlier phases, we have to keep on our toes. We keep in contact regularly and are ready to pivot when necessary. What we know to be true today might be different tomorrow. Keeping a pulse on what is going on in the world, in their state, in the arts, and in the realm of digital advertising is key.
---
It's now mid-August, and I'm happy to report that all three museums are open and doing well. They are, of course, still operating at limited capacity and have all had their hurdles. But most importantly, they have demonstrated the ability to successfully reopen and return to providing breathtaking art to their devoted audiences.
If the global pandemic has taught us anything, it's that we can never be fully prepared for what's to come. But even though 2020 is a dumpster fire of a year, many of the pillars of strategic digital marketing remain the same. Most importantly: prep for what you can and be agile when you can't.
In July, the New York Times covered the reopening of the Clark Art Institute, and the final quote reminded me exactly why we all do what we do:
"If I seek out art in a time of national catastrophe, it's not because I need that catastrophe explained to me. And it's not because I want to block that catastrophe out with a veil of pretty pictures. It's simpler than that. It's because I need to be reminded what to live for."