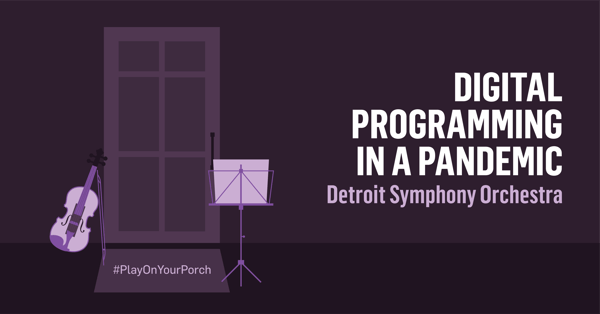 We didn't rehearse this.
No one did.
Almost overnight, arts administrators everywhere had to put on their programming hats for an entirely new venue—a digital venue. Instead of curated experiences involving lobbies, printed programs, and curtain calls, it's a world of livestreams, blog posts, and emoji reactions. You are the arbiters of your organizations' digital presence and now have to improvise events with smaller teams and less money. Cool.
Instead of panicking—well, maybe after panicking—you learn to SURF, an acronym credited to CI's close friend and coach, Jennifer Zaslow of ClearPath Executive Coaching. That is:
Sit with your feelings
Unlock your mental potential
Respond, not react
Find the gifts
As arts lovers, you've got the feelings part down. We can help you with the rest. Through this new blog series, CI hopes to unlock your potential through inspiration, help you to respond to this ever-changing digital arts environment, and find the gift in creating new opportunities to connect with your audiences. With each post, we'll feature an arts organization that has learned to SURF on a sea of digital programming. We'll share their ideas, how they executed them, the results, and of course what they learned.
First up is the Detroit Symphony Orchestra (DSO), which quickly pivoted their digital marketing strategy to harness the power of video while putting their community front and center.
---
The Pandemic Pivot
For many arts organizations, digital marketing in the before times was centered around season programming rather than general brand awareness. The DSO was no exception, running majority concert-specific campaigns to drive single tickets. The idea of promoting content without a call to purchase was out of the ordinary. When in-person concerts started getting canceled, the DSO had a decision to make—whether to keep spending media dollars, and if so, on what?
New digital content would be key. The team quickly put their heads together, taking stock of their assets. Fortunately, the DSO already had a vast streaming library of archival concerts available on-demand via Vimeo OTT services. (Thinking of streaming? Here's a great place to start.) The library, dubbed DSO Replay, had previously been an exclusive donor benefit, but the team decided without hesitation to make this content available to everyone for free, supporting their mission of bringing music to the community in an accessible manner.
With Replay officially open, paid campaigns went into full swing. At first the DSO could afford to maintain digital ad spending at their pre-pandemic pace. Without ticket goals looming, they took a chance and went broad with geographic reach, targeting not only their Detroit community and digitally engaged audiences via retargeting efforts, but also reaching lookalikes and those interested in classical music across the US.
Of course, in the absence of ticket sales, the DSO still had to keep up a revenue stream. Replay was offered for free, but each promoted post included a gentle ask for donations, which didn't overpower the free music content. By putting their audiences front and center within the copywriting, they struck a chord (pun intended!) Promoting two of such posts earned the DSO more than $6K in donations for an ROI of over 100% and an average donation around $100.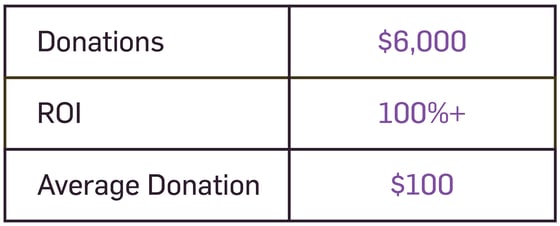 As event cancellations continued into April, the rate of ad spending slowed significantly. Still, the DSO ran additional ads with similar donation asks, this time with a geographic focus on top-performing states. Donations kept rolling in and earned an even greater return due to the focused spending.
---
Putting the Social in Distancing
Alongside the Replay campaigns, the DSO was motivated to stay connected to their community via new content. Teresa Alden, Digital Marketing Manager and Sarah Smarch, Content Manager and Lead Storyteller (how's that for a title?) said, "we always say that we are not only a community-supported orchestra, but a community-supporting orchestra, and this moment was a time to prove that more than ever." With this mantra as their guiding light, the DSO set out to find ways to build connections between the musicians and their fans who were stuck at home during this crisis.
#PlayOnYourPorch
One of the first new series of social posts came about serendipitously, but the DSO's response was thoughtful and consistent. Socially distanced community members began to create music in their neighborhoods, sharing via social channels, and the DSO leapt to participate. The approach was primarily organic: reposting audience videos widely in feeds and stories, and even sharing via email newsletters. These posts earned some of the highest viewer totals not only since the pandemic but to-date. Plus: it was a delight for the community members to be recognized!
This initiative, which started out just for fun, served as the perfect kickstart to a collaborative relationship with musicians. Initially, the DSO digital team reached out to musicians to participate, and in a matter of days there was a steady stream of musician-generated content ideas.
---
Salute to Healthcare Heroes
One of such ideas came about right before a forecasted increase in local COVID-19 cases, so it was a stressful time in the Detroit community. A cohort of musicians was passionate about drawing attention to essential workers. They recorded messages of appreciation, relating their feelings to musical moments in past performances as a means to provide catharsis and comfort. The DSO Replay concert archive punctuated these sentiments perfectly.
Two of these dedication posts were promoted in a campaign that directed users to the DSO's blog. Donation asks were intentionally omitted from these posts, but the DSO still hoped to drive new digital audiences and grow its pool of engaged users. Some of the highest engagement rates to-date were achieved, attributed mostly to comments of thanks from healthcare workers. Although it was not an expectation, over $1,500 in donations resulted from these posts, which was more than double the campaign's media investment.
Between 2 Stands
Embracing its collaborative culture and enlivened rapport with musicians, the DSO team held weekly cross-departmental content brainstorming calls aimed at generating innovative ideas to connect with the community. One of the results, the virtual talk show Between 2 Stands was born, a music-inspired riff on Between Two Ferns with Zach Galifianakis hosted by three DSO musicians. This fun and personable series deepened viewers' understanding of classical music while connecting them to the musicians of the orchestra.
What excites the DSO most about this series is its opportunity to live beyond stay-at-home orders. This dream is already becoming a reality, as the team recently held a live taping of the show in an outdoor courtyard adjacent to the concert hall. It enabled the DSO to delight superfans of Between 2 Stands with exclusive invitations and ticket giveaways, and easily maintain safe distancing measures.
---
Still Learning in Lockdown
The DSO's biggest takeaway? Understanding and listening to their audiences. In Teresa and Sarah's words, "people notice what you're doing and they respond—especially if you're there for them and speak to them in ways that resonate with them. They will respond, and they will take action."
What inspired us most of all about the DSO's efforts was the sharing and developing of ideas among passionate colleagues, regardless of department or title. Breaking down institutional silos and recentering around a core mission guided each of these ideas. The attention to detail and authenticity shone through each piece of content and the audience not only responded, but opened their hearts—and wallets!—to echo their enthusiasm.