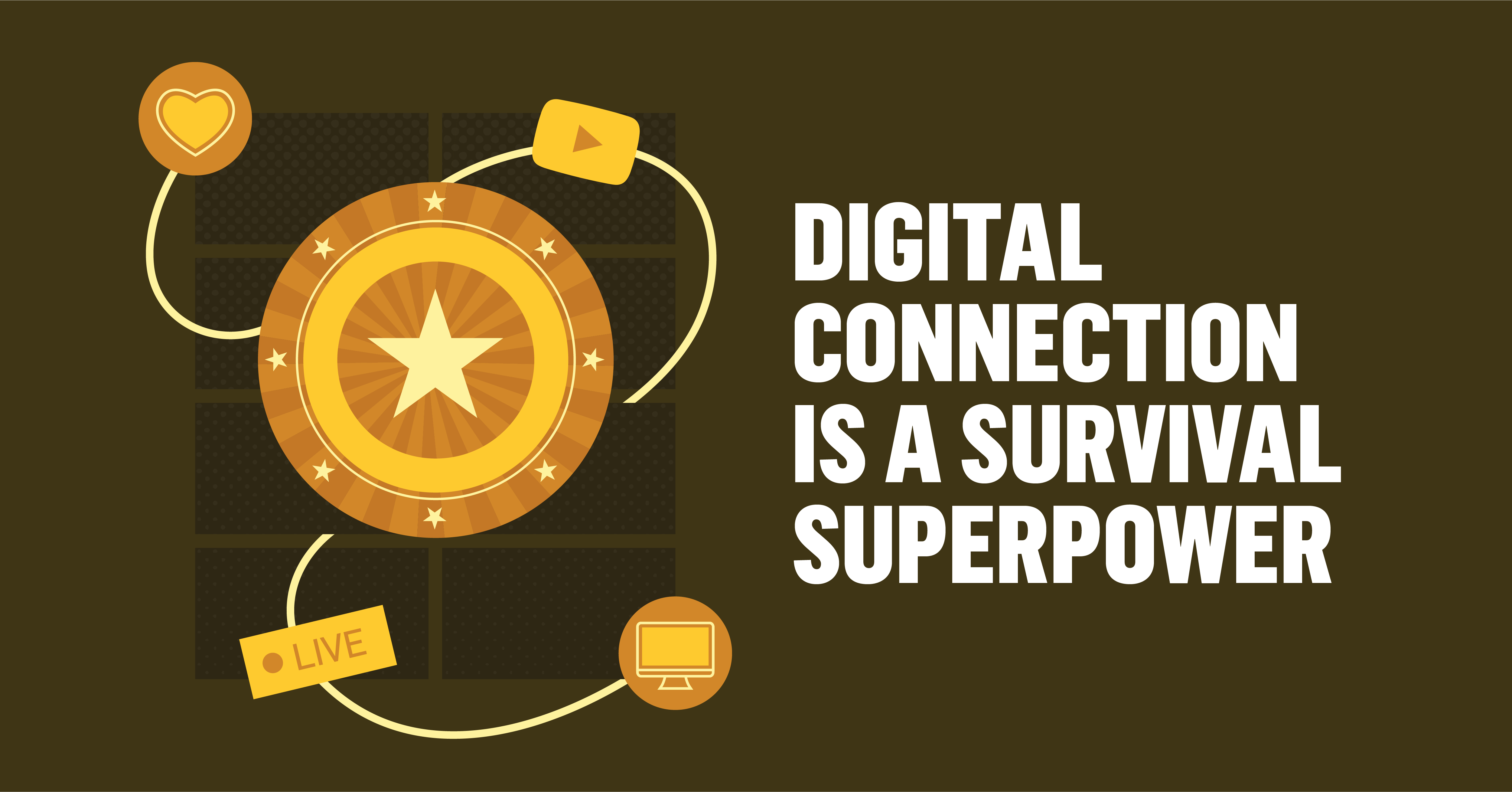 It's no secret: 2020 has been a challenging year thus far for arts organizations. But we're collecting market research surrounding arts entities at IMPACTS Experience, and some trends are actually working in organizations' favor when it comes to establishing new strategies not only to survive this year but also to thrive long into the future.
At Boot Camp 2020, I'll share new data on the positive trends that we're seeing right now that can inform the future of our organizations. The takeaway? That everything from motivating attendance to securing member and subscriber support during COVID-19 is even more (digitally) connected.
The importance of digital connection is not new in 2020. Far from it! For the last several years, the role of marketing has increasingly evolved to be more strategically interwoven into organizations' operations. Even before the pandemic, digital engagement, in particular, represented a growing superpower for arts organizations.
Before we dive into the newest data surrounding behaviors and perceptions at Boot Camp, it's worth reviewing some of the data-informed benefits of digital engagement that we already knew about prior to this year for arts organizations.
There's a lot going on right now. Refill your coffee cup and treat yourself to this brief, fact-based reminder of the importance of your primary communication tools in 2020.
---
Digital engagement drives attendance
If you've ever heard me speak before, then you know a powerful statistic from IMPACTS Experience informed by the famous Bass Model of Diffusion: What people say about your organization is 12.85x more important in building your reputation than the things that you say about yourself. (You read that right. Earned endorsements are nearly 13 times more impactful than our own advertising!)
An organization's ad buys are important, no doubt about it. But our most powerful endorsements come from the best friend who gushes about their visit to the symphony, or the colleague and fellow parent whose favorite day with the kids in 2020 was their visit to the art museum. These individuals aren't considering an organization's earned revenue goals; they're simply sharing moments that made their lives better. These stories can have a powerful impact on what the people who hear them think about an organization. This is especially true when such endorsements come from people or sources that they respect and trust.
(The downside, of course, is that negative endorsements land with the same weight.)
Earned endorsements cultivate more visitors—so much so that we regularly observe attendance decreases when they aren't secured. Our research shows that cultural organizations lose an overall average of 1.25 visitors for every single visitor denied access due to an unexpected closure prior to the pandemic. Today, it's one of the reasons why it's so important that cultural entities reach their market potential during the pandemic upon reopening. When we lose a visitor that may otherwise attend (because they think it may be unsafe, for instance), we also lose their recommendations at Zoom parties, (socially distanced) holiday gatherings, and, of course, on social media.
Social media platforms allow people to scale their (hopefully positive) endorsements in a way that wasn't possible before these platforms existed. Endorsements via these means contribute to your reputation and what people think about the relevance of your experiences and also help them determine if your organization is worthy of their time and resources.
You probably already knew this, you savvy arts marketer you, but the reminder is especially important right now.
---
Web and social media are top sources of information for visitors
Even before the pandemic, we knew that people who profile as likely visitors to arts and cultural organizations were "super-connected" to the web—with access to it most often at home, at work, and on a mobile device. This is still the case (and hang in there because I cannot wait to show you the new numbers at Boot Camp).
By end of 2019, market research from IMPACTS Experience revealed that over 75% of visitors to cultural entities used mobile web, web, and/or social media, respectively, as a pre-visit source of information. At that time, the average adult in the United States was spending around six and a half hours engaging with digital media. The web was where people were already spending time and also where they were going to learn more about cultural organizations even before this strange year.
In September 2020, the average U.S. adult spent nearly eight hours each day on digital platforms! Though more people are spending more time at home now than in the past (there is a pandemic going on, after all), they remain connected. And that means that there's an opportunity for them to remain connected to and engage with arts organizations as well.
Potential guests are online, and digital platforms play an important role in how people connect with institutions, ideas, and one another. They also provide the basis for new programs and avenues for engagement. This may present unique opportunities for arts organizations to innovate more sustainable futures in light of the pandemic.
---
Digital engagement correlates with better onsite experiences
If you think the game-changing role of digital platforms stops when a guest comes through your doors, think again. The superpower continues…
At the end of 2019, 61% of visitors to cultural organizations were using social media onsite in a way that relates to their experience. These folks were taking selfies at the theater, checking a museum's Instagram page to learn more about things not to miss, or even looking up what was most recently posted on Facebook. This onsite use of social media—especially when it relates to people sharing their experiences—is a benefit! Not only does it do important marketing work for an organization that can inspire attendance from others, but people who used social media onsite had a 7.6% higher overall guest satisfaction score than people who did not!
The same is true for people who used mobile web onsite in a way that relates to their visit, which was 53% of guests at the end of 2019. People who used mobile web onsite in a way that related to their experience had a 7% increase in satisfaction compared to people who did not use mobile web onsite! These guests may have been looking up more information about a conductor or an artifact, with mobile web serving as a tool to help them go deeper or curate bits of their own experience.
While it seems like people have their mobile devices glued to their hands nowadays, that's not necessarily a bad thing for cultural organizations. As arts marketers know well, digital engagement can represent a powerful opportunity to deepen the experience and secure endorsement.
---
These are but three examples of how digital engagement impacts business and executive functions, marketing, and onsite operations. But it doesn't stop there—and we're seeing some interesting developments as cultural entities reopen in today's pandemic—impacted world. Arts marketing is playing a direct role in securing attendance right now, ensuring people that they will have a safe experience and several other critical aspects of engagement during the pandemic—including activating members and subscribers as well as entirely new audiences.
Digital engagement is a survival superpower for arts organizations, and a tool to help us secure a more stable tomorrow.
I cannot wait to share more data with you and build upon these findings at Boot Camp 2020. I'll see you there!