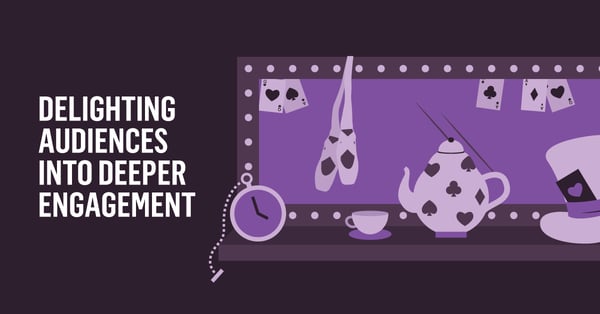 Compelling storytelling is the most important aspect of creating deep and engaging connections with audiences in our venues and in the digital world. The National Ballet of Canada's digital platforms showcase the daily life of a ballet company, giving a window into the lives of our artists and all the elements that go on behind the scenes to create the magic that is seen onstage.
We were thrilled to have the blockbuster hit Alice's Adventures in Wonderland return to the stage during our Winter Season. With its recognizable characters and colorful sets and costumes, we had a unique opportunity to create content that was shareable, relatable and showcased the wonderment of the ballet.
---
Keeping Ticket Buyers Engaged
To tell the story of Alice's Adventures in Wonderland, we created videos with beloved characters such as the Queen of Hearts and the tapping Mad Hatter, interviews with our Alices and went backstage to show the stunning costumes and ingenious sets, all for the end goal of buying a ticket.
Previously, when someone purchased a ticket, we removed them from our targeting lists, effectively ignoring them until they came to the theatre. Over 5,200 customers had purchased tickets to Alice's Adventures in Wonderland that we were forgetting about. We realized that our ticket buyers were our most engaged audience and we had a huge opportunity to continue to communicate with them and possibly turn them into advocates.
For the first time, we put $1,500 toward a delight campaign on Facebook and Instagram with the focus of providing our current ticket buyers with compelling Alice's Adventures in Wonderland content.
Of our total campaign budget, only 3% focused on the delight audience. Not only did we see a high engagement rate with over 3,000 key page views (KPVs) and 2,790 post engagements, we were surprised to see 109 total purchases attributed to the delight audience resulting in over 2,000% return on investment (ROI).
---
Delight = Ticket Sales
When we began the delight campaign, we were hoping for more engagement. What we didn't expect was to sell more tickets.
Not only did we sell an additional 28 tickets to individuals who had already purchased their tickets to Alice's Adventures in Wonderland, but we also sold 54 subscription packages to the full season! By serving the delight audience with interesting and engaging content, we turned single ticket buyers to multi-ticket buyers and subscribers resulting in an additional $76,165 in revenue.
The content used for Alice's Adventures in Wonderland delight campaign was the same great content that we used for the acquisition campaign and organic social posts. We switched up the messaging to serve both audiences and made it more fun and playful.
For Valentine's Day, we created a video titled "Dating Tips from The Queen of Hearts." We had a huge, positive response with people sharing and tagging their friends. The video reached over 200,000 people and garnered over 80,000 views. It was shared 132 times on Facebook and received over 50 comments on Facebook and Instagram. For context, our average shares for video content is 61 shares – that's an increase of 116%!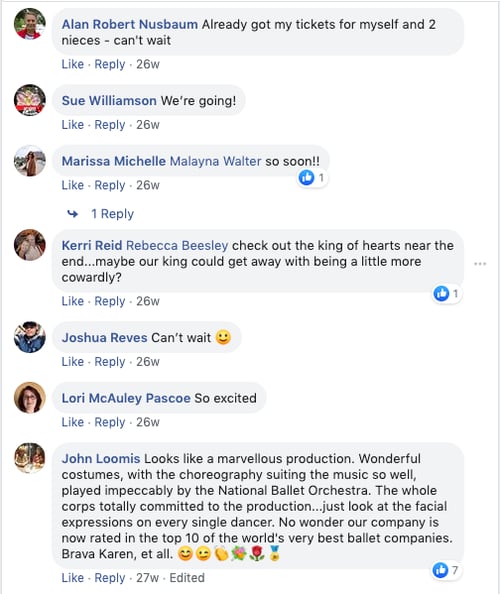 For the first time ever, a female dancer was cast as the tapping Mad Hatter. This presented a unique story that we knew would garner interest and we just had to share it. The video reached over 157,000 people with over 70,000 views. Not only was the video shared over 226 times, 60 tickets were attributed to the video on Facebook and 16 on Instagram for a total of 39 ticket purchases.
By reducing and removing sales messaging, content became more sharable. We repurposed a backstage video that was created the first time the company performed Alice's Adventures in Wonderland in 2011. The video was shared 343 times on Facebook, reaching over 270,000 people and over 180,000 unique views. Not only was engagement extremely high for us with 156 comments on Facebook, 120 tickets were attributed to the backstage video.
Videos tend to be our best performing content on social. However, for Alice's Adventures in Wonderland, imagery performed equally as strong. For photo posts, we experimented with memorable quotes from Lewis Carroll's classic tale with imagery of the coinciding characters in the ballet. Image posts resulted in 668 ticket sales throughout the campaign.
The goal of our digital marketing efforts is not only to inform our followers about the company, ballet and arts in general, but to also create a community and to encourage a conversation that will extend beyond our followers, reaching new audiences. The Alice's Adventures in Wonderland delight campaign really solidified that by investing in our top funnel fans and providing content that really matters to them, we keep the flywheel spinning throughout the season and turn our ticket buyers into advocates.
---
Ashley Haraburda is the Senior Officer Digital Communications for The National Ballet of Canada. She will be presenting at Digital Marketing Boot Camp for the Arts 2019 on content strategy.