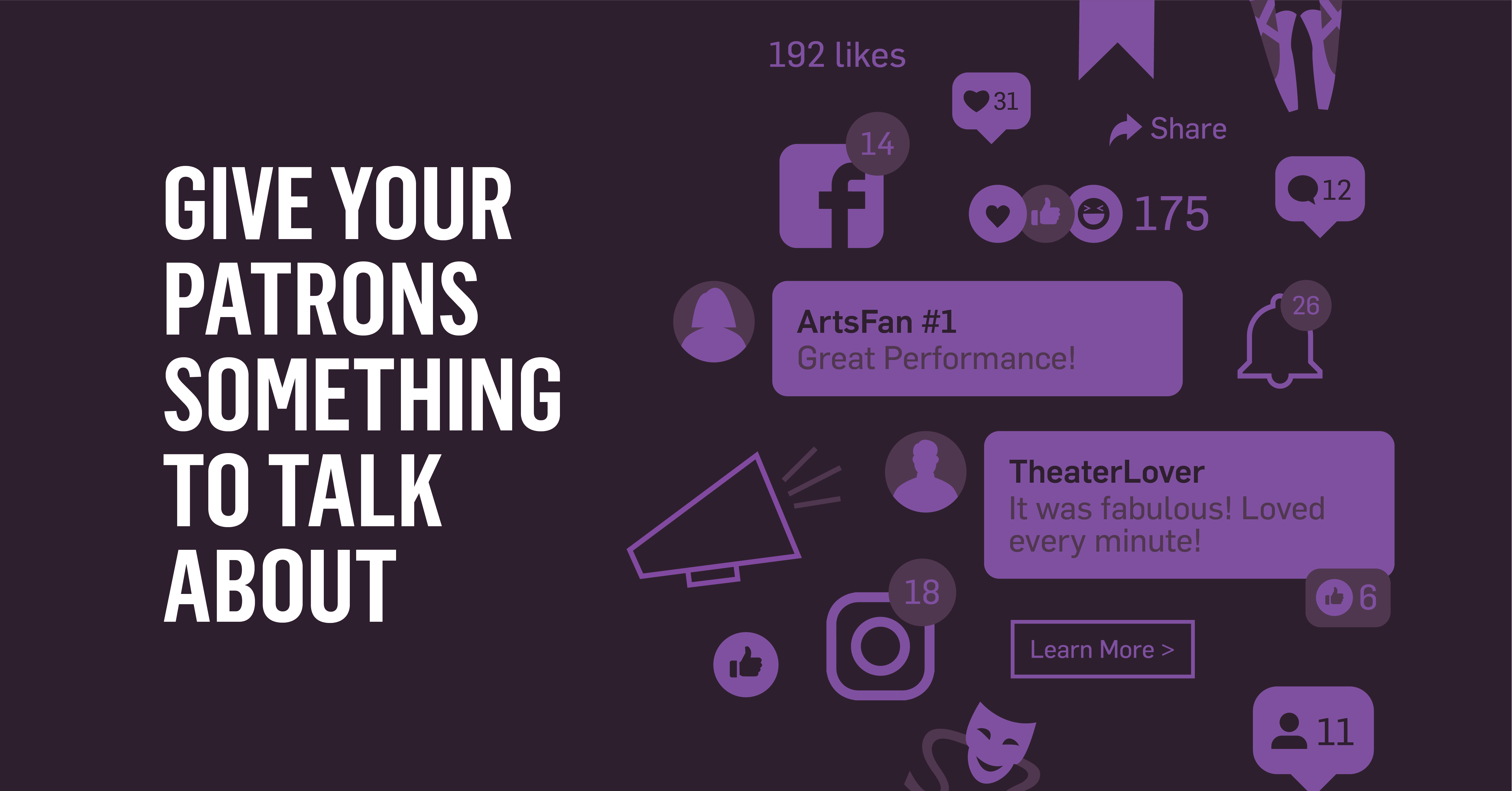 As arts marketers, we are fortunate to promote products and experiences that, by their very nature, are designed to be engaging and delightful. It's not like toothpaste or frozen peas — we are telling people about plays, concerts, artwork, and performances that offer shared human experiences.
Our audiences are often eager to tell their friends about a show they just saw or an exhibit they are excited to see. Yet most of our marketing plans heavily invest in telling new people why they'll love a production or exhibition, ignoring them after they transact.
By finding ways to rethink how we communicate with our most invested audience members, we can strengthen our relationships and develop a connection that helps our audiences become natural ambassadors for our organizations.
Many organizations we work with are serving content to delight their patrons after they have purchased their tickets. Here are examples from George Street Playhouse, Jazz at Lincoln Center, Opera Philadelphia to provide some inspiration to build momentum in the delight stage of your Flywheel.
---
Thank Your Patrons
It's a well-known statistic that the majority of first-time performing arts ticket buyers don't return for a second performance. So, with an unprecedented 91% new-to-file audiences for their production of Little Girl Blue: The Nina Simone Musical, George Street Playhouse was especially focused on welcoming these new buyers to their theater.
After the production closed, we worked with the marketing team to run a one-week thank-you campaign on Facebook and Instagram, aiming to reach as many attendees as possible.
The post was a GIF that rotated between three production photos and radiated warmth and appreciation. The copy didn't have a call-to-action (CTA) or a sales message, but instead offered a heartfelt "thank you." The post also highlighted Black History Month, as the play ran for most of February and Nina Simone played a powerful role in the civil rights movement.
The main goal of this campaign was not driving website traffic or purchases, but rather to drive high levels of engagement from attendees — and that is exactly what it did.
The engagement rate was nearly nine times higher than the most engaging post in their single-ticket campaign. The reach of the paid post was just a fraction of the organic exposure across both platforms, and overall, it generated 54 comments and 24 shares — including one from the star of the production, Laiona Michelle.
People were commenting about their experience at the theater on the post:
"... If it was performed again, I would be there and bring friends. Bravo!"
"Blk Hist Month & Valentine's Day in one memorable evening. We're still talking about the amazing, informative & musical performances by all. Thank you George St. Playhouse."
Since then, George Street Playhouse has run two more thank-you campaigns with the same goal of connecting with their audience members. They've been making it a point to engage more with users by Liking and responding to comments. This kind of engagement helps develop a deeper, more personal connection with the audience.
In a similar way, Jazz at Lincoln Center serves thank-you posts to their attendees after each main performance. They use segmented content to tailor their message to two distinct audiences: one for first-time attendees that includes a special offer to return for another performance, and one for repeat buyers that solicits feedback.
The first-timer version opens with, "Welcome to the Jazz family!" which indicates to the viewer that they're part of something bigger than the single show they saw. The image of the artist reminds them of the incredible experience they had, and even without a specific CTA, new attendees will often comment and share the posts.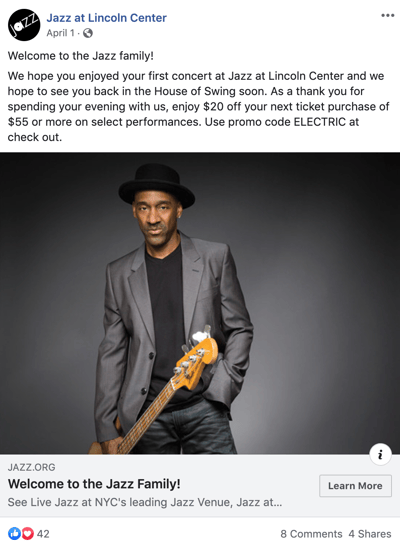 The version for return attendees has a thank you message and actively encourages audience members to talk about their experience. There isn't a "buy tickets" message, but rather a subtle CTA with the "learn more" button that points back to the homepage for browsing.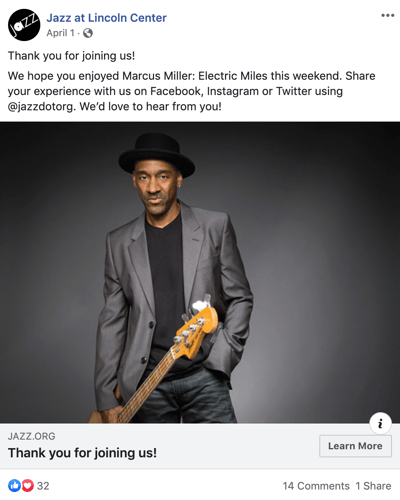 Again, we see dramatic results: the key page view (KPV) rates for the spring 2019 thank-you campaigns were 650% higher than single-ticket campaigns, and engagement rates tripled!

This consistent effort has kept them top-of-mind after each concert, and they've expanded their efforts by serving a video to all of their buyers at the end of the season to keep the conversation going during the off-season.
---
Let Everyone See Your Gratitude
Opera Philadelphia started promoting dark, thank-you posts to ticket buyers after their production of Written in Skin. Engagement rates were so high that a perfect opportunity arose to make the posts visible to the public so they could extend their reach.
So, following Carmen — the final performance of the 2017–18 season — they promoted a single thank-you post to audiences that were already in their universe (email lists, site visitors, users who engaged with their Facebook content, and more). The end of the season was an ideal moment to thank attendees and tease out the next season.
The vibrant, thumb-stopping production photo paired well with the message of gratitude. A key component of this post was ensuring that the copy wasn't exclusively for ticket buyers, and the ability to aggregate positive feedback on the single thank-you post enabled attendees to be evangelists for the opera — not only by sharing the photo but also by commenting on it for the non-buyers to see.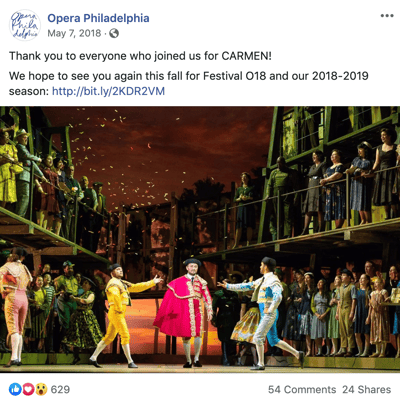 It worked to extend the reach of the post tremendously — by 1200% — and engagement quadrupled compared with the posts for their first thank-you campaign for Written on Skin.
The link to view the upcoming season provided a nice, subtle CTA that generated 37% more KPV's and 80% more purchases to future shows than the Written On Skin thank-you campaign. Considering the likelihood that attendees were buying multiple tickets for their friends, it's entirely possible that people in other audience segments had attended the performance without being included in the ticket buyer list.
---
Delighting your nearest and dearest audiences doesn't have to be a heavy lift! You can start by simply saying thank you or sharing stellar content from your single-ticket campaigns with your ticket buyers, sans the "buy tickets" CTA. A little love can go a long way to energize your most qualified audiences and help you spread the word!