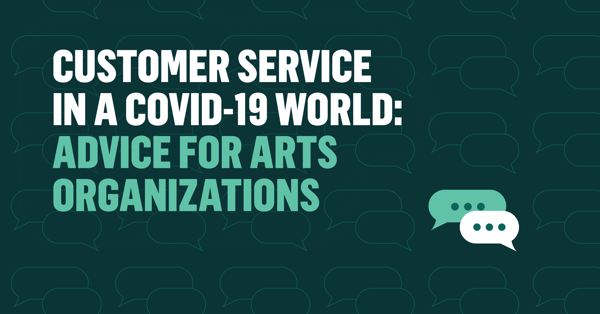 Stellar customer service is key to patron loyalty. In fact, 90% of Americans use customer service as a factor in deciding whether or not to do business with a company.
This statistic was gathered in a pre-pandemic world - now, our box office and visitor services staff are in the thick of the COVID-19 crisis. From ticket exchanges, to refunds, and questions about reopening, they're dealing with a barrage of questions in a rapidly evolving situation.
Robert Phillips is a customer experience expert specializing in arts, culture, and events. He virtually sat down with us to answer some customer service questions to help arts organizations learn from and empower their customer service staff.
---
What can arts organizations do to guide and empower their box office/customer service/visitor services staff during this time?
Robert Phillips: "Openly rely on their expertise and experience. Leaders in any industry can often jump to a "seniority-knows-best" approach during times of crisis, but these teams often know the organization's customers better than any other department through day-to-day contact.
You can also have a transparent dialogue with your front line - what have they heard from customers? What are their major concerns? This helps establish a pulse for the organization to make better-informed decisions that will affect customers. Doing this in an outward-facing way lets these departments know of the high level of support they have to use their own sound judgement when interacting with customers. This empowerment and trust in the front line is critical to the longevity of cultural and organizational health as well.
On a more tactical note, encourage this staff to create truly human connections in replies and conversations with customers. Of course the policies and procedures are key pieces, but ask your staff to lean into these human-to-human moments.
While this wasn't a crisis situation, I'm reminded of my time at The 5th Avenue Theatre in Seattle when we launched our Subscription Manager campaign (where each subscriber had a single direct line or email address to a specific employee who would serve as their Subscription Manager for exchanges, renewals, questions, and more). In their introductory emails, we invited the staff to share a personal tidbit in addition to mentioning their role in the guest's subscription management. While many of the replies received were in praise of this feature, showing excitement for the upcoming services, the majority of the responses instead positively mentioned some connection to the personal information that was shared. From a "My son goes to school at Northwestern!" to a "West Side Story is one of my favorites too," the takeaway was that our customers in the arts thrive off of human connection, and in the midst of a crisis, we crave it more than ever."
---
How can organizations manage their public-facing messaging when this crisis seems to be changing minute-by-minute?
Robert Phillips: "Look to your organization's mission statement and/or core values as guiding principles when crisis situations are in flux. These tenets are incredibly valuable for ensuring consistency in your messaging and updates, and staying true to your identity. Do these statements emphasize human connection? Art above all? Community and collaboration? As the situation changes, these can guide your communication with customers in an effectively unwavering fashion.
It may not need to be said, but oftentimes these values and statements may not reflect how we actually want to operate and communicate during situations like this pandemic. Looking to our mission statement for guidance might even be unsettling when held up to the mirror of these extraordinary times. In this instance, it could require a core task force to create a one-sheet of north-star principles and operations specific to crisis moments. Or perhaps it demands a more strategic approach of taking a magnifying glass to your mission statement and/or core values to better reflect the organization you strive to be as a whole (although this may be best saved for a longer-term project once the COVID-19 crisis is in the past).

Additionally, it's healthy, genuine, and more than appropriate to admit to the struggle. It's no secret that this situation is rapidly changing. Customers appreciate when we're being real with them - they'll remember that. Right now, everyone is guaranteed to make a variety of memories - this moment in history is undeniably memorable. With the breadth and volume of communication that companies are sharing, people will remember those who were there for them and shared their values during a difficult time, and also those that were untrue, didn't have their backs, or were not relatable. There's a delineation between being authentic versus begging for pity, but when we're real with our customers during public-facing communication, we stay true to our core as organizations who are committed to augmenting our customer's quality of life through art."

---
Inboxes are overcrowded with COVID-19 emails - how do you keep patrons in the loop about cancellations and rescheduled performances/exhibitions?
Robert Phillips: "Work with your Marketing and Customer Experience teams to draw a definitive line between the need-to-know, and the nice-to-know. Once you're able to determine where your 'line' stands, remember that every single one of your customers' inboxes has the same overflow that your own does. How would you like to be communicated with in this climate? That's likely how your customers want to hear from you as well.
A very effective measure in this situation is to have a clearly obvious and highlighted opt out. Unabashedly tell your customers that you know they're getting a lot of COVID-19 updates from airlines, stores, and restaurants we don't even remember going to - relate to your customers! Shared experience is a customer service advantage.
State in this communication, that because you acknowledge the quantity of email being sent, the opportunity is being presented to either continue to receive COVID-19 email updates, or to opt out with a one-time and very obvious tap/click. It should then lead to a single landing page that mentions where to go for COVID-19 updates on your site, which a customer could access as they please. Or based on your organization's bandwidth and resources, create that central landing page for all COVID-19 related updates and share it with your customers via email, letting them know this site exists for continual updates to prevent multiple emails.

While we are all facilitators of our customers' journeys, we cannot force that experience into a particularly desired direction. These are moments when it's important to confirm that our customers have their preferred journey and touchpoints with our businesses, and subsequently continue building relationships and loyalty from there."
---
What systems will help leadership teams understand what customer service staff are handling on a daily basis?
Robert Phillips: "It may sound elementary, but I would encourage every senior leader within an arts organization to join their customer-facing staff on phone and email communication with customers (and not just with trustees and major donors). Not only does this show commitment and support to the front line to truly understand the level of care and personalization that these conversations require, but it also provides valuable insight for a leader to capture the true voice of your customer and be on the receiving end of inquiries and feedback. Actions like this will help bring to light the kinds of resources that front line staff members may need to navigate these interactions as best as possible, and provide a uniquely personal lens into your customers' relationships with the organization.
For the business as a whole, encourage ideation and crowdsource solutions from every employee. We cannot assume that we know who will solve our problems. The collective knowledge of your staff is full of daily ideas about what could make the business better, and now is as good of a time as any to tap into that. Invite your staff through a public forum to answer key questions, pose new solutions, and support others' proposed ideas to determine what will be most effective in helping the organization tackle the daily and ever-changing challenges you're facing."
---
Should organizations be exploring chatbots (if they don't already have them) in light of the sheer volume of patron interactions?
Robert Phillips: "Using a personable approach, especially during unprecedented circumstances is a pillar of great customer service. We all have that restaurant or store we went to where something went wrong, but the staff fixed the issue in such a personable manner that you ended up feeling more loyalty to that organization than if you had a run-of-the-mill experience. We're having these types of scenarios presented to us on a daily basis right now with incoming customer communication, and have these opportunities to engender loyalty with effective and personable facilitation.
The present volume can be difficult to manage, but in your auto replies and hold messages, lean into the fact that the forthcoming human reply is in the interest of providing the best and most personalized service possible. We shouldn't worry about the small percentage of people that think a long delay for an email reply or a long hold time is unacceptable in this climate. And therefore, we should target appealing to the larger majority of our customers who are understanding and put us in a position to succeed and build a stronger relationship with them in the long run."
---
Although we can encourage organizations to reconsider their exchange/refund policies, this might not be possible in all scenarios. What's your advice on navigating these scenarios without sounding too defensive?
Robert Phillips: "In addition to being empathetic and transparent with customers when refunds and exchanges aren't possible, we also should think ahead to the future and focus on going after the biggest piece of the customer service pie. If you truly know your customers at your organization, you'll be able to determine what percentage of your audience will be accepting of any restricting policies that come from this crisis, and how much damage will be caused to others. Ensure that your organizational values still reign true in every decision, and encourage staff to exhibit these values as you put together guidelines for customer communication on these topics. We need to remind ourselves that this pandemic will end, and aim to put each other in an excellent position for continued success when it's over.
I recently received an email from an arts organization with a strong plea for a donation. As I read through it, I wasn't certain that they had considered their entire customer base before sending the email. Sure, perhaps they solicited a few donations in the short term. However, the message lacked empathy, especially considering the tough financial state that many individuals are in right now. This approach can lead to longer term damage, and it stresses how imperative it is that we consider our customers not just as demographic information, but for all of the emotions and personal situations they encounter."

---
No matter how flexible organizations are in this time, people could still leave negative comments or reviews. How should organizations handle this?
Robert Phillips: "We can first at least take some solace that no matter how great of a job we do in our communication with customers, we're still in the same boat as everyone else when it comes to social media comments and reviews. It's also notable that both Yelp and Google have suspended their review features indefinitely to keep this potential issue from getting out of hand (they'll be turning the 'leave a review' feature back on as businesses start to open up again).
Whether your organization prefers to reply to reviews publicly, or reach out through private messages, craft a detailed and understanding reply that shows great appreciation for the comment and recognizes specific portions of their initial review. Make your customers feel heard and appreciated for going out of their way to leave feedback (as warranted or unwarranted as it may be). When offering a follow-up conversation to close the loop on the issue, both invite the customer to contact you and offer a phone call to them. This way you're letting the customer determine their preferred journey, and not giving them a potential chore."
---
In a post-pandemic world, how will customer service change? What guiding principles should stick from this unfortunate scenario?
Robert Phillips: "In an interesting respect, I think this current pandemic is showing us the incredible impact that we, as arts administrators, have on our institutions. Oftentimes our theaters, orchestras, and museums can feel bigger than us - they have an impressive history and reputation that has been built up by the multitude of employees that came before we did. Our employment at our respective arts organization is finite no matter if we retire or move to another opportunity. However, it becomes so apparent during a crisis that we embody our organizations more than we sometimes realize. Our actions, decisions, collaboration, communication, values, and relationships guide the development of our reputation to new heights, and in the end, continue to enrich our audience's lives through art.
When we can understand and embrace the impact that we each have, it stresses the need for us to have clear and universally adopted values that permeate throughout the organization - especially into our relationships with customers. We get bogged down in the day-to-day operations of our roles, but we don't primarily represent the organization through operations; we first represent the organization through our behaviors.
I think institutional values will (rightfully) remain at top-of-mind in our post-pandemic world. And because of that, organizations will have better structured tools at their disposal to create stronger customer service systems, relationship building initiatives, and a strong team that is appreciated for the important work they do. When successful, we certainly won't again lose sight of our exciting role representing our institution and shaping its future."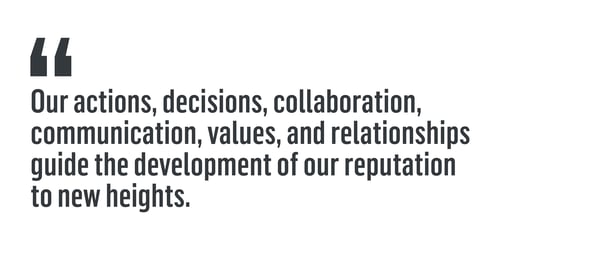 ---
Robert Phillips is a customer experience expert specializing in arts, culture, and events. He has held leadership positions with The Cleveland Orchestra, The 5th Avenue Theatre, Carnegie Hall, and Lincoln Center for the Performing Arts. Prior to these roles, he worked in hospitality consulting. He has spoken at industry conferences, appeared on podcasts (including CI to Eye) and radio programs on the topic of customer experience in the arts, and lectured at several universities. Robert can be contacted through LinkedIn or at rhphillipsiii@gmail.com