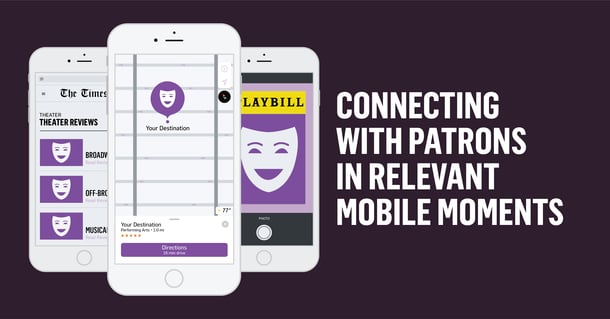 It's not easy to sell convertibles in the rain. This was the challenge for Audi Canada as they attempted to increase test drives for their A3 Cabriolet convertible. How could they reach their customers in the most relevant context to sell more cars? They turned to the insights gleaned from their potential customers' mobile devices. Audi launched a mobile ad campaign where customers could book test drives directly from the ad experience. These ads were targeted to people in close proximity to a dealership, prioritized via CRM data and displayed only on sunny days when they knew test drives would be more likely. By understanding the context of their customers' lives through the clues they leave behind though their mobile devices, Audi increased test drives by 51% and drove $13M in new A3 Cabriolet sales.
While the luxury car industry and the performing arts may seem worlds apart, you are competing for the attention of the same customers. Are you stepping up your mobile strategy not just to match where your patrons and fans are spending more and more of their time, but to reach them in the context that is most relevant to how they live their lives?
2016 marked the first time mobile search query volume for Broadway Theatre terms outpaced queries on desktop, 53% to 47% (Google Internal Data, Digital Arts Summit 2016). In hand with mobile query growth, consumer demand for simple, fast and intuitive experiences have only risen expectations. They expect to be able to purchase tickets or insurance or a new pair of shoes with the same ease on mobile as on desktop. And on mobile time means money. For every one second in page load time, conversions can fall by up to 20%. This is the reality - mobile devices have become the center of command for our daily lives. It's not enough to just be present. We need to use the unique signals inherent to mobile to create meaningful customer experiences.

Think of all the mobile moments relevant to your partons - gauging traffic on the way to the theatre, taking a selfie with the Playbill, reading reviews from the comfort of bed before the alarm sounds a second time. Performing arts enthusiasts are creating windows of opportunity for you to connect with them in the most meaningful moments when you can grab their attention. What signals, rooted in mobile, can you use to move them?
Luke Rodehorst is an Account Executive at Google. He will be presenting at this year's Digital Marketing Boot Camp for the Arts on The Art of Context - Understanding Customer Experience Through Mobile.