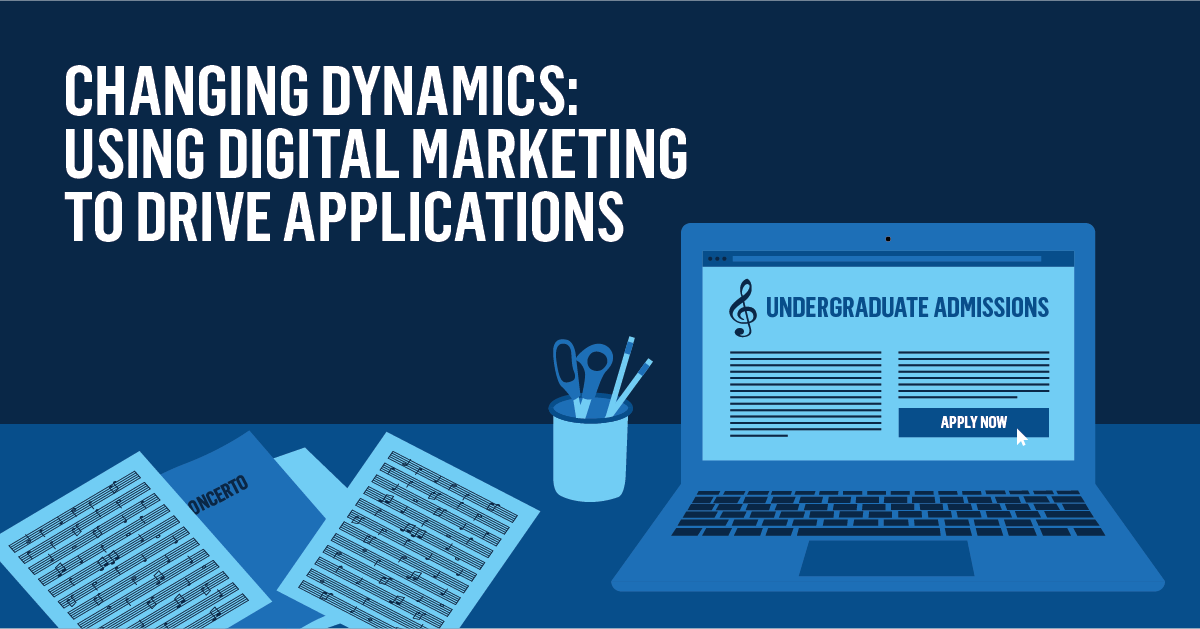 Campaigns with ticket-selling objectives receive a good amount of fanfare in the digital realm. But what if your goals aren't directly tied to online ticket sales? Whether you're looking to fill workshops or promote thematic offerings, digital campaigns are crucial members of your marketing ensemble.
The Cleveland Institute of Music (CIM) partnered with us to increase applications to their conservatory. We explored the potential of digital marketing to increase student applications, one measure(ment) at a time.
---
Finding CIM's Digital Rhythm
Each year, more than 1,000 students apply to CIM, and only 100-125 are selected to attend their conservatory. CIM prides itself on being one of seven independent conservatories of music in the United States and only one of three devoted exclusively to classical music performance. Nearly 40 current and emeritus members of The Cleveland Orchestra are CIM studio faculty members, teaching alongside renowned educators and performers in piano, voice, classical guitar and composition.
Before our partnership, CIM recruited applicants through more traditional routes including direct mail, college fairs, and youth orchestras. Their only digital effort was email marketing. With an eye on the upcoming academic year, we worked with CIM to increase and diversify their applicant pool.
---
A Crucial Crescendo
First, we looked at prospects to reach. Naturally, prospective undergraduate students came to mind, but we also wanted to strategically widen our net. Who might be helping students map out their collegiate future? Parents and guardians.
With this in mind, we split our top-of-funnel audiences into two interest groups: prospective undergraduate students, ages 18-30, and parents. We also created a Lookalikes segment based on students who had applied the previous year. Then we narrowed the location to the United States and China, which were top applicant locations in 2016.
For our bottom-of-funnel audiences, we experimented with location parameters. Since CIM boasts a student body from all over the world, we didn't put a limit on their location. This segment was smaller in size, had already indicated intent by visiting the website, and allowed us to keep the location optimization broad. The world was indeed our oyster.
Another unique aspect of the campaign related to measuring its success. Since the primary goal centered around increasing applications, we created a few proxy conversions in the form of key page views (KPVs). As we always say at CI, if it's digital, measure something! The KPV was based on the unique application submission page and an instructions page that indicated the start of an application. We were able to track and remarket students who started applications and exclude those who submitted.
---
Content Conductor
CIM's campaign thrived not only from strategic targeting but also from their thumb-stopping social content. Photos and videos captured ensembles in recording studios, soloists in the middle of a performance, and music halls filled with rapt audiences. The content avoided stagnant snapshots and gave users an opportunity to transport themselves into their future at CIM.

While the visuals kept imaginations running, the supporting copy highlighted a relatable experience at CIM. Using an inspiring institutional voice, each post highlights opportunities and possibilities—embodying all the aspirations of an artist.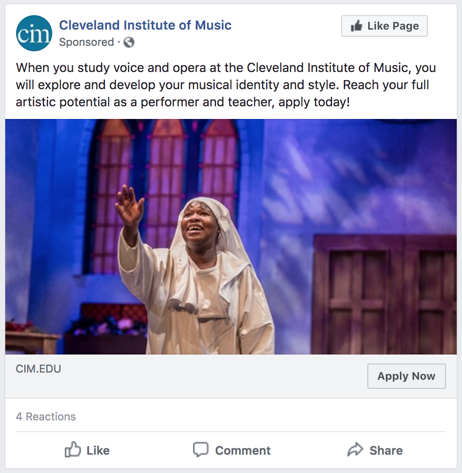 Benefits-driven copy coupled with an engaging performer on stage helps potential applicants understand how the CIM conservatory will help them reach their full artistic potential.




Simplicity is key. A strong Facebook carousel highlighting opportunities at CIM coupled with a bold call-to-action can easily capture even the shortest attention spans.

CIM also created a "day in the life" video series, multiple faculty profiles, and longer admissions videos. Each one featured their star faculty interacting with students. When more than half of The Cleveland Orchestra are connected to CIM as members of faculty, alumni, or both, it's important to highlight a student's dynamic journey through the program and beyond.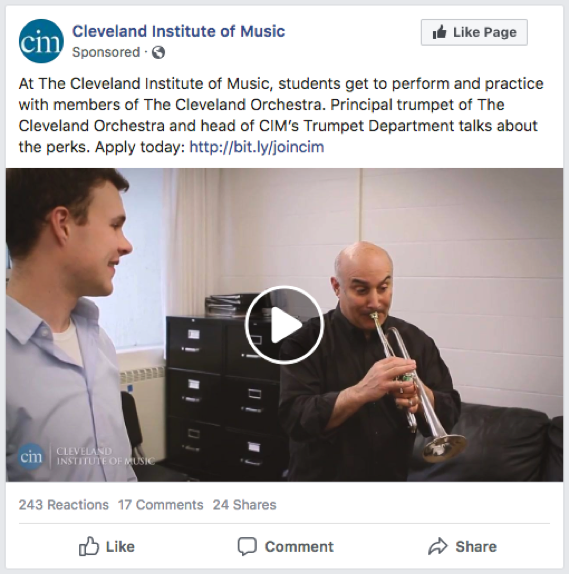 Utilize what you've got! A short video featuring a faculty member interacting with a student shows that the CIM conservatory gives students unique opportunities to learn from professional musicians.
---
The Grand Finale
In an interesting key change, audience interest groups performed vastly different from one another. The student interest group was turned off halfway through the campaign, and spend was dialed up on the parents interest group. While students had higher KPVs, parents had the higher KPV rate. It was more effective to drive parents to the application information page, as they were converting at a higher rate.
The standout segment proved to be the Lookalike audience based on previous applicants. Keep in mind this was CIM's first foray into digital campaigns, so Lookalike audiences drove both new and familiar faces to the website, and helped grow remarketing pools. Lookalikes accounted for nearly 20% of KPVs and beat out the parent and student interest groups combined.
Our Facebook and Instagram campaigns drove 51% of application submissions. CIM also saw a 12% overall increase in applications completed compared to 2017.
While return on investment (ROI) was not a top key performance indicator (KPI), we compared our spend against the $110 application fee, which resulted in a 750% percent ROI for Facebook and a 184% ROI for Instagram.
Whether you're driving ticket sales or applications, digital campaigns are key members of your marketing ensemble.