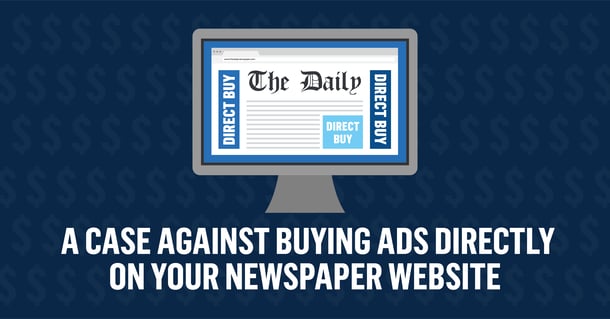 Purchasing online ads directly from a publisher like your local or national newspaper is expensive. Is it worth it?
These ads are often legacy buys- in the earliest days of digital, most marketers looked for the online application of traditional methods for reaching their audience...ad in the newspaper? Make that one in the digital edition.
Over time, we've learned tactics don't transfer so simply. Digital has fundamentally changed how we all go about finding, interacting with, and sharing content: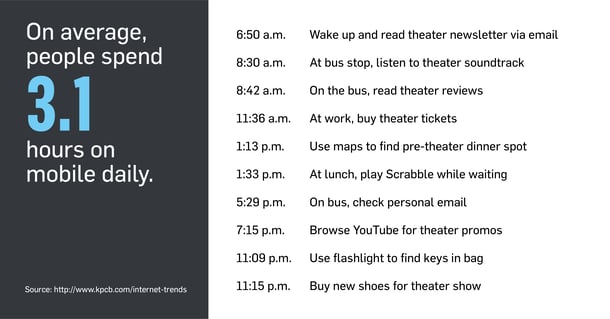 As digital technology evolves, our job as marketers is to continue to adapt and test our methods to find the best ways to reach audiences. Fortunately, advertising tech has evolved alongside user behavior.
---
The Challenge
One of our partners, a major regional theatre, has a long-standing relationship with a prominent newspaper in which it has historically purchased print and digital ads. Intuitively, the Theatre knew its audience members engage with content in the digital space in new ways, and the Theatre has worked with CI to harness the capabilities of the Google Display Network for display advertising, in addition to these direct buys.
The Theatre isn't alone- in our 2016 Digital Marketing Benchmark Study 62% of respondents purchased direct ad buys through media publication sites, while 58% purchased via a network (such as the Google Display Network). These are the latest data points in a growing tide- the percentage of direct ad buyers in our studies has dropped incrementally each year since 2013, while at the same time the percentage utilizing a network has grown dramatically since 2012 (only 30% of respondents that year!)
As the Theatre evaluated its media spend for the coming season, it wanted more data to confidently pursue the most effective way to connect with its audience and drive ticket purchases. We helped the Theatre take a closer look through a head-to-head test of the display network approach versus directly buying fixed ad placements on a publisher's website.
---
The Approach
In the last few years the term "programmatic buying" has become quite the buzzword in marketing and there's been a lot of confusion around what it means:
Now that our audience's attention is fragmented across devices and sources of content, advertising success lies in using technology and audience insights to automatically buy and sell ad inventory to reach the right person with the right message at the right time.
The underlying philosophy of Programmatic Marketing makes sense for all arts marketers in light of the realities of today's complex digital behavior. It's an approach CI has taken for years through behavioral targeting via the Google Display Network (GDN) and social platforms to help our partners, like the Theatre:
1. Create an integrated view of users across their devices.
2. Use their data about those users (remarketing lists, CRM lists) in combination with the intent signals users send as they move across the digital space for customized targeting.
3. Connect with audiences with the right message at the relevant moment in time.
Using a display network in this programmatic approach has distinct advantages when compared to direct placement of ads on publisher sites. GDN's interface (Google AdWords) allows us to build campaigns that employ a sophisticated targeting strategy, highly segmented and tailored to specific campaign goals.
We start with data inputs based on what you know about your audience:
Remarketing to past site visitors.
Targeting interest groups or affinity audiences, specific topics, or keywords based on knowledge of your high-value patrons.
Then we harness Google's powerful data taken from signals users are sending in real-time:
Targeting based on intent, such as users who are "in market" or just gathering information
Targeting based on specific geographic location or device being used
Targeting audiences that "look" like your most highly-prized patrons
Together, this means we're targeting audiences based on who they are and how they behave, then reaching them virtually wherever they roam online at key moments in time. GDN campaigns can serve banner ads on over two million display network sites that reach more than 90% of Internet users worldwide. This is a sharp contrast to the out-moded approach of placing an ad in a single location and hoping the right audience passes by that specific site, on that particular day or week.
Clients can have an array of ad inventory, of varying sizes and types of impactful creative, and GDN facilitates detailed data collection and reporting from the most superficial (impressions, clicks) to specific discrete conversion tracking (key page views, purchases of a specific product or type of product). In contrast, the cost of the Theatre's direct buy of advertising on this news publications website limited it to a single banner on the homepage, in a fixed position for 24 hours, with limited tracking capabilities.
---
The Results
Based on the data reported back to the client from the publisher (impressions and clicks), the GDN campaign was the clear leader both in a head-to-head comparison on the date the ad ran on the publisher's site (while spending only 10% as much), and when taken in the context of the longer 21 day GDN run (which, in totality spent only 70% the amount of the one day run on the publisher's site!)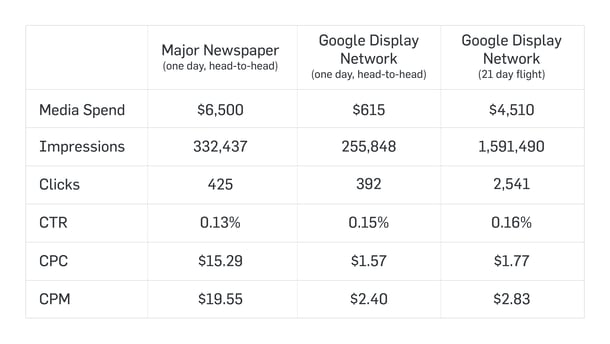 As previously mentioned, one advantage of using GDN is that you can harness remarketing of your site visitors (those more bottom of funnel visitors who already have an awareness of your organization and have taken steps to visit your site). However, those high-propensity visitors didn't slant this test- in fact, 70% of the 2,541 GDN clicks came from very top-of-funnel audiences (users who haven't been to the Theatre's website in the last 540 days).
Our Google Analytics (GA) data allowed us to gain insight into the site visitors generated by the ad on on the publisher's site. While a healthy 82% of those sessions came from new users, there were only 292 sessions from the 425 clicks (meaning 133 were accidental "fat-thumb" clicks, and/or people quitting before the page loaded).
One of the drawbacks of direct advertising placements on publisher sites is that there is often a lack of conversion tracking (i.e., registering that purchases or other conversion metrics occurred after a user saw or clicked on an ad), as was the case here. Once again, GA filled in some blanks. A downside of this is that GA only gives click-stream data; for example, if a user saw the ad on publisher's site, but then went to a browser and searched for the Theatre, clicked through, and made a purchase, organic search would get 100% of the attribution (and not the publisher site ad). This is, after all, why looking at click-through and view-through conversion data is so important!
Taken with a grain of salt, we still can look at a general comparison of purchase conversion data between the two channels and see how much more cost-effective GDN is ($102.50 CPA compared to $812.50):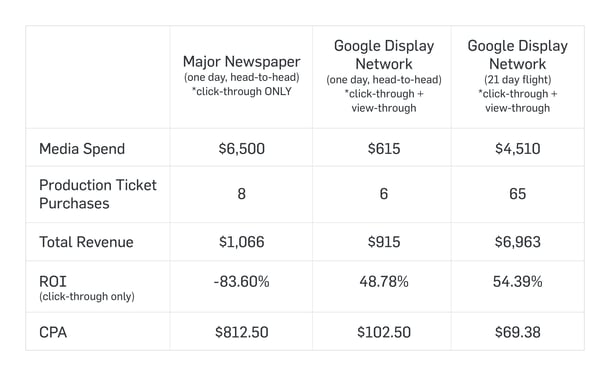 ---
Takeaways
At CI, we're dedicated to doing what works. As the field evolves, we believe we should, too. We aren't tied to a platform, and we don't make a commission on any. This gives us the freedom to advise clients to take stock of what works for them, and to do so with any accuracy requires data collection of all advertising campaigns. We encourage everyone to conduct a test similar to the one this Theatre did and see where the data leads you.
Our eyes are on the future, where success will be found in delivering only the most relevant ads to audiences at the right moment in time. To get you on your way, here's the CI Cheat-Sheet to Programmatic Marketing:
1. See your audiences as they truly behave- moving around the digital space, across devices all day, and expecting relevant content.
2. Use the data that is unique to your organization and audience, like your CRM lists, remarketing lists, and profiles of patrons when targeting your audience.
3. Match this data to the digital "signals" available through partners like the Google Display Network (GDN), including user intent data:
Who's actively looking or considering a product or service?
Who's in information gathering mode?
What type of sites or apps are they using?
What device are they on and where are they in the physical world?
4. Use automation to integrate this data and find the right audience at the right time. Then, expand your reach through tools like similar audiences and in-market audiences.
5. Remember it's a mobile world- understand how your audience behaves across devices by tracking and optimizing for cross-device conversions.