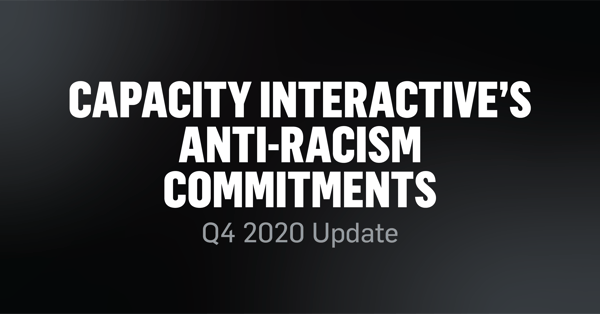 Capacity Interactive (CI) created and published a list of Anti-Racism Commitments in June 2020. This public statement outlined our action plan for becoming an anti-racist organization and served as an accountability mechanism. As a part of this statement, we committed to reporting on our progress (which is the basis of this blog post!)
Before we go any further, I'd like to introduce myself. I'm Molly Shoemaker, the Manager of People Operations + Recruiting at CI. I support and advise our staff on anything and everything that will make them happier and more productive at work. I've shepherded our Equity, Diversity, and Inclusion (ED+I) efforts for the past two years, and more recently, I've started facilitating our Arena Team meetings (more on that later in this post).
Rather than simply list out the initiatives we turned into action, I felt it would be more helpful to share our process and how we approached this nuanced and complex subject.
---
Background and History
CI's ED+I efforts did not begin in June 2020. Over the years, we received crucial feedback from our BIPOC team members. We're very grateful to have received it and recognize the burden of them having to give us this feedback. Like many organizations, we grappled with getting this work started in a meaningful and sustainable way. It was important to us, but at times, we didn't know where to start.
Understanding that every company must start somewhere, we enlisted the guidance and expertise of Cardozie Jones from True North EDI in 2019. Cardozie helped us survey the full CI team to collect data about our ED+I challenges. This data enabled us to prioritize creating a mission statement that aimed to answer critical questions like, "What do we stand for?" and "How does anti-racism show up in our company values?" It was also clear that this mission statement needed to be written by a committee to more actively share power within the company, which is crucial to anti-racism efforts.
With volunteers and a clear goal, we were energized to get this work started. Our first meeting was scheduled for March 24, 2020. Unfortunately, this meeting never happened. We were in the midst of a pandemic and economic crisis, and soon after, a social movement to acknowledge and dismantle our society's racist past and present.
---
Prioritizing ED+I Work
In the wake of the murders of George Floyd, Breonna Taylor, Ahmaud Arbery, Tony McDade, David McAtee, James Scurlock, and so many others, it was clear that we needed to share a statement denouncing these acts of racist violence and express our support for Black Lives Matter.
But words were not enough—we knew that change could only come with a clear policy, plans, and written commitments. We put our ED+I plans back on track in more significant ways. Luckily, we already had a roadmap from our previous efforts: form an ED+I committee, craft a mission statement, and create a list of Anti-Racism Commitments.
I want to acknowledge that our current staff is predominantly white. Due to the pandemic, like most organizations in the arts sector, our company was in an incredibly challenging position that required us to furlough and ultimately part ways with a large portion of our staff. In doing so, we parted ways with most of our BIPOC employees, which exposed a significant crack in our hiring system. While we made a very conscious effort before the pandemic to hire BIPOC staff, we were doing so where we had open jobs, primarily in more junior positions. This is something we're actively working to address.
The work that I will describe later in this blog post is being done primarily by white folks. As our team's makeup evolves, we'll examine the work we've done and the systems we've created. At no point do we feel like our work is complete.
We're grateful to reengage Cardozie Jones from True North EDI as a coach through this process. I understand many organizations cannot devote resources to engage a consultant. If this describes your organization, I'm hopeful sharing CI's journey will be beneficial to you.
---
The Arena Team
Our first order of business was to form a committee for ED+I efforts, which we now call The Arena Team. It's a term we borrowed from Brené Brown that references actively getting into an arena to get the work done instead of sitting on the sidelines. This committee decentralizes decision-making at CI openly and transparently.
In the past, our ED+I work fell to a small group of people. If one of us had a hectic week, it was easy for our action items to fall through the cracks. To combat this, we made Arena Team participation open to anyone on the staff—the more, the merrier.
The Arena Team now includes 12 team members (about 30% of our current staff), two of whom are members of our senior leadership team. The all-level presence in these meetings is crucial. It has empowered junior staff members to participate in difficult conversations and share ownership of these decisions. It's also facilitated more immediate buy-in from leadership.
Since our Anti-Racism Commitments are divided into categories, it felt natural to divide our Arena Team into four corresponding committees: Clients + External; Education + Professional Development; Hiring + Promotions; Internal Accountability.
The Arena Team meets weekly for one hour. We use the "Breakout Rooms" feature in Zoom to divide into our sub-committees for 45 minutes and use the last 15 minutes of our meeting to come back together as a bigger group and report on what each subcommittee has discussed. Looking at our Anti-Racism Commitments list can feel daunting; committing to meet for an hour a week helps break our work down into manageable chunks. We give our full staff Arena Team updates during our weekly staff meetings, and our Arena Team Slack channel is public to the entire company, so anyone can pop in and see what the team is working on.
---
What We're Working On
With all of that context, here's a rundown on what The Arena Team has been working on since June 2020.
Clients + External Committee
This committee handles our relationships with clients and external-facing events, such as Boot Camp and CI to Eye Live.

Boot Camp 2020: This committee did an incredible amount of work to support our annual conference, Boot Camp, which we hosted digitally this year. In planning who we'd be showcasing in this forum, we worked as a group to run decisions through an anti-racist lens.
Live Captioning and ASL Interpreters: We engaged live captioning and sign interpreters at Boot Camp 2020 to increase accessibility for attendees.
Anti-Racist Values of Engagement: We developed a list of values for both speakers and attendees, who were required to sign and agree to uphold them before attending Boot Camp 2020.
Learnings from Boot Camp 2020: We learned a lot from this conference and plan to broaden our roster of speakers and create affinity spaces for BIPOC attendees. We are carrying these learnings into future Boot Camps, CI to Eye Lives, and other external speaking engagements.
Education + Professional Development Committee
This committee creates internal educational touchpoints.
Anti-Racism Mixed Media Club: Open to the full staff and hosted monthly, participants are given a collection of articles, podcasts, books, etc., to consume and then discuss together. Our syllabus is adapted from Rachel Cargle's syllabus "The Great Unlearn." We're so grateful for this resource and are proud supporters of her Patreon.
Artist of the Week: In our weekly all-staff meetings, team members take turns spotlighting BIPOC artists and their work.
Hiring + Promotions Committee
This committee examines our hiring and promotions processes to create systems with more diverse stakeholders.
"Defining Roles" Internal Document: This committee has been rewriting our "Defining Roles" document, an internal document that lists each position's required skills at CI. We want this document to be clear and concise while allowing for the different ways a trait might present itself in an employee. For example, "excellent problem solver" might look different on me than it does on someone else. In the past, we've received feedback that this document was not specific enough, so we are working to make sure it is both inclusive and thorough.
Hiring Advisory Committee: We're experimenting with bringing more stakeholders into the decision-making process for hiring new employees. This has been good practice for what a hiring advisory committee might look like in the future and has left us with many questions to answer: Does this decision-making come down to one person? How do we account for bias (in all of its forms)?
Internal Accountability Committee
This committee examines internal policies and systems, breaks them down, and rebuilds them.
Internal Staff Feedback: We started by crafting two feedback mechanisms: an anonymous feedback form and a monthly Pulse Survey. The feedback form is a place for employees to give immediate feedback in situations where they might not feel comfortable coming to another team member or me. Our Pulse Survey is sent to all employees monthly and is used to take a general "pulse" of how everyone is doing.
We endeavor to keep this system as transparent as possible. With this in mind, I aggregate the data we collect each month and send it to the full staff simultaneously. We've received feedback about the gatekeeping of survey results in the past, so we're leaning into sharing as much as we can.
Employee Performance Review: We're currently working on re-crafting our employee review system. We want our new approach to be more precise and more focused, with resources designed to set first-time leaders up for success.
---
We are by no means experts in any of this work. We have made mistakes, and we'll continue to make mistakes as the work continues. Still, I'm proud of what we've accomplished so far, and The Arena Team meetings are my favorite hour of the week.
I've linked to many of the resources we've created here, so please feel free to use them to develop your systems. If something resonates with you, or if you have feedback for us, we'd love to hear it.
We're committing to publishing these updates every quarter—I look forward to sharing our progress with you in the new year.