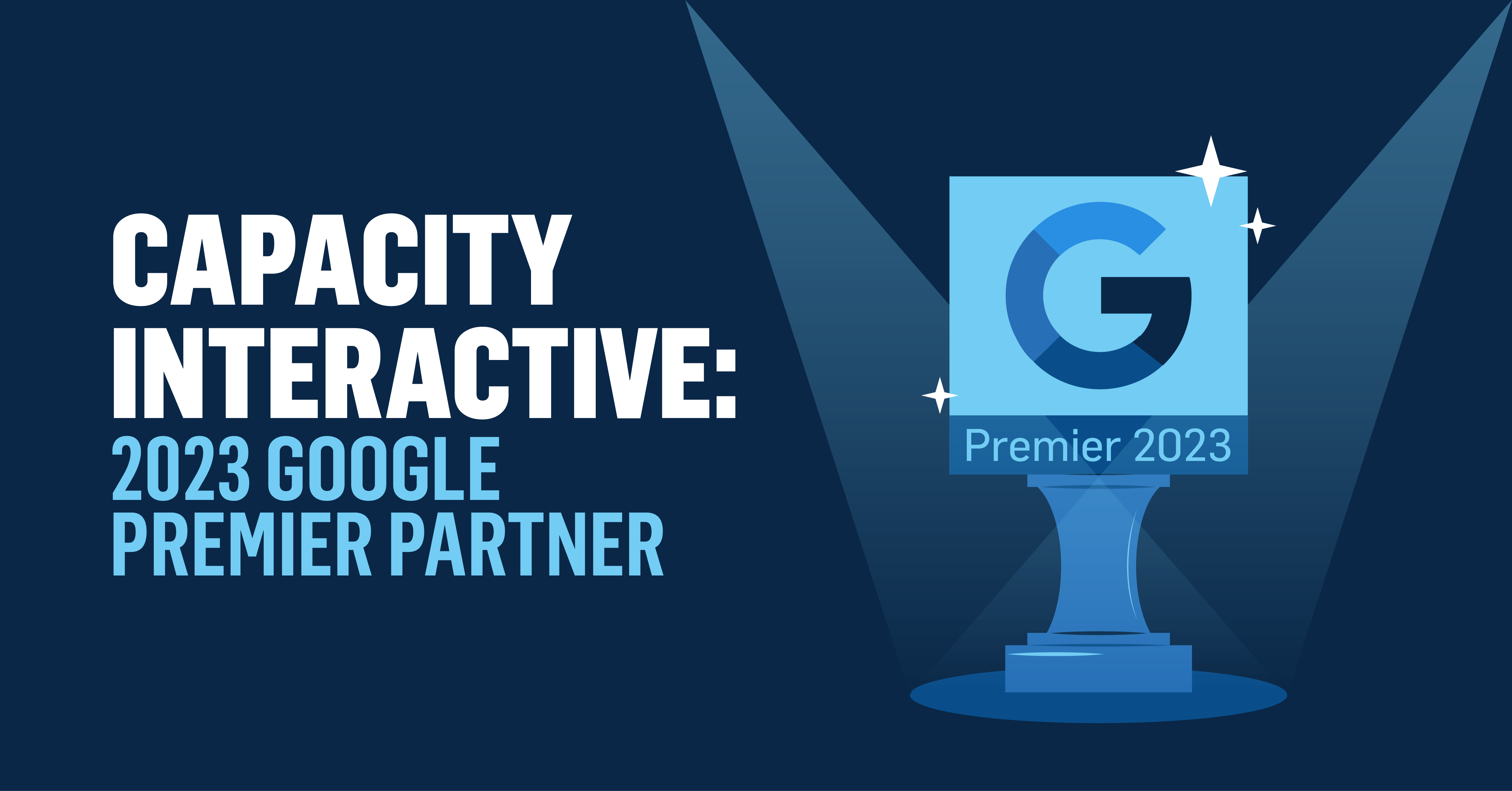 The Google Partners program recently shared its Premier Partners for 2023, and Capacity Interactive made the list! So what is a Google Premier Partner and how is this beneficial to our clients? Read on to find out!
---
What is a Google Premier Partner?
Premier Partners represent the top 3% of companies in the Google Partners program nationwide. They are the top platform experts in boosting campaign success, driving client growth and results, and demonstrating Google Ads prowess. With this recognition come significant benefits, including special access to technical support and product resources.
There's no question that Google dominates the landscape. Google commands over 80% of the worldwide market share regarding search engines. In their study "Selling Out: Understand the Path to Purchases for Performing Arts Tickets," Google found that 77% of people who use a search engine in their research buy tickets to a performance.
Their dominance isn't limited to search: Respondents to our 2021 Performing Arts Ticket Buyer Media Usage Study nearly universally indicated usership of YouTube (which is owned by Google)—and that usage grew over time, from 88% of respondents in 2019 to 90% in 2021. Additionally, the Google Display Network, where banner ads run, reaches over 90% of internet users worldwide.
Put Simply: Investing in Google campaigns should be a no-brainer.
To get the most value from your investment, you want to be working with experts in Google campaigns. As Premier Partners, we can tap into our extensive arts industry knowledge and the exclusive resources that Google provides. We have access to products and features before they're available to the general public. Google assigns us a level of technical support not available to most other advertisers.
Our Premier Partner badge guarantees expertise and up-to-date knowledge—which translates into more robust results, as Google Premier Partners must maintain a proven track record of campaign success. We are proud to continue our partnership with Google and use our expertise to benefit the arts.
---

I value the access and information we get directly from Google's Premier Partnership program. It allows us to stay ahead of the curve for our clients, knowing what products and betas are in development and what Googrecommendsing we prioritize in our campaigns. For example, when responsive search ads (RSAs) were first introduced, marketers were skeptical that a dynamic ad format could perform as well as the tried-and-true expanded text ad. With Google's encouragement, we at CI tested, optimized, and fully adopted this new ad type early, well before it was announced that other ad types would be phased out. With this partnership, we're not scrambling to adapt to changes—we can proactively future-proof our campaigns without sacrificing results!
—Madelyn Frascella, Senior Consultant, Search Marketing