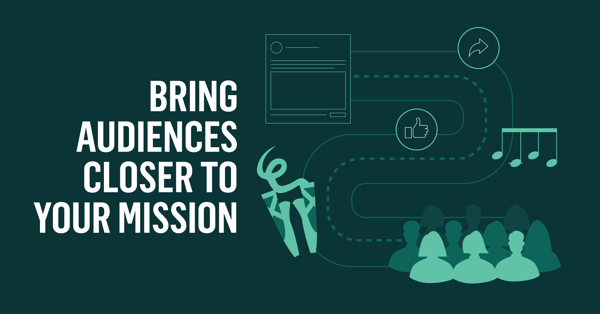 You probably have firsthand knowledge of the power of social media advertising tools to engage your audiences and sell tickets. Lately, we've been exploring cost-effective ways to harness these same digital tools to support the mission-centric programs that are important to all of the organizations we work with (and we're guessing yours, too!)
Read on to learn how we did this with Anchorage Concert Association (Anchorage Concerts) and how you, too, can cultivate audiences and awareness for outreach activities and public performances through the Facebook tools you already may be using. With a solid targeting strategy as a foundation and engaging creative as your framework, you'll see measurable results as your programs grow.
---
Keep an Eye on the Destination
Anchorage Concerts is the largest performing arts presenter in Alaska, inspiring audiences with internationally acclaimed artists from across the spectrum of performing arts genres. We have partnered with Anchorage Concerts on their digital marketing strategy since 2016 and, given the volume of performing arts events Anchorage Concerts presents, the focus of our work together has centered around single ticket sales and subscriptions.
But Anchorage Concerts' mission extends much further- as a cultural anchor, Anchorage Concerts' mission is to inspire and enhance the community through the performing arts, including public performances and outreach activities. We were thrilled when Anchorage Concerts wanted to expand their use of digital tools to build awareness and cultivate an audience for one of these mission-focused projects.
Using dance to connect communities and break down walls is at the heart of The Global Village Experience. A collaboration between Anchorage Concerts, Lula Washington Dance Theatre, numerous nonprofit and immigrant relief organizations, Alaskan artists, and the community, this program focused on the Mountain View neighborhood of Anchorage.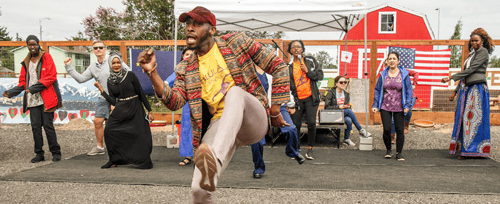 Lula Washington Dance Theatre leads a dance at the 2018 World Refugee Day Celebration in Anchorage's Mountain View neighborhood.
Photo credit: Jason Hodges, Anchorage Concert Association
Mountain View is considered the most diverse neighborhood in America, full of people from every part of the world and over 90 languages spoken, yet it faces many obstacles, such as transportation challenges and misperceptions about the neighborhood.
Anchorage Concerts' vision with the Global Village Experience was to celebrate the place and people of Mountain View, foster connection through real world conversations about transportation and the idea of home, and demonstrate the possibilities inherent in art and dance. This 18-month project culminated with a free community celebration and performance that invited "the outside in and the inside out" with stories, art, and dances from around the world.
---
Map the Road Ahead
In approaching our strategy for this program, we considered our specific goals of building awareness about Mountain View and this 18-month collaboration, as well as driving attendance to the community event. While there were no revenue goals for the campaign, this was an institutional priority for Anchorage Concerts. And, even if digital audiences didn't attend the event, it would broaden the community's perception of both Mountain View and the scope of Anchorage Concerts' work.

In line with this awareness building goal, a Facebook fundraising campaign we previously ran for Anchorage Concerts demonstrated the impact of providing engaging information to audiences prior to attempting to convert them with an attendance or donation "ask." For Anchorage Concerts' ticketed performances, we've seen that Facebook Instant Experiences and Event Response campaigns have been successful. Given their interest-building nature, we were curious to see their effectiveness for a non-ticketed event (particularly on a conservative budget of $500).
---
Sights and Sounds Along the Journey
We began with a week-long flight of Instant Experiences to spend time storytelling, informing audiences and engaging them with the program's content. We targeted audiences outside of Anchorage Concerts' universe through a variety of methods including retargeting of Anchorage Concerts website visitors, Facebook users who have engaged in similar Anchorage Concerts content before (such as world music and dance content), and Lookalike behavioral targeting of Facebook users who have a digital profile similar to those who have engaged with Anchorage Concerts' programming.

When strategizing lists, particularly for niche audiences, it's important to build them in a way that ensures they're large enough for Facebook to generate the reach you need for your acquisition goals.
The Instant Experiences format allowed Anchorage Concerts to showcase many aspects of the upcoming community celebration at a glance.
A benefit of beginning with an acquisition strategy was that interested audiences were sent to a dedicated landing page where they could learn more about the Global Village Experience, and in doing so they joined a retargeting pool. We could then use that pool with the subsequent Event Response Campaign (not to mention campaigns for related Anchorage Concerts ticketing programming down the road, such as world music concerts).
Our Event Response campaign followed the Instant Experience posts and ran for two weeks. Progressing from the Instant Experience approach, these posts directed audiences to the specific event landing page, moving them along the path to attendance. In addition to retargeting middle- and bottom-of-funnel audiences that had shown interest by either engaging with the Instant Experience post or visiting the Global Village Experience landing page, we utilized email lists.
With some on-the-fly learning based on the impressive results from Lookalike audiences and other behavioral targeting of engaged users during the Instant Experiences portion of the campaign, we extended this approach to continue to build interest amongst new audiences during the Event Response campaign.
Event Response posts provided a multiple content types and used bright colors that likely stood out in viewers' feeds. The post copy supplied just enough information to win the interest of audiences.
---
Celebrate The New Arrivals
The Instant Experience campaign drove a strong number of discrete page views and engagements, building our remarketing pools at a low cost per key page view (KPV) at under $2. These are key indicators that this Facebook format is effective in grabbing the audience's attention and encouraging them to learn more.
The Event Response posts drove discrete event responses for well under $2 per event, demonstrating that it was a very efficient tool for our event attendance-building goal. The Event Response rate was comparable to the most recent major concert event we advertised through this method (which had double the budget!) The campaigns also generated post shares, which helped amplify our efforts through word of mouth around the event.
Anchorage Concerts was thrilled with the attendance at their event and at how these Facebook tools bolstered awareness of The Global Village Experience and Anchorage Concerts' outreach efforts. Careful consideration of the audience currently tuned in to their outreach efforts and a strategy for growing that base enabled us to smartly target on a small budget. We're looking forward to the next opportunity to harness these cost-effective Facebook tools to help reach mission-focused goals.