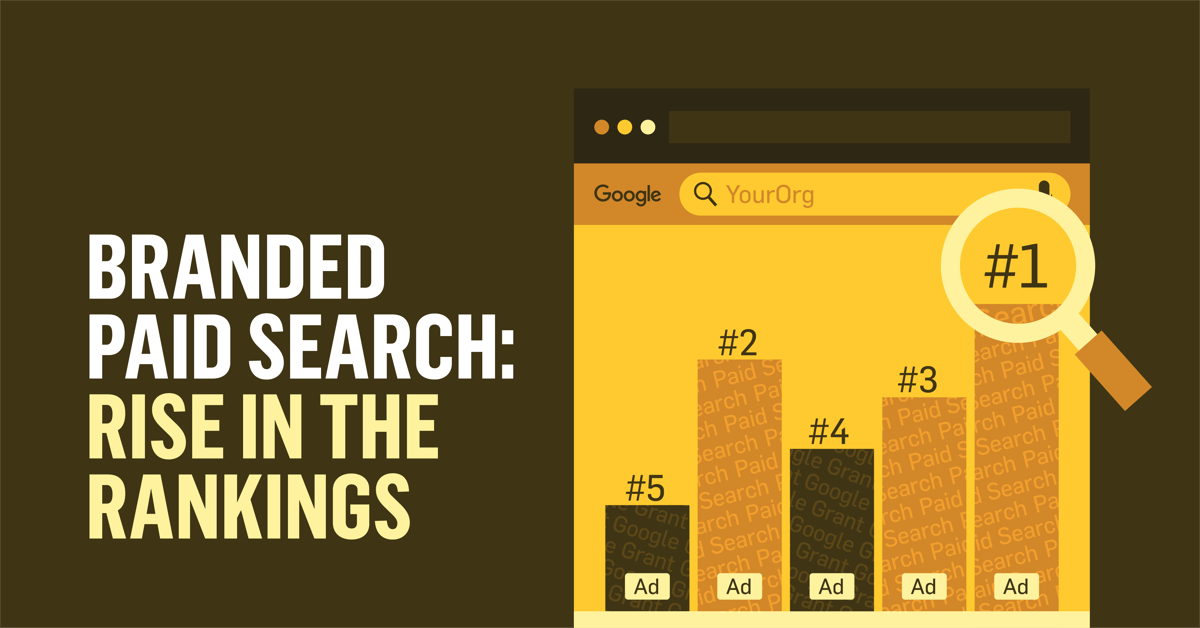 Picture it: an enthusiastic ticket buyer opens a new browser window and types in your organization's name. They're ready to book a ticket to enjoy a special night out. But wait! What's that at the top of the search engine results page? A ticket reseller! Before you know it, your eager attendee has bought their ticket from someone else.
The Google Grant is a powerful tool that supports nonprofit organizations with free media dollars for search engine marketing efforts, but it can't always compete with paid search in the rankings. If you're seeing declines in your Grant performance, it's time to incorporate branded paid search to help your search ads break through the competitive landscape.
---
I Have a Google Grant—Do I Still Need to Invest in Branded Paid Search?
Nonprofit organizations are eligible to spend up to $10,000 from their Google Ad Grant on search engine marketing each month. So, why should you also allocate your own media budget to paid search?
To better understand, let's take it back to 2017: ah, what a time! A multi-year global pandemic was the furthest thing from our minds, we still held out hope for a satisfying ending to Game of Thrones, and Google was shaking up the Google Grant program with new policies that made it more difficult for Grant ads to stand up to competing paid search ads. You can brush up on all the specifics in this blog post from 2018.
A few years into these changes, we're seeing the real benefit of supplementing your Grant with paid search: there is no quality filter limiting when your ads appear, you can use single-word keywords, and you can employ audience targeting, among other things, all of which are restricted in the Grant account.
The campaign results speak for themselves, so let's dive in!
---
A Revenue Boost for Jacob Burns Film Center
Jacob Burns Film Center is a small non-profit, five-screen art house cinema and education center located in Pleasantville, New York. CI has managed their Google Grant account for several years, but we recently recommended an experimental 3-month branded paid search campaign to see how it performed.
Campaign Overview
Timeline: April 2022, continuing through the end of June 2022.
Budget: $1,000 per month.
Keywords: Since it's a brand campaign, all the keywords we bid on had some combination of the organization's brand name.
Targeting: Westchester County—the minimum viable radius for attendance.
The Results
Here's how the campaign performed in its first month, compared to the Google Grant brand campaign the month prior. It's not an apples-to-apples comparison (the Grant campaign is targeted nationwide and the paid search was focused on Westchester County), but the paid search results shine: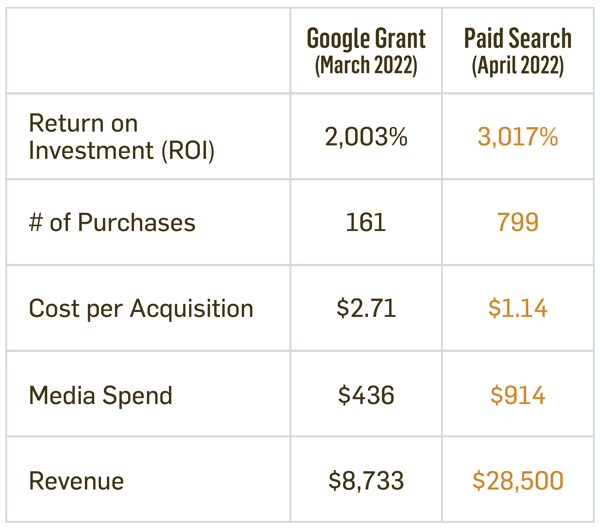 The search impression share—the percentage of impressions that your ads receive compared to the total number of impressions that your ads could get—was only 45% for the Grant's March 2022 brand campaign, but 94% for the paid search brand campaign in April. That's a 109% increase in impression share! This is a direct reflection of the paid campaign's ability to be more competitive in the search landscape than the Grant.
---
Sky-High ROIs for Carnegie Hall
The impact of branded paid search isn't limited by organizational budget or genre, either: we've seen these kinds of results at vastly different kinds of organizations, including Carnegie Hall. CI manages Carnegie Hall's Grant account and runs several paid search campaigns on an ongoing basis, including a brand campaign.
Campaign Overview
Timeline: The paid branding campaign has been running since 2018.
Budget: On average, it's $6,000 per month.
Keywords: Since it's a brand campaign, all the keywords we bid on had some combination of the organization's brand name.
Targeting: The geotargeting is broadened to the entire United States.
The Results
This campaign essentially prints money, consistently achieving an ROI over 4,000%.
In the case of Carnegie Hall, paid search is also an important tool to outrank ticket resellers who might otherwise appear as the top ad result on the search engine results page. For organizations that are in competition with resellers, paid search campaigns are an invaluable supplement to the Google Grant, where impression share loss on eligible searches can be prohibitive.
---
Paid search is often an untapped resource for arts organizations. Not only does paid search allow for flexibility with media budget and provide a solid return on investment for revenue-oriented campaigns, it's impactful regardless of discipline or operating budget. In the season ahead, get in front of the audiences who are actively searching for you with branded paid search campaigns.
---
Interested in what CI can do for your organization's search engine marketing strategy? Get in touch with us!