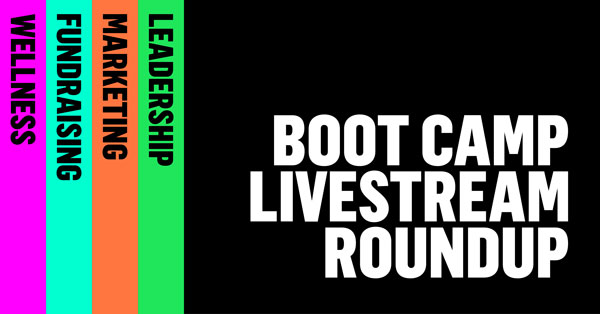 This is your Boot Camp Livestream roundup. If you tuned in and you're looking for a recap for yourself or to share with others, this is it. Maybe you missed the livestream and you're eager to read the headlines about what you missed. Got you covered. And, if you missed the livestream and you're trying to figure out what to go back and watch, let this serve as a guide to help you choose what to dig into first!
In each section, we've listed the session title, the speakers and their affiliations. We've also included a session description and some key takeaways. At the end of each session overview, you'll find links to resources mentioned by presenters. Each session was a digestible ten minutes in length, so if you're feeling curious, tap/click "watch now."
---
What's Next? Envisioning Recovery
Brett Egan, President, DeVos Institute of Arts Management
The major opportunity when we recover is to prove once again that we are—this sector is—the chief architect of social cohesion and to emphasize and re-illustrate the importance and the preciousness of gathering. What will we do to exert our primacy as the experts in creating value in real time and space? How are we going to prove that when it's time to regather it's worth the time, energy and financial cost to do so? What will we and our teams do to reassert our necessary or extraordinary roles in this changed world? Brett explored these questions in three phases to speculate what comes next.
Phase 1: Fundraising
Dark abyss approach: Help! Coronavirus! Help! Spray and pray—not strategic.
Finite point approach: Strategic. Make it clear for a prospective donor to see their role in really moving the needle against a concrete goal. Illustrate, in specific detail, how funds will be used to give donors explicit confidence that their contributions will be impactful.
Phase 2: Recalibration
✓ Scenario planning: Quarterly basis; quarterly programming plans mapped to analogous budgets
✓ Summer programmers: establish a clear go, no-go date
Three programmatic responses have been observed:
✓ Dormancy: watch and wait approach
✓ Digitized: business as usual (moving from the stage or museum to online)
✓ Startling innovation: (favored by Brett) going down to the magma hot core of the mission and to ask, what is our mission driven response during this period of time and what are we gonna do that's going to prove again that we can lead even in these conditions. This approach leads to heightened visibility and fundraising potential. Brett's preferred approach is a finite point fundraising approach on the back of starting innovation. How does mission encourage us to respond at this particular moment given these circumstances to create new value?
Recovery (or Collapse)
We are going to be operating in an environment of extreme constraint. Two organizations will find a path through this.
Necessary organization: This type of organization previously created tendrils reaching into many areas of civil society—whether that means your intersections with health, human services, justice, transportation, working with the elderly, working with people with physical disabilities, working with people who would otherwise be perceived to be underserved in this upcoming environment. They're able to say, "we do the art piece but we're also going to fulfill this essential civic function."
Extraordinary organization: This organization is going to do something that is so insightful, you can't ignore it. It's going to activate its artists that reintroduce us to public space in a way that we have never seen before. This organization is going to revolutionize what it means to actually gather in physical space.
---
Search Trends and Best Practices
Luke Rodehorst, Account Executive, Google
Sarah Cho, Senior Analyst, Capacity Interactive
This session begins with Luke, who illuminated some emerging trends by walking us through some of the data that Google is seeing. Entertainment is still vital for patrons, but the venue has changed. We've moved from the theater and museum to the couch.
✓ 60% increase in the amount of content streamed
✓ 20% increase in watch time on YouTube [through April 16]
✓ Interesting growth categories on YouTube:
Study with me
Pantry meals
Coping Techniques
Home workouts
New windows of opportunity to really appeal to the entertainment we're all seeking given the current constraints:
✓ Fundraising livestreams like Phantom of the Opera for The Actors Fund
✓ Principal ballet dancers teaching free daily class from their homes
Patrons want to help the arts see a bright future.
According to a study conducted by Google, 53% of theatergoers said they would donate to a cause that supports the survival and continuity of the performing arts.
While we might not be able to sell tickets and subscriptions, there is a suggestion that there is an appetite for patrons to continue to support you and to support your causes given the reality we're living right now.
This session continues with Sarah, who shared the latest best practices for search. Entertainment may have shifted, but the role of search remains the same. People still very much use search to answer their in the moment questions, even if what they're asking has changed.
The three prongs of search marketing need to provide accurate, relevant and timely information to users; for nonprofit organizations - the three prongs consist of Google grant & paid search (SEM) and organic search (SEO).
The search landscape has changed, so consider adopting these best practices.
✓ Adjust key performance indicators (KPIs) and goals.
What does success look like during this time for a search campaign? Instead of ticket or admission sales, it's watching a video.
✓ Monitor changes in audience behavior.
Let it inform the content you develop as part of your organic search strategy.
✓ Update to be accurate and sensitive.
This includes ad and website copy, ad extensions, Google My Business, and events schema.
✓ Improve digital infrastructure.
Prepare for recovery in the long-term.

Resources
YouTube Trends
Google Trends
YouTube Creator Academy
---
Apollo as an Anchor
Fatima Jones, Senior Director of PR & Communications, The Apollo Theater
Fatima discussed the importance of being present for our communities digitally and remembering that there is still a digital divide. As we move our content exclusively online, it's crucial to find ways to meet the needs of our constituents who do not have access to the internet. What questions should we be asking to meet the needs of our constituents?
Fatima's advice for surviving the crisis - partner with other organizations, practice self-care, and lean on the resilience of the human condition to overcome hardship.
Resources
Heal Hous/Linda Lopes
DJ D-Nice
---
Virtual Gala Transformations
Elizabeth Racheva, Chief Philanthropy Officer, Washington Performing Arts
Timmy Metzner, Director of Marketing, Woolly Mammoth Theater Company
Both of these organizations had to pivot quickly and transform traditional galas into digitized affairs. Fundraising was a prominent feature in both galas and included live auctions, paddle raise, silent auction, and calls for cash.
Washington Performing Arts (WPA) had a fundraising goal of $1.03 million. Achieved 78%*
✓ Silent auction: overachieved its goal by 20%
✓ Live auction: reached 93% of its goal
✓ Paddle raise: reached around 56% of its goal
*Their gala was previously scheduled to be a live in-person gala prior to the Covid-19 crisis, so WPA was already sitting on that ticket and table revenue
Woolly Mammoth Theater Company had a fundraising goal of $220k, and achieved $270k.
Want to run seamless online paddle raises and live auctions? You must plan and prepare!
✓ Plan in advance to engage your audience throughout the event
✓ Get a great auctioneer
✓ Identify and use appropriate digital platforms (these organizations used One Cause).
✓ Ask board members in advance if they plan to participate in the paddle raise so you can call them out during the event.
✓ Provide alternate channels of communication other than the digital frontline for folks who are not tech-savvy.
✓ Invest in video. Tell your story in an emotionally compelling manner.
Overall Lessons Learned
WPA
✓ Consider how you can make your event as special as possible.
✓ Lean into stewardship
✓ Make it personal. Deliver a cocktail recipe to the homes of your people; send floral arrangements (helps other industries!), send handwritten notes
Woolly Mammoth
✓ Think expansively about who is on your staff and what untapped skills exist amongst your team. It's all hands on deck!
✓ As an industry, let's agree to adopt a mindset of abundance rather than one of scarcity and support each other's efforts. A rising tide lifts all ships!
Resources
Woolly Mammoth's VIRTUAL Progressive Party
Washington Performing Arts Gala
Washington Performing Arts Gala - Auction Site
Washington Performing Arts gala team email
C2 Auctions
RJ Whyte Event Productions
---
Resilience
Jennifer Zaslow, Partner, Clear Path Executive Coaching
Navigating the global tsunami of a pandemic is not your everyday challenge. In this session, Jennifer laid out some actionable strategies to help us become more resilient at a time when we all need it most.
Resilience: the presence, clarity of mind, humility and strength to ride a wave to shore, i.e. to SURF.
S=Sit With Your Feelings
When we perceive our emotions as negative we push them away and that robs us of the opportunity to grow. The solution is to acknowledge those emotions believe that it's OK to feel them. Stay on the mat and feel your way through challenges.
U=Unlock Your Mental Potential
Make time every day for activities that have been shown to recharge, restore, and even rewire the brain. Our brains thrive on variety. A Healthy Mind Platter includes: sleep time, physical time, focus time, time in (reflection/meditation), down time, play time, connecting time)
R=Respond, not React
Slow down and create space. A pause will allow you to choose your response rather than letting your emotion choose a response for you. Practice mindfulness; let go of replaying the past and anticipating the future
F=Find the Gifts
Cultivate a growth mindset. People who believe their abilities are innate or fixed avoid challenges because their primary concern is to look capable and smart. Conversely, people who believe they can improve their abilities through hard work, know that challenge is part of the process so they embrace it because they know it will help them get better. They reframe challenges as gifts.
Resources
Richard Davidson mindfulness
Carol Dweck growth mindset
CI to Eye podcast episodes
Clear Path Executive Coaching
How People Learn to Increase Their Resilience by Carley Hauck
Dr. Dan Siegel's Healthy Mind Platter
The Obstacle Is the Way by Ryan Holiday
---
The Alchemy of High-Performing Organizations
Dr. Zannie Voss, Director, SMU DataArts
NOTE: Unfortunately, this Q&A with Dr. Voss was cut short due to a power outage in her home.
In this session, Dr Voss previews a not-yet-released study centered around the alchemy of high performing arts organizations. How do you get to financial success? Alchemy - the magic mix of high standards in the creation of work that is meaningful to the local community; the strategic vision of these cornerstones - high quality community orientation - forms the vision statement that anchors strategic planning.
✓ Of the high performing organizations interviewed for this study, all were at one point in their history, a turnaround organization and could speak to their "turnaround moment."
✓ Success was not accidental, all interviewees had developed a mental map for achieving success and it's created with involvement from both staff and board.
✓ Grounded plans really recognize multiple steps rather than assuming a single action or some big miracle moment that will provide transformation - it's a slow controlled burn.
✓ For organizations with a lot of fixed costs and assets but little liquidity, this is a time to consider how much you really need to "own" to do your work well. When you think about your core and your purpose, what's the extent to which that is reliant on your need to own physical assets, like a building?
Resources
Bottom Line Report
SMU DataArts
---
Not a Pretty Picture
Adrian Ellis, Founder, AEA Consulting and the Global Cultural Districts Network
What got you here doesn't always get you there. We're ripe for radical reinvention and the pandemic is going to accelerate the process. We can at this moment do things that we could never do in a normal environment - and that is - authentic reinvention. There will never be a better time for radical thinking.
✓ We are all in the extraordinary position in which we cannot see into the future.
✓ We're managing four different trajectories; the virus, chaotic public policy, recession, and the social scarring (will people leave their homes!). How deep will the social scarring be and how will different demographic groups respond?
✓ We're not really using this crisis, as historically, crises have been used. The result could be the danger that when we re-emerge, we're going to come back at 65-75% of our existing capacity but looking dangerously like we currently look, having not reinvented ourselves.
Resources
Wall Street Journal: "Not a Pretty Picture" (paywall)
CI to Eye with Seth Godin
---
Be Our Ghostlight Campaign
Jeff Fickes, Communications Director
Heidi McElrath, Development Director
Eunice Choi, Graphic Designer/Marketing Assistant
Seattle Shakespeare
Staring down a canceled 19/20 season as one of the first markets on the frontlines of the pandemic, the folks from Seattle Shakespeare had to get creative and move to engage their audience quickly to ensure the safety of the organization.
With no end date to the crisis, setting a fundraising goal felt disingenuous to themselves and the people they were going to ask for help, so they set out to employ a people-based campaign with a goal of 100 donations. The campaign positioned the donor as the star; the donor is keeping the lights on!
✓ The goal was based on previous fundraising data, as they wanted to set something achievable.
✓ They overachieved the goal, garnering 178 donations - 40% were new donors (the average for their organization is 15%).
Resources
Be Our Ghostlight Campaign landing page
Bluff Your Way Through The Play
---
Understanding Digital Behavior
Jess Bergson, Consultant, Capacity Interactive
In this new world, our website users are our online patrons. In this session - dense with actions you can start taking now - you'll learn about how we can use website analytics tools to better understand our audiences, measure the content we're creating, and improve our user experience.
✓ Our main website KPIs are temporarily gone, and we need to redefine what's important.
✓ Even though our goals are changing, the pillars that make up a great website remain steady:
Providing valuable content
Elevating our brand and building community
Providing a great user experience
✓ Free tools like Google Analytics and Hotjar can help us understand if we are accomplishing success.
✓ If you don't know where to start, be curious and ask questions. Then, take action, measure, rinse and repeat.
Resources
Hotjar
---
Marketing the Arts Post-COVID-19
Ashley Dunn Gatterdam, Vice President, Client Strategy, Capacity Interactive
There are some vital ingredients we need as marketers: a product to sell, a budget to do it with, and customers to buy it. Having all three rugs pulled out from under us at once - while we simultaneously become digital programmers, curators and therapists - can easily make us feel overwhelmed and/or paralyzed. Ashley identified these three "headlines" as a helpful guide to how we respond to the rapidly changing "now," and prepare for the mostly unknown "next."
Of the many sudden and interesting changes to user behavior - most of them likely temporary - social network and streaming services are seeing user numbers on their phone apps stagnate as website traffic grows, indicating a shift away from small screens.
Find the Gifts!
Record social media usage and a decline in the cost of ads (35 to 50% on average for Facebook) means we can't afford not to be lead collecting during this time! As Colleen Dillenschneider says over and over again, it costs five times more to acquire a new audience member than it does to retain one.
This is a time to experiment. Think critically about your organization, your department, and your own work/role. Always wanted to scrap your huge, expensive and labor-intensive season brochure? Now might be the time.
The Only Constant is Change.
Or, necessity is the mother of invention. As arts organizations, one of the fundamental reasons we exist is to meet the emotional needs of our communities. We will come out the other side of this stronger if we learn to practice empathetic audience engagement.
✓ We have to get our digital infrastructure house(s) in order now so we can be incredibly nimble and data-driven both during and after this crisis.
✓ We are likely facing budget cuts and the need to plan for many unknown scenarios in our season calendars. We can't afford to commit to expensive, inflexible, hard-to-measure media like billboards and print, when we need the nimbleness of highly targeted campaigns where budgets and messaging can be adjusted in real time.
✓ We also need the storytelling power of video on social networks, so as audiences return, they can share your great content with their friends and family - with the message that your performance/exhibition was worth leaving home for (60% of survey respondents say that seeing other people attend will make them feel safer).
Resources
Seth Godin: Permission Marketing

CI to Eye with Colleen Dilenschneider

Jackie Beat: website
---
Board and Leadership Collaboration
Deeksha Gaur, Co-Founder and CEO, Show-Score; Board Treasurer, SPACE on Ryder Farm
Emily Simoness, Co-Founder and Executive Director
SPACE on Ryder Farm
Board members and leaders of organizations have been forced to make some really difficult decisions with very little information about the future, Deeksha and Emily explained how they have collaborated in response to the crisis.
✓ So many x factors and variables during this crisis - over communication is key.
✓ Your stakeholders want to be useful, they want to give. Lean into your board - they are your major stakeholders. Getting them involved in the nitty gritty and decision making insofar as they're willing is really valuable not only in terms of getting buy in, but they're also your biggest advocates. Show them the vision and ask, how do we throw out the rulebook and make it all happen?
✓ Keep the board in the loop with all your thinking - "this is the information I have right now and based on that information, these are the decisions we are making - that might change but this will keep you aligned."
✓ When vision and mission is ingrained in the board, you're all able to speak the same language. The opportunity in times like these for leadership teams and boards is to figure out that path forward by coming back to organizational values.
✓ The more that we lean into our community and the good that we do as a nonprofit the more likely we are to come out of this in a better position.
---
Crisis Content Library
Krisi Packer, Director of Marketing & Content, Capacity Interactive
Meaghan McFarland, Associate Creative Director, Capacity Interactive
The age of COVID-19 is full of uncertainty—your audience is looking to their friends, family, and organizations they trust for a sense of purpose and hope. It's more important than ever to create timely and meaningful content to connect with your core audience.
In the spirit of learning from our industry colleagues, Krisi and Meaghan created The Content Inspiration Gallery for Arts Organizations in Crisis.
✓ This resource is an interactive gallery for stellar social content in the age of COVID-19. It includes over 100 social examples from the arts industry divided into topical sections:
Digital Programming
Inspire and Engage
Comic Relief
At Home
Fundraising and Ticket Donations
✓ You'll find screen recordings of video posts, screenshots of image posts, and GIFs of carousels. The examples are housed natively in the document, and you can also tap/click to view the post in-platform.
✓ This is just the beginning for this resource—the goal is to expand and grow. If you have a piece of stellar content, fill out this form for a chance to be featured in the resource.
Meaghan and Krisi also answered a couple of questions around authentic messaging and what arts administrators can learn from this unique time.
✓ How to not say COVID-19 a hundred times: At the start of this crisis, corona-specific language was crucial. People needed to know logistically and operationally what was going on. But, now, as we're several weeks plus into this crisis, we're caught in this moment of not wanting to feel tone deaf by not acknowledging COVID-19, but also not wanting to overwhelm by saying COVID-19 over and over again. Thoughtfully infusing phrases like "a lot has changed," "these are extraordinary times," and "even while we're apart" will do wonders for your audience. It creates this moment of acknowledgement and empathy. People will not forget the way you made them feel in a crisis.
✓ What arts administrators can learn from this unique time: Even though these are dark times, don't overlook the positive opportunities of this moment. Arts administrators are doing a great job creating content that connects their organization to the world. This has always been an important part of content creation. Yet, with the pressure of sales goals, we lose that spirit. When we need to get butts in seats, we become organizational-focused instead of audience-focused.
✓ Shine a spotlight on your audience. Let's all commit to removing a phrase from our copywriting vocabulary: "We're so excited to announce." It's not about us. It has always been, and always will be about our audiences, their lives, and how they intersect at our organizations.
Resources
The Content Inspiration Gallery for Arts Organizations in Crisis
---
Audience Engagement in a Time of Trauma
Tom O'Connor, President, Tom O'Connor Consulting Group
There is one central truth that on its face may seem fairly obvious to you, but which can't be minimized. Our entire world is in the midst of a profound traumatic experience. A return to any semblance of normalcy and relevance for the arts and cultural fields will require facing and integrating that trauma head on. In this session, Tom discussed the six pillars of trauma informed care and how we can incorporate them into a customer engagement strategy.
"Our live, in-venue programming may be on pause but our customer relationships are absolutely not. There are going to be many people who are going to wait one to three years - however long it takes to develop a vaccine - to come back to a venue. Those folks, and how we consider them in the construction of our customer engagement plans, are no less loyal to us, no less connected to us, no less emotionally bound to us, but their involvement with us will look different over the next couple of years. Think about empowerment and the ways we can make those customers not feel like less of a value to us over that time."
Resources
Article: Engaging Arts Audiences In A Time Of Trauma
---
The Barnes Foundation: Pivoting to Digital Programming
Jo Tiongson-Perez, Director of Marketing and Social Media
Martha Lucy, Deputy Director for Research, Interpretation and Education
The Barnes Foundation
Jo and Martha described the experience of launching the Barnes Take Out: Your Daily Serving of Art series and the reinvention of their art classes.
Barnes Take Out
✓ Went from 500 YouTube subscribers to almost 5,000
✓ Concept launched in ten days, a team effort that involved many departments working together
✓ The objective was to keep Barnes audiences engaged and reminded of what they love about the museum
✓ Keep it simple. They used their own collection, focused on one piece per video and kept videos between 7-10 minutes
✓ Make it predictable. Videos are released every day at noon, helping to serve the emotional needs of their community by giving them structure and something to look forward to, something to stimulate them intellectually, while at the same time providing a bit of fun
✓ It was important to the Barnes to position this content not as replacements for the onsite experience, but rather as extensions and a way to temporarily come together online
Classes
✓ Typically offer traditional classes in the fall and spring semesters, which had to be canceled due to the pandemic
✓ The team invented five new classes that could be offered online only
✓ They had been kicking around the idea of offering online classes for a couple of years, and the crisis gave them a sense of urgency to get it done
✓ Very successful - enrollment for one month was half of what the annual enrollment is under normal circumstances
Resources
Barnes Takeout

The Barnes Foundation Online Classes
The Barnes from Home
---
Fearless Fundraising
Karen Brooks Hopkins, President Emerita, Brooklyn Academy of Music
In this final session, you'll receive sage fundraising advice from one of the country's foremost experts. Karen started this session reminding us that fundraising can be a militarist operation. You will take casualties along the way, but it's important to keep the fight going! It's okay to take a minute and own what a drag this pandemic is, to whine and complain about how intrusive and difficult this is for our business and for our lives. And then we have to get on with it...
✓ This is going to be a long drawn out situation. Institutional leaders have got to cut expenses right to the bone. Now.
✓ Start by gathering the data to understand the impact on your institution in terms of jobs, income, buildings - everything - and then create a one page snapshot of what's going on.
✓ We've all got to speak in one voice and once that information is clear, then we can begin to talk to our various constituents. This is a moment when donor loyalty is really important. Look at donors that have been with you for five, ten, or 20 years and begin to fashion messages and strategies to reach them and thank them for their loyalty. Look at what they have supported historically and then build a case that intersects directly with their interests.
✓ We're all fundraisers now. Who on the frontline can make the best case to a prospective donor? If it's the person who has been the patron ticket representative for a group of donors and always handled tickets for them, then maybe she's the best person to make the case. rather than any random person from the development Department. It's always been about relationships, and now more than ever.
✓ Use your firepower. Gather artists in ways only you are able to and invite your donors to participate in those discussions. These "donor clubs" where people are reminiscing about their great moments at your institution are great for fundraising.
✓ How will you recover - with what exhibition or show? Build a fundraising strategy around those projects. Raising money now for the recovery moment will be a way to bring donors back into the fold in a more specific way, the way they're used to participating - around projects and and shows and exhibitions that really connect for them.
✓ Focus on personal connection and communication. Creating a sense of ownership for donors is what maintains retention, loyalty and growth in terms of fundraising. Every way that you can think of to connect personally, bring it to your thinking in terms of your large strategy because the personal is everything.
✓ Art is the only thing that endures from generation to generation. This is our case - the most positive way that we can reflect on our contributions to the world.
Social Media Strategy, Google Ads/Search Engine Marketing, Email Strategy, Leadership, Website Analytics, Online Fundraising