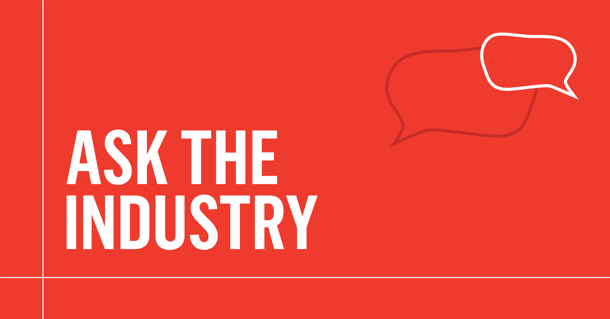 Ask the Industry features arts marketing practitioners from organizations across genres and budget sizes. This is advice from arts marketers in their own words - we hope you can learn from them and it will spark new ideas at your organization.
This month, we're asking, "What tools do you use to manage a centralized calendar (for content and/or project management)?"
Ashley Haraburda (National Ballet of Canada), Aly Michaud (Cincinnati Playhouse in the Park), and Lee Bowen, Jennifer Rensenbrink, Isaac Risseeuw, and Marsha Walker from the Minnesota Orchestra answer everything from choosing the right software for your organization to making the case for them in a world of tight budgets.
---
What tools do you use to manage a centralized calendar (for content and/or project management)?
Ashley Haraburda (National Ballet of Canada): We've been using Buffer at the National Ballet Canada for a number of years for content management. However, we use it at the tail end of our process. The team uses a SharePoint calendar that includes dates for e-communications, videos, website and general communications items. We have regular meetings to brainstorm ideas, discuss the calendar and create a strategy. Once we've created the first draft of content, we edit for clarity and send around for proofing. We only schedule posts in Buffer once they have been signed off by everyone.
Lee Bowen, Jennifer Rensenbrink, Isaac Risseeuw, and Marsha Walker (Minnesota Orchestra): We currently use Basecamp as a content calendar and a project management tool at Minnesota Orchestra. Each concert gets its own Basecamp and templates are used to create similar to-do lists. We also have one Basecamp set aside as an editorial calendar with each channel having a different to-do list. This helps to coordinate a shared calendar of what is going out on each channel, and when. We also use Sprout Social for social scheduling and reporting.
Aly Michaud (Cincinnati Playhouse in the Park): We use a simple Excel spreadsheet at Cincinnati Playhouse in the Park to manage our social media calendar. Since it's a living document, we host the spreadsheet on SharePoint — a web-based, collaborative platform that integrates with Microsoft Office. It's accessible to our team via our work computers and from home. Anyone viewing the document is always seeing the most up-to-date version.
---
How did you decide to use this/these program(s)? What was the process of assessing your needs and then finding a solution that worked for your organization?
Jennifer Rensenbrink (Minnesota Orchestra): When I started at Minnesota Orchestra, we had two different systems for web and print project requests. Both were paper-based. Then we had a third system for tracking projects that was an enormous spreadsheet that only one person could edit at a time. Having these disparate systems made it difficult to get a complete picture of what the department was working on—especially since some of it was on pieces of paper sitting on someone's desk; furthermore, it made it difficult to submit orders for campaigns that had both print and web components. I did some research on project management software, and I liked Basecamp immediately. One of the main reasons: I saw how nice it was that a user could log in from anywhere and get project information. As a mom with two young kids, I have to work from home sometimes and it was impossible to do so in our old world. The fact that Basecamp was web-based was a huge perk.
Isaac Risseeuw (Minnesota Orchestra): I used Sprout Social at my previous job and didn't realize how much I used the software until starting this new role. Minnesota Orchestra was previously using Hootsuite, but after discovering its powerful measurement tools, we switched immediately to Sprout. Other enterprise-level social media solutions would have been too expensive or more than we needed.
Ashley Haraburda (National Ballet of Canada): We tried Hootsuite a few years back, but didn't love the interface. Buffer is our preferred scheduling tool because of its usability. Time settings allow us to schedule our posts easily and to ensure that they are sent out consistently at 12 pm and 4 pm, even on weekends. All members of the Publicity team have access to the posts, and there's a great app that makes it very easy to see the scheduled content.
Aly Michaud (Cincinnati Playhouse in the Park): Before our current SharePoint spreadsheet, our social media management was previously hosted as a Google spreadsheet that we shared with our Capacity Interactive team. However, as our partnership with Capacity Interactive evolved, we shifted our workflow to rely mostly on email-based communication, instead of on the shared Google spreadsheet. This shift allowed us to move our spreadsheet into Excel and host it on our organizational SharePoint for internal convenience and simplicity.
---
What are some of the best features of the program(s) you use? Are there any limitations? Do you supplement with any other programs if there are limitations?
Aly Michaud (Cincinnati Playhouse in the Park): I am a very visual person, so seeing the social media campaign and content plan in a monthly schedule (via a single Excel spreadsheet in calendar form) works best for me.
Each month has its own tab, and UTM codes for each campaign live under another tab. There's also a tab titled "Ideas" where I can collect any thoughts I have about future campaigns or posts that do not fit into a current post or plan. I utilize the "hide" tab feature to hide previous months, removing any visual clutter from the current plan. But I can access what we did in the past by selecting which month I wish to see using the "unhide" tab feature whenever necessary. The other feature I use regularly is the "fill color" button, which allows me to color-code the days on the calendar to identify which publish, scheduled, or planned dates.
From a text/organizational standpoint, I use brackets to denote posts that will be organic (posts without brackets will be promoted as part of a paid campaign). I also place calls-to-action (CTA) ideas to the right of each calendar in the spreadsheet. This keeps our copy ideas centralized as we write posts to go with the campaign plan. Since the system is based on a calendar format, it does not work well to draft post copy within the spreadsheet. I supplement with Facebook's draft area as a location to store copy ideas and to preliminarily prepare posts. Seeing posts in the drafts area is also a beneficial visual exercise — as you write and edit, you are also editing for visual succinctness and aesthetic structure.
Ashley Haraburda (National Ballet of Canada): Buffer's social media calendar provides a full, at-a-glance view of content for the month, broken down into week views. The calendar also allows you to see how posts have performed by hovering over the copy which is helpful in tracking your top-performing content. That being said, we use Buffer primarily for scheduling content. At this time, it doesn't have monitoring tools for mentions, searches, and hashtags. We monitor these directly in the platforms. While Buffer does provide good analytics, we heavily rely on Facebook, Instagram, and Twitter analytics.
Lee Bowen, Jennifer Rensenbrink, Isaac Risseeuw, and Marsha Walker (Minnesota Orchestra): We've been enjoying the visibility Basecamp creates, especially for the editorial calendar. Basecamp allows you to share on Outlook and other calendars, so those looking for a 10,000-foot view can see that calendar at any time. We do supplement Basecamp with Proofhq by Work Front for creative proofing. Not only does this save on paper for our print projects, but it also allows for more collaborative feedback than Basecamp could provide which also saves us time. We use ProofHQ for everything from proofing web banners to collecting copy edits.
Jennifer Rensenbrink (Minnesota Orchestra): Since implementing Basecamp, the creative team has doubled or maybe tripled our output. We have been maintaining a significantly higher output from 2014-present than we did 2010-2012. Basecamp has made this possible.
Isaac Risseeuw (Minnesota Orchestra): My favorite feature of Sprout Social is the integrated message inbox. Sprout searches our hashtags, geotags, comments, and keywords and pulls them into a single feed. This helps me go through messages quickly to interact with the audience, tag customer service issues that need to be resolved and save great user-generated content for future use. The reporting functions have also been super helpful. Sprout compiles all of our social data so we can easily share the overall impact and dive in deeper to each channel.
Lee Bowen (Minnesota Orchestra): The template feature in Basecamp is one of my favorites. Early on we created separate templates for projects that we regularly needed such as print ads, signs for at the hall, etc. Some of those templates morphed into a more extensive "concert template." The concert template contains several to-do lists. That concert template will be turned into a concert project, one project for each concert in the season. These are classified by product Classical, Live, Holiday, Jazz and by date. For example, CL (classical) 2018-04-13 Liszt Piano Concerto. Each concert has a to-list for each element we need to produce, CI ads, postcard, email, digital signs, outdoor signs, web tasks and concert reminder.
---
There are so many programs out there - how can an arts administrator begin this journey?
Aly Michaud (Cincinnati Playhouse in the Park): Start simple. Find the planning structure that works best for you — are you a calendar person or a list person? What information do you want in the same place while you are planning? Let your system evolve with your current planning tool. When (and if) you realize that your needs for content and campaign management exceed the tools you already have access to, you can identify why and determine if there is a creative solution already in your toolbox. If not, that's when it's time to look for a new or supplemental management tool to purchase.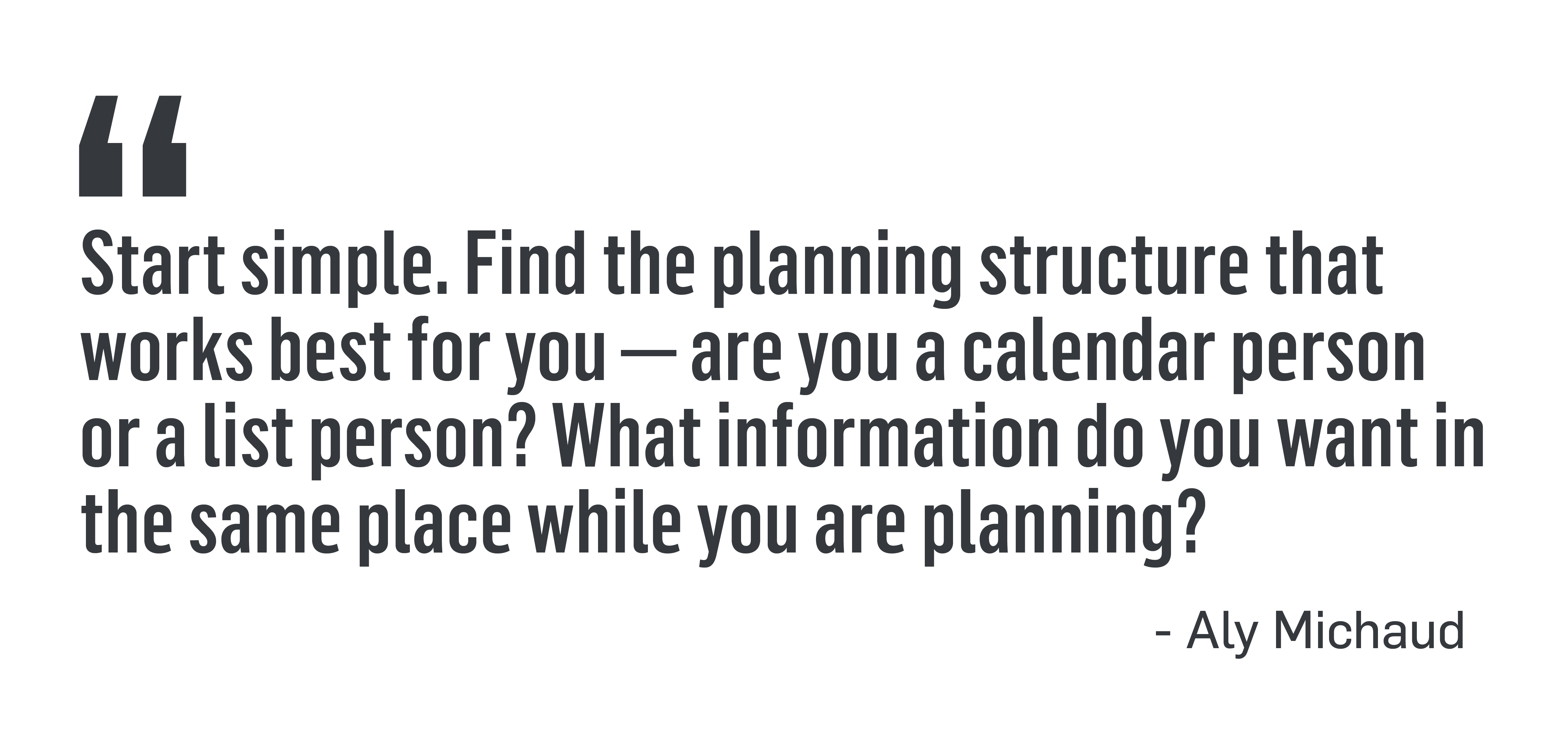 Isaac Risseeuw (Minnesota Orchestra): Talk with colleagues inside and outside of the industry to hear what they are using. We all have the same problems and are tackling them in our own ways. Many software solutions will have a free trial. Sign up and run a project with your team to see how it feels.
Ashley Haraburda (National Ballet of Canada): With so many programs out there, we suggest asking similar arts organizations what they are using. Social media platforms are constantly changing. Monitor technology blogs and articles to stay up to date with trends and features and share this information internally with your team so that everyone stays in the know.

---
In a world of limited resources and tight budgets, how do you make a case for these types of tools, knowing cost might be involved?
Isaac Risseeuw (Minnesota Orchestra): An excellent project management tool will help provide transparency and flexibility to the organization. One of the significant benefits for our team has been the ability to work from home when necessary. Having everything in Basecamp and accessible on the web means that we can access our work wherever we are, without having to deal with a VPN connection. These solutions, when used correctly, will also save time, allowing your teams to increase output. In the arts marketing world, it feels like we never have a chance to catch up and look ahead. Basecamp has allowed us to get a handle on what's happening on a daily basis, and who might have time to work on the next project.
Aly Michaud (Cincinnati Playhouse in the Park): Having a functional system for planning cohesive campaigns is invaluable for content marketing. My advice is not to propose purchasing an expensive tool unless you have truly determined that you need it to accomplish your goals. There is a lot of capacity inside the tools we already own — we just need to channel our creativity to unleash it.
Ashley Haraburda (National Ballet of Canada): The cost of Buffer is very minimal. We use the "Awesome" starter plan that is only $10 a month. However, Buffer also offers a free version. With the strong sales we see from our social campaign, this is well worth it!
---
What advice would you give another arts administrator who is looking for social media or project management software? Is there something you know now that you wished you'd known back then that you'd like to share?
Ashley Haraburda (National Ballet of Canada): Don't set it and forget it. Creating high quality, engaging content takes time and effort. Buffer is great for helping you create a set schedule that is easy to follow, but it should be the final step in social media content management.
Isaac Risseeuw (Minnesota Orchestra): A software solution will only amplify your current processes (or dysfunction). Implementing a new project management tool is a great time to streamline processes, but be sure to find a tool that fits your processes instead of the other way around. Buy-in across the organization will be the biggest challenge. Make sure all parties feel the need to log in every day, just like they would with email, so it becomes part of the expected organization culture. Hold regular training sessions and maybe appoint a leader in each department who could easily answer questions as they arise.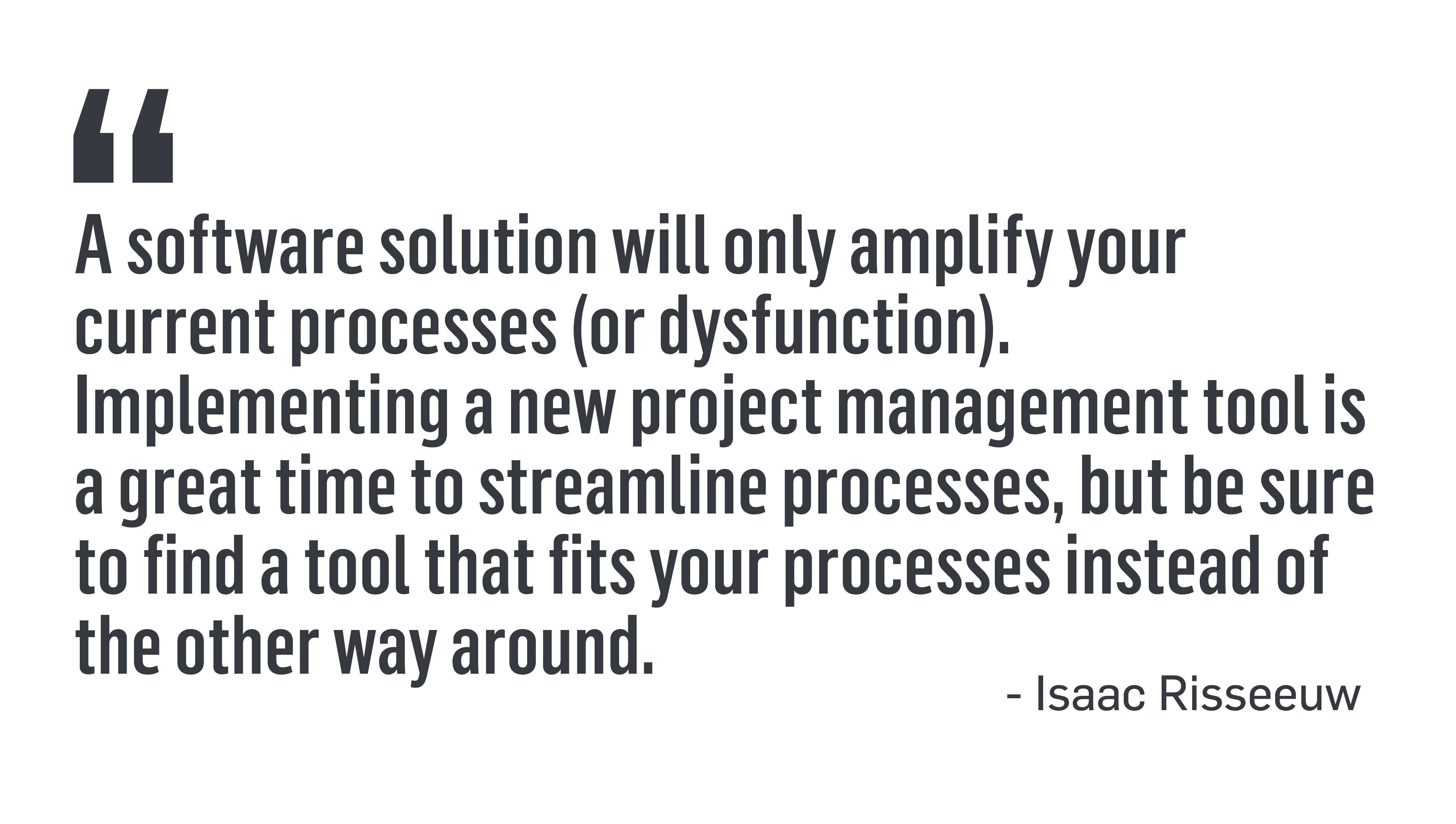 Aly Michaud (Cincinnati Playhouse in the Park): It's okay to make changes, once you understand what already works. I inherited a system that worked incredibly well, but it was not set up in a way that aligned with how I best ingest information. Once I felt comfortable with the system that was in place, I analyzed it and kept all the key components that made it successful, while changing it to display in a way that worked best for me.
Don't be overwhelmed if you are building from scratch. Your system can be as simple or complex as you need it to be. Start simple and add from there. Extraneous features can sometimes distract you from setting up the bare bones that will carry your plans through to completion. Add them later. Or never.