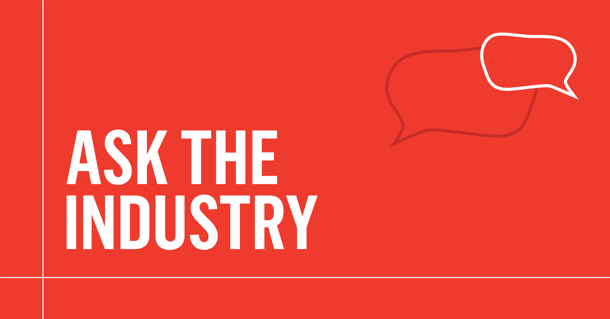 Ask the Industry features advice from arts marketers in their own words. We hope it will spark new ideas for your organization.
This month, we're asking, "How can marketing and development departments successfully collaborate?" Gabriella Napoli and Rio Vander Stahl (Carnegie Hall), Christopher Hoodlet and Colette Randall (ICA/Boston) Belinda Bale and John Hart (The National Ballet of Canada) answer everything from what elements make their interdepartmental relationships successful to how they segment messaging and create compelling content for both ticket buyers and donors/members.
---
How do your marketing and development departments collaborate? What elements make this relationship successful?
Colette Randall (ICA/Boston): At the ICA, we have completely broken down the silo between general membership and marketing as we are part of the same department! We began our efforts thinking about how digital marketing could support our membership acquisition efforts, namely direct mail campaigns. The digital campaigns were a complete reflection of the print piece - same audiences, same message, and images. Over the years we saw that our digital response rate for these campaigns was far outpacing traditional mail, and we began to think of the campaigns completely differently: digital first with the print piece as a complement. We have also started streamlining the print budget for our direct mail so that we can expand our digital campaigns.
Gabriella Napoli (Carnegie Hall): Carnegie Hall's departments consistently share content plans, assets, and intended audiences for social media campaigns to ensure that audiences in the digital space are seeing content that's as relevant to them as possible. Email schedules are an ever-present component of our workflow; we take great care to ensure that our donors, subscribers and ticket buyers are not only receiving their own respective communications but that they aren't overly saturated with messaging from Carnegie Hall.
Rio Vander Stahl (Carnegie Hall): I've found that it's helpful to have a clear understanding of average patron journeys at your institution. Starting with data, and coloring with anecdotal information, a patron journey acts as a North star guiding the work so that we keep our patrons, audience, and community in mind above all else.
For example, we began a campaign promoting photos from recent concerts to the attendees of those concerts. Not only has the engagement been incredibly positive, giving people an opportunity to share their recent experience at the Hall with their social network, but there has been a positive ROI has consistently hovered over 200%. After experimenting with this in a marketing campaign, we integrated it into the Friends End of Calendar Year campaign, following-up attendees of the New York String Orchestra with a message of support.
Belinda Bale and John Hart (The National Ballet of Canada): At The National Ballet of Canada, our collaboration is rooted in an organizational commitment to take a customer-centric approach to communication and engagement strategies. We take to heart the desire to provide the right message at the right time, and in the right way, to the right people. This means thinking about the customer journey and customizing content accordingly for various levels of donors, subscribers, single ticket buyer, new to file customers, etc.
We have been working for a number of years now to collaborate more closely through cross-departmental meetings, information sharing to align strategies, discussions about customer groupings and where they overlap, shared resources to develop content, combined solicitations, and calendars to help keep us organized.
---
Do you create social content and emails that speak to both patrons, donors, and those that fall into both categories? What are your segmentation strategies around this?
Belinda Bale and John Hart (The National Ballet of Canada): We live by the "segment, customize, personalize" credo. For emails, Development segments donors into 15 main groups, and Communications has strategies to communicate with up to five ticket buying groups. Sharing content, each department creates customized and personalized messaging for each group, with suggested action – engagement, ticket sales, donations – targeted to specific groups. All of our materials, both print and electronic, are approved by both departments, to ensure our messaging is on brand, correct, and persuasive.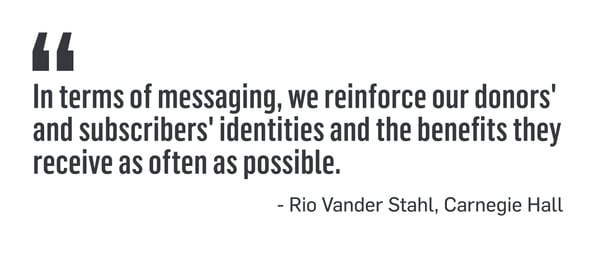 Colette Randall (ICA/Boston): Members are our most engaged audience, so it makes sense that the content we are producing in marketing - interviews with artists and curators, photos of a new exhibition, or event details for a talk or opening - are going to resonate with them. What we didn't realize before reading our Capacity campaign reports was that this rich artistic content would also remind our members to renew (which they need to do to see the new exhibition or attend the event)! We are currently implementing a new strategy that will better segment content based on our audiences' level of engagement. As part of our core audience, members will continue to receive rich content about our artistic programming while new audiences will be targeted with more experiential content that serves as an introduction to the ICA and what we offer.
Gabriella Napoli (Carnegie Hall): There's a considerable amount of crossover between Carnegie Hall donors and subscribers and in turn, plenty of opportunities to speak to both audiences. The groups have some shared benefits, including member pre-sale periods, which lends itself to some streamlined social media advertising.
Rio Vander Stahl (Carnegie Hall): In terms of messaging, we reinforce our donors' and subscribers' identities and the benefits they receive as often as possible. We segment and message to donors when they have a benefit, like a pre-sale, that they can access. It not only acts as a customer service reminder that can lead to a purchase but because it's an opportunity for them to take advantage of their benefits.
While we ensure that donors and subscribers are aware of their benefits throughout the year, we don't approach content creation in any unique way. We approach content the same for a ticket buyer as a subscriber as a donor: thumb-stopping content is all that matters.
---
Do you create videos and other social content for development-focused campaigns?
Gabriella Napoli (Carnegie Hall): Our current end of fiscal year campaign focuses on what it means to be a member of Carnegie Hall. It's benefit-driven across all three of our individual giving membership options: Friends ($100 - $2,999), Patrons ($3,000 - $50,000+), and Notables, our young donor program. We're fortunate enough to have a vast digital archive of photos of Carnegie Hall performances and events, which leaves us with great thumb-stopping content. The main video piece created for this campaign is a photo montage that highlights various member events, benefits, and direct examples of programmatic support that derive from contributions.
A favorite perk of a Friends membership is our Friends tote bag. (In all honesty, who among us doesn't want another canvas tote?) We decided to highlight and advertise our current design in the form of two GIFs: one that humorously features the various contents one could fit in a tote, and the other focusing on the bag's copy, which features the word "friend" in 26 languages.
Rio Vander Stahl (Carnegie Hall): While the approach to content remains consistent, we certainly develop unique content for each campaign, some of which is professionally produced video, some of which centers around still images.
This first video was created in support of an End of Calendar Year campaign. The approach to the video, having dynamic cuts and text on screen, was the same if it had been produced for any department at the organization. However, the altruistic messaging was unique to the Development campaign.
This second video is an example of a campaign that shared content between Development and Marketing. Every year there is a donor pre-sale for the single ticket on-sale. Since the ask is linked closely to accessing the season tickets, we use a cut of the same season trailer to promote the Development portion of the campaign.
Belinda Bale and John Hart (The National Ballet of Canada): Currently we are in the final stage of our Soaring Campaign, a multi-year creative capital campaign that is nearing our $100 million goal. We are releasing a series of videos that highlight the artistic priorities identified by our Artistic Director and funded by the campaign. We have shared these videos through a number of channels, including organic and sponsored social posts. We also segment and customize the sponsored social posts, so we can tailor the messaging to four email lists and re-targeting pools.
Development re-purposes video content created for marketing campaigns with donors. In turn, communications will re-purpose Development content for sales campaigns. We try to combine resources to reduce expenses and create more content for both departments.
---
How often are you sharing the impact of donors' contributions without asking for money?
Belinda Bale and John Hart (The National Ballet of Canada): Our goal of donor communication is to enhance engagement – to bring donors closer to the company, to give them a peek behind the scenes and to show their donations in action. We send weekly donor engagement emails that provide updates to different facets of the company, with a goal of highlighting a different artist each week. Through this deeper engagement, we aim to promote attendance at performances and events, as well as to connect with donors who might not be able to attend in person because of age, mobility issues or distance.

Gabriella Napoli (Carnegie Hall): We send quarterly stewardship-focused emails to members that highlight examples of artistic and educational programs that are made possible by their generous contributions. We're looking forward to extending our stewardship messaging to social media in the coming season. It's important to strike a balance between benefits-driven and altruistic messaging. It can be tempting to fall into a pattern of incentivizing donors with additional offers and perks when asking for contributions, but naturally, we have a responsibility to bring it back to our mission.
---
Can you tell us about a development campaign that successfully integrated digital marketing tactics that you're proud of?
Christopher Hoodlet (ICA/Boston): Once we launched a fully integrated system between our database (Tessitura) and our email-marketing platform (WordFly), it opened the doors to new possibilities for a full multi-channel marketing strategy with our membership acquisition campaigns. For our spring mailing, we narrowed down our internal data to three core segments: lapsed members, social programming ticket buyers, and performance/film ticket buyers. We then targeted posts to these same three lists, each with a unique offer and discount code + URL linked to the campaign. The digital campaign was complemented by an email follow-up and print mailing. Now that we are on an integrated system, we also were able to serve a "last chance" email to anyone who engaged with our original email and targeting our best member prospects.
Belinda Bale and John Hart (The National Ballet of Canada): Our annual holiday appeal surrounds our Nutcracker performances and falls before the calendar year end (that important end of year deadline for charitable tax receipts). We hit all channels: video, website, email, social media, telephone, direct mail, and in-theatre promotion. Our digital communications complement all our activities to ensure we reach as broad an audience as possible. We find that video, delivered through our website, email, and social media platforms, is the best way to convey the emotion of our fundraising appeal and of our art form too.

Rio Vander Stahl (Carnegie Hall): Most recently we ran a campaign promoting the sales of our Create Your Own (CYO) series subscription packages, which, after fixed package subscription, is the public's earliest opportunity to secure tickets for their favorite artists. As a donor, you receive priority access to the CYO series.
The campaign was set up so most of the top of funnel content, which was inviting people to explore the season before CYO began, was a part of the Marketing/CYO campaign. Then, we retargeted everyone who had expressed interest in the season, with the message that they could access this season a week early and secure the tickets they really want.
This year's CYO efforts brought in 20 memberships (an increase from 7 in the same time period last year), and 60 CYO purchases (compared to last year's 25 purchases) which resulted in a 165% increase in revenue. And, we actually spent 34% less year-over-year!
---
How easy is it for patrons to make online donations? Are there any elements you think are effective or wishlist elements you'd like to include in the future?
Belinda Bale and John Hart (The National Ballet of Canada): On our website, our customers can make donations, renew or upgrade their memberships and add on a donation to ticket sales. We have also created one-click donation pages to simplify the donation process to a single form that new donors can fill in. In the future, we'd like to enable sharing capabilities, as well as streamline our different business units, including our Endowment and American Friends, so customers can make transactions across units within one web session.
Gabriella Napoli (Carnegie Hall): We recently reworked our membership landing pages based on constructive user feedback following our 2017 website overhaul. The overall goal was to provide a more streamlined and user-friendly experience for our current members and prospective donors to renew existing memberships or join a program of their choice. This includes cleaner desktop and mobile interfaces, succinct copy, downloadable versions of membership level comparisons, and, as always, more compelling images. Our end of fiscal year campaign has provided us with an excellent opportunity to launch some A/B testing with slightly different purchase paths. We're interested in seeing if users are more likely to purchase a membership in one of two ways: if presented with only a handful of level options (as opposed to seeing the full array at once) or if provided with a more direct to cart purchase path.
Christopher Hoodlet (ICA/Boston): We certainly have had challenges getting our patrons acclimated to our digital platforms. Once we made the switch from our previous ticketing system to Tessitura, it made things a bit easier as we were no longer on two separate platforms for donor/member info and our online ticketing platform. We continue to make improvements to TNEW (our online transaction platform for tickets and memberships) to streamline the process. We implement feedback from our patrons regularly to make our platforms more user-friendly. Ahead of major ticket release dates, we identified records in our system that had not set up their accounts and reached out to them directly in an attempt to have these patrons set up their account before a major ticketing release. As a result, we are now proactively contacting these patrons ahead of our new season announcements to encourage more transactions. We are still trying to find a rhythm for maintaining our data and preventing duplicate accounts from being made, but we've made great strides in this area since deploying Tessitura + TNEW in August 2017.
---
What advice would you give to other organizations about how to break down silos between marketing and development?
Christopher Hoodlet (ICA/Boston): I think it's important to create a dialogue across different departments with the understanding that we all share the same goals to further the museum's mission and that the initiatives for membership and marketing are shared across all areas of the museum. The ICA is the perfect example for how cross-collaboration can fuel incredible results in every area: from increased attendance, increased engagement on our digital platforms and with our programming, and for us specifically, more members!
Gabriella Napoli (Carnegie Hall): Constant, honest communication seems to be the underlying theme in so many instances of interdepartmental silos. Having all the information you need from all the necessary outlets within (and outside of) your organization allows you to genuinely do your best work. In the end, silos will never positively serve productivity. And get to know your coworkers. If you work in an office every day, you spend more time with your teammates and colleagues than you do with your family. Personal connections make work interactions so much easier (and, frankly, more human).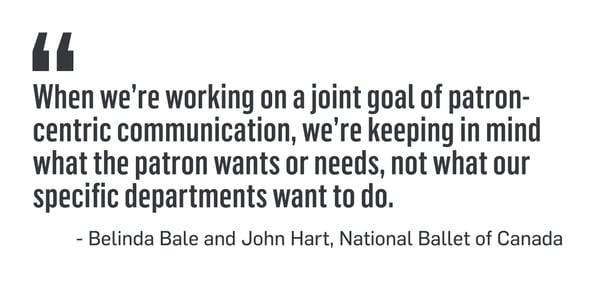 Rio Vander Stahl (Carnegie Hall): Regular, honest communication is essential to collaborative work. It's crucial to focus on what you share: identify collective goals, uncover and then lean on a shared understanding of the users/patron's behavior, and then collaborate as you approach differences that you may discover through this process. This may sound a little esoteric, but when working at an organization of any size, we can be so focused on our differences and subconsciously opt for language that puts us against each other. I think that this work will always continue; we strive to find new opportunities to work more collaboratively with our colleagues. A collective understanding of our goals and a collaborative spirit help us bring the transformative power of music to the widest possible audience.
Belinda Bale and John Hart (The National Ballet of Canada): Strategy is key to driving collaboration. When we're working on a common goal of patron-centric communication, we're keeping in mind what the patron wants or needs, not what our specific departments want to do. For example, the only goal for new to file buyers is to get them to see another show – they are not asked to donate or subscribe. Additionally, a first-time subscriber is not asked to become a donor until after they have renewed for a second year. We work together to commit to a long-term plan.
Communication is also vital. We meet to discuss video strategy, social campaigns, and share an e-communication calendar. Both departments approve each other's collateral, whether it is print or digital. We share resources like video content and copywriting and customize for our segments.