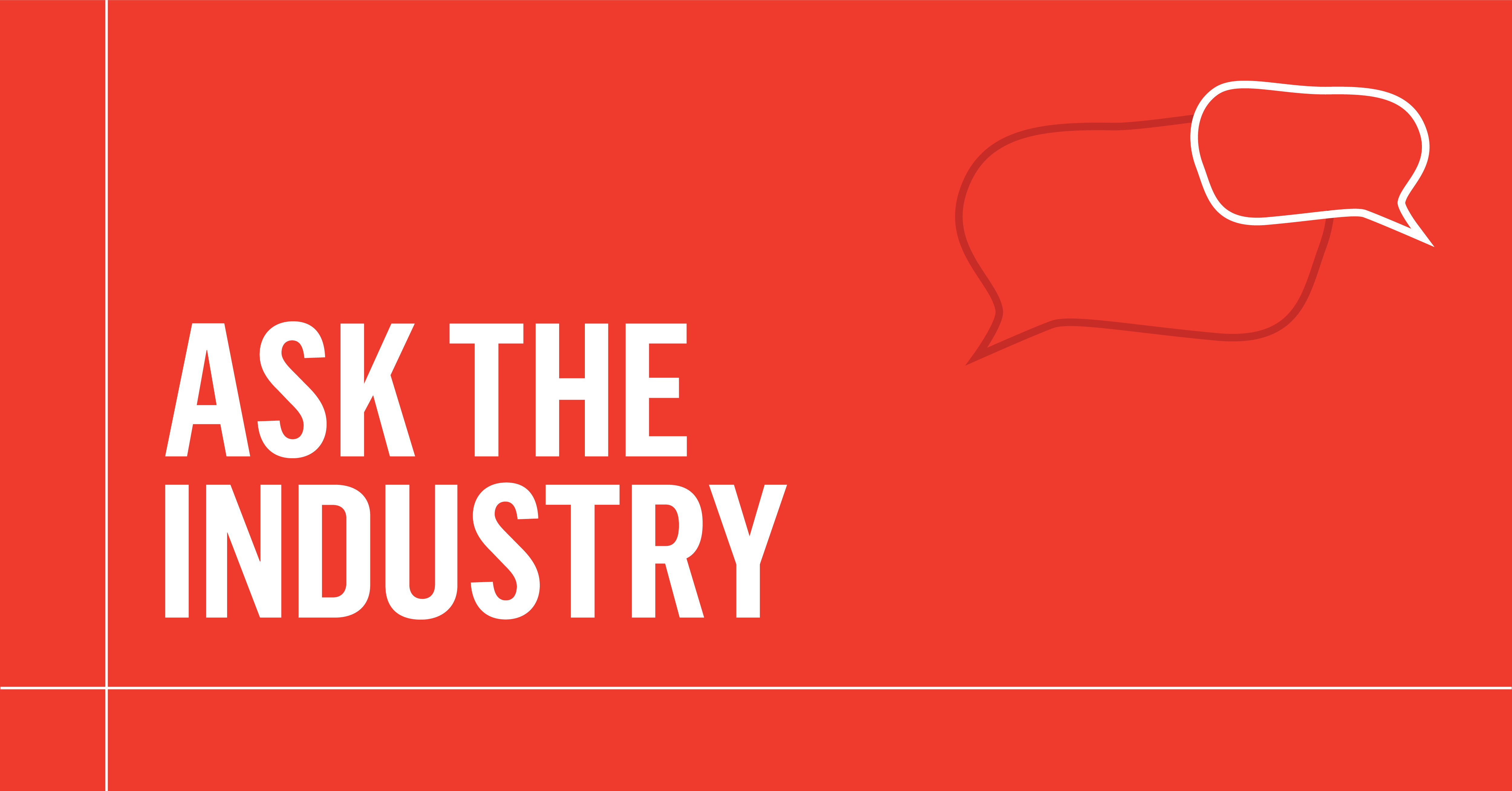 Ask the Industry is a direct line of advice and inspiration from organizations learning and sharing valuable lessons. We hope these insights spark new ideas at your organization.
In 2022, it's essential that arts organizations consider staff wellness as an integral piece of organizational culture and help employees prevent or manage burnout. Among the leaders in this is Celebrity Series of Boston. We asked Courtney Burke, Director of Marketing and Communications, "How do you prevent or manage burnout in the arts?" Courtney answers everything from industry-specific challenges and budgetary support to hybrid work and self-care.
---
First, how do you define burnout—and how might it look in the arts that differs from other industries?
Burnout can look different to different people as it is an incredibly personal experience. To me, burnout is when an employee overextends themselves at work, causing exhaustion, anxiety, a lack of motivation, and more. The pandemic brought burnout top of mind for many arts organizations, as arts administrators deal with an increasingly uncertain environment, a demanding return to performances, and the blurring of lines between their home and work lives.
Burnout is especially tough on arts administrators. In my experience, the people who choose a career path in the arts are incredibly dedicated to their organization's mission, which can compel them to put 110% of themselves into their work, leading to a higher percentage of people who are suffering from burnout. From late nights at performances to early mornings in bed with your laptop, from show cancellations and reschedules to new initiatives, the 21-22 season proved incredibly demanding for the arts and culture industry and its effects were certainly felt by the employees of our organizations.
---
How do you get ahead of burnout on your team? What does support look like if it happens?
During the season, while performance schedules are dense, it can be hard to encourage people to step away from work and unplug, so I encourage people to plan ahead for their days off. Providing my team with a more flexible schedule (ex: starting later in the day tomorrow if you worked a performance tonight) and providing comp time for working big events has been one way to get ahead of burnout during busy times.
It has also been incredibly refreshing to work for an organization that has a "school year" style performance season, as it allows us a real planning period over the summer to prepare for the busyness of the upcoming year. Summer Fridays during this period also allow my team longer weekends to reset.
I also try and listen to employees and understand their needs, especially during my weekly one-on-ones. I spent a lot of time with my team this year helping re-prioritize to-do lists to align with organizational and team goals, which often means saying no to things that are nice to have but not essential to the outcome of an event.
Finally, I encourage my employees to attend performances without their Celebrity Series hats on. Stepping back and enjoying the outcome of all the work done to put a performance together inspires and energizes me, and I encourage my team to take the time to feel the satisfaction and success of a stellar performance or event.
---
You added a "quality of life" line item to your budget. Why is that important and what does it include?
It is important for arts organizations to acknowledge that HR resources are not free and require a budgetary investment to provide support. This year, our organization invested in professional development opportunities for our employees, such as one-on-one coaching, attending online workshops, and going to conferences. Creating a culture of learning—where staff have the tools at their disposal to grow, become more efficient, and be as effective as possible—can do a lot to increase satisfaction and performance and reduce burnout.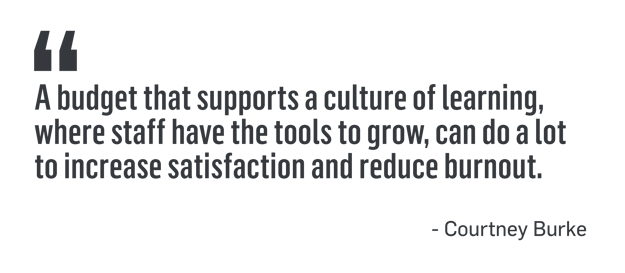 Acknowledging when our workloads increase and finding budgetary resources to accomplish the work in new ways, either with external consulting resources, part-time staffing, or partnership opportunities can have a big impact on keeping workloads manageable for team members. For example, this year we invested in freelance graphic design resources to supplement our internal resources and ensure we can deliver the design work we are planning on in a robust season of performances.
---
How does in-person vs. remote working impact the type of burnout your staff might face?
I think flexible work can be a huge benefit to employees, however, many arts organizations haven't quite figured out the sweet spot of hybrid work yet. As performing arts organizations, gathering in person is inherent to the ethos of our work, but the reality is that many employees can accomplish their work remotely. Achieving the right balance between those two things is challenging. It can also be very frustrating to add a commute back into your day only to sit alone in your office on Zoom meetings.
Finding ways to prioritize real, in-person collaboration time is important, and can lead to improved interpersonal dynamics. One way we are doing this as a team is by holding every other team meeting next year in person so that we are coordinating the days we are in the office together. There are elements of burnout that are harder for leaders and supervisors to notice in a remote environment, so those in-person moments are even more critical to connecting and combating burnout.
---
How have the past two years changed your approach to leadership and supporting your staff?
One of the hardest things I've encountered in the past two years is the amount of uncertainty that our employees experienced. From constantly shifting health and safety policies to artists who got sick and canceled tours, there seems to be a never-ending series of obstacles. I try to combat this frustrating feeling by overcommunicating information personally and identifying flexibility as a valuable skill and muscle to flex.
---
How do you take care of your own wellness while also supporting a team?
The pandemic has been hard for me as an extrovert. I really miss the casual conversations and hallway moments that lead to deep friendships built at work. Talking about the last episode of Grey's Anatomy or asking a coworker how they felt about a certain situation was incredibly valuable for me—I didn't realize how much those moments mattered until they were gone. I began a new role during the pandemic and found it really challenging to be alone in my apartment (with my cat Fuzzy) while trying to connect with my team members through Zoom and Teams. I've been intentional about having informal conversations with everyone on my team, even if just a quick chat about a coworker's gecko or trending TikTok sound. Having those personal moments is important to building a team.
With PTO, I try and lead by example and take vacation time to truly unplug. A day at the beach or an adventure to a new place really helps me to step away from my screens and enjoy time with friends and family, which always makes me feel better when I get back to my desk (either in the office or at home in my closet office)!
I also try and have fun at work. From throwing a team ice cream party on the Boston Commons to getting out on the dance floor during Let's Dance Boston, building moments of fun into my workday really helps me stay motivated. A very wise friend often reminds me that we are selling performances, not saving lives. It can be easy to take the work so seriously that you lose sight of the bigger picture: we are delivering entertaining and enriching experiences through the performing arts. Reminding myself that I love my industry and am so grateful for the work we are doing has been critical to avoiding burnout for me.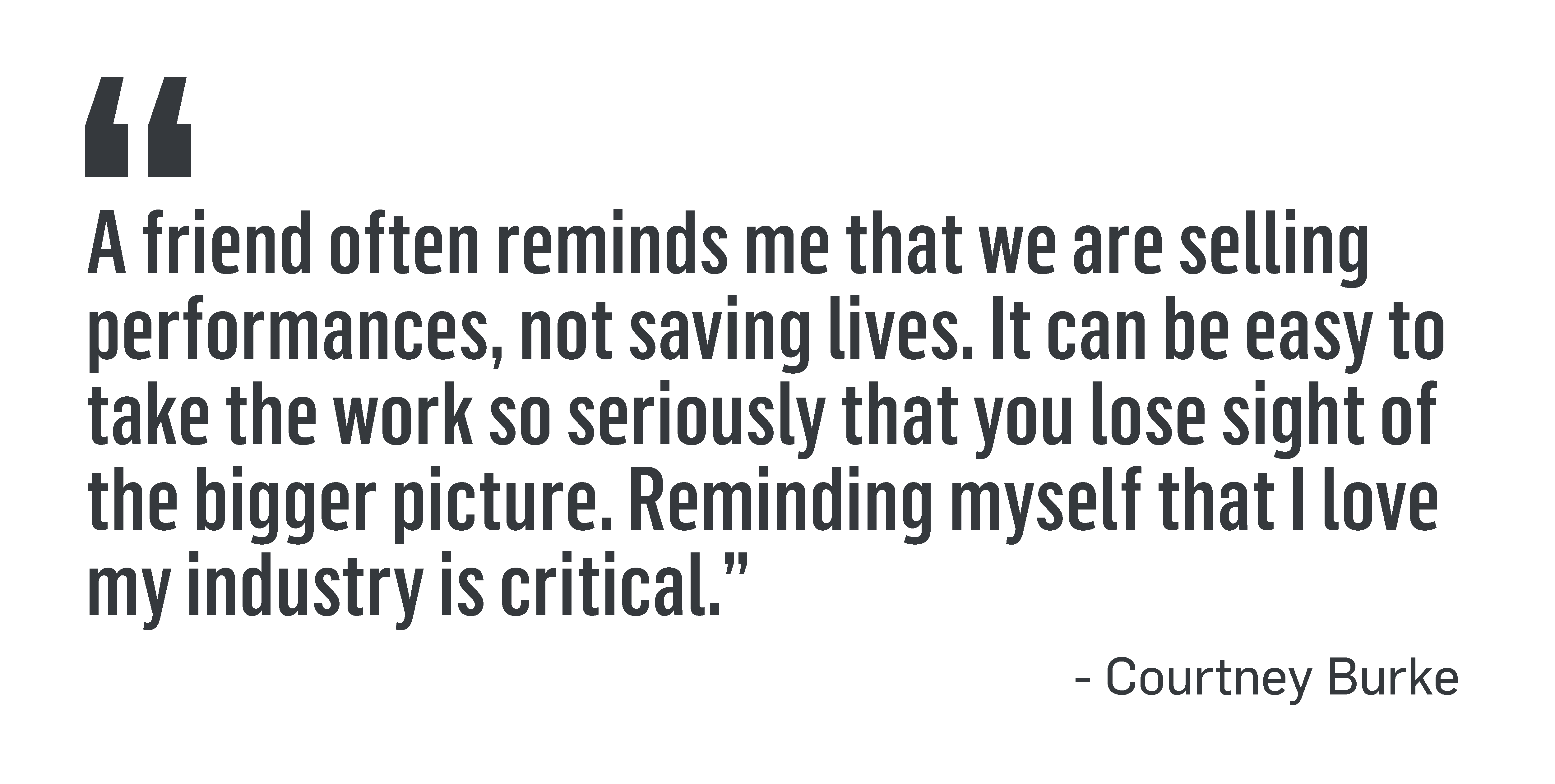 ---
What advice would you give to arts organizations or leaders struggling with burnt-out or burning-out staff?
Talk about it. One of the scariest parts of burnout is that often leaders or employees try and go through it alone. Creating a culture where people trust each other and feel empowered to talk about how they are feeling with their coworkers and supervisors is so important. Prioritizing a culture of wellness and open conversations about how team members are prioritizing their health and wellness can do a lot to ensure longevity in our field and careers.
---
Do you have more questions for these arts administrators? Ask them in our comments section!