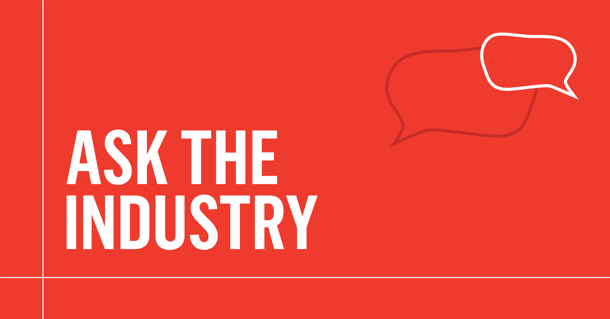 Ask the Industry features advice from arts marketers in their own words. We hope you that it will spark new ideas for your organization.
This month, we're asking, "What's your advice for an organization looking to start and maintain a blog?"
Calvin Dotsey (Houston Symphony), Jeff Fickes (Seattle Shakespeare Company), and Krystina Tran (Stanford Live) discuss everything from how to feasibly create blog content on a regular basis, to the different types of audiences they write for, and the tools they use to keep everything in line.
---
Why does your organization have a blog? What are the goals for your blog?
Calvin Dotsey (Houston Symphony): The Houston Symphony's blog serves a vital role for our organization. It helps us communicate important messages to the public through longer-format, more in-depth online articles. We use blog posts to tell people about important educational and community engagement work and to generate interest and excitement in our concerts. Our blogs posts about classical music aim to grow audiences for the art form and to deepen current audiences' connection with the music we perform.
Jeff Fickes (Seattle Shakespeare Company): At Seattle Shakespeare Company, we wanted to have a place to share regular news and updates with our patrons. Our website is really an extension of one of the basic principles we have around marketing our productions and the organization. We're trying to help people feel smarter and sexier when they come through the door. If we can help make Shakespeare and the theatre experience more accessible through the content we create, then they're likely to have a better time at the show.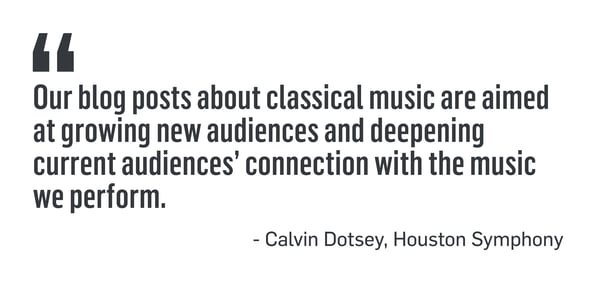 Krystina Tran (Stanford Live): Our organization has a blog to give our magazine content, external press, artist stories, and extra event-related content space to live online. This space is also, most importantly, under our control. We also use our blog as a holding pen for all content that we link to from our event pages—this could be a fantastic review, a Spotify playlist, a note from the artist, photo galleries, and more.
The more content we have on our blog, the more we can share on our social platforms. Since these posts are within our domains, we have the ability to create clean and clear link previews.
---
Who do you believe is the audience for your blog? Avid fans of your art form, newbies, or both?
Jeff Fickes (Seattle Shakespeare Company): We try to strike a balance of giving something to the super fans as well as something for people who may be experiencing Shakespeare or classical theatre for the first time. We try to steer clear of academic writing in content, style, and length. If folks really want that kind of in-depth analysis, there are a lot of places they can go to find that information (and occasionally we'll point them in that direction).
We try to find ways to show how Shakespeare and classical theatre is already integrated into our daily lives. Once you get a taste of that awareness, you'll start to see the influence of Shakespeare everywhere from news headlines to names of towns.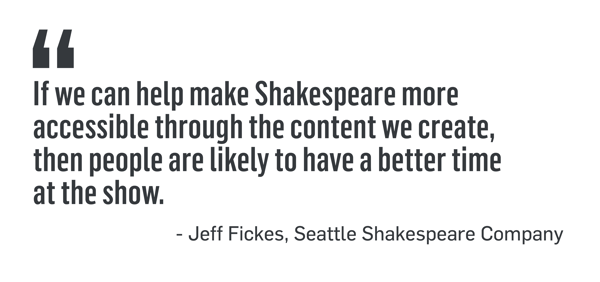 Calvin Dotsey (Houston Symphony): We strive to make each post accessible to people who are new to the orchestra world and also interesting to long-time fans. Our strategy is to give each post substance and depth while using approachable, non-technical language.
Krystina Tran (Stanford Live): Since we link to our blog posts in both organic and promoted social media posts, as well as throughout our event pages, I think it's a little of both!
---
How do you generate ideas for your blog?
Calvin Dotsey (Houston Symphony): Our content is mainly driven by the Houston Symphony's concerts and initiatives. Our organization presents a new concert program nearly every weekend, so we have lots to talk about! Additionally, our Education and Community staff and musicians are constantly out in the community doing amazing, impactful work that we love to talk about. When you throw in other important events including tours, awards, major donations, we have no shortage of topics for blog posts.
We will occasionally brainstorm about angles for blog posts, especially related to POPS Series concerts. While most blog posts are written by staff with writing expertise in the Marketing and Communications department, members of other departments will occasionally write for the blog. These team members also help us secure quotes from guest artists, provide facts and figures, photographs and more.
Krystina Tran (Stanford Live): Stanford Live's Marketing and Communications team (in collaboration with our Executive Director) produces six magazines a year, each based off of a cornerstone theme in our season. For example, our current season focuses on themes of life, love, and loss, elements that helped our curatorial team shape the season as a whole.
In our last few magazines, we've focused on how familial bonds create great art, how tributes to great artists lost too soon can be a source of healing, and how commissioning new works helps breathe life into the future of the arts. Once those magazines are sent to press, we are left with fabulous features and photos to turn into blog posts. We brainstorm quarterly for our magazines, which gives us a foundation for our web content.

Jeff Fickes (Seattle Shakespeare Company):Lately we've been operating off of a pretty standard template for the news we want to share. We always start by looking at what might be unique and different about the production. Since our marketing department includes a graphic designer and me, I generate and execute most of the content ideas.
---
Do you use an editorial calendar? Why does it work for your organization?
Jeff Fickes (Seattle Shakespeare Company): We have been using Co-Schedule for several years. It integrates nicely with WordPress, allows us to do team project management, and we can schedule social media posts. If plans change, it's easy to rearrange posts or deadlines. The system also sends reminders on what's due as well as a weekly roundup of completed and assigned tasks.
Calvin Dotsey (Houston Symphony): Our editorial calendar lives in a Google Doc and largely works in tandem with our magazine production. Many blog posts begin as magazine content, so the blog schedule is largely dictated by the magazine's print and production schedule.
Krystina Tran (Stanford Live): Our editorial calendar is hosted in an Excel spreadsheet. It's simple and works for us!
---
How often do you blog about non-performance or non-exhibition related content?
Jeff Fickes (Seattle Shakespeare Company): We try to create a holistic view of the organization for our patrons. Most of the non-performance related content is about discovering fun ways that Shakespeare shows up in the culture, like a video of The Beatles performing A Midsummer Night's Dream or Shakespeare references in comics. We're lucky in that we can also take a curatorial approach to our content since there is so much Shakespeare and classical theatre-related content being created.
Krystina Tran (Stanford Live): Stanford Live has wonderful programming beyond our paid performances, including K-12 matinees, free workshops and resources for Bay Area educators, campus engagement programs such as master classes, free talks, and much more. Whenever possible, we love to share photo galleries and blog posts about those types of events!

Calvin Dotsey (Houston Symphony):We try to share at least 1-2 non-concert related blog posts each month. Our education and community-related blog posts are perhaps most common, but we also write about other important Symphony-related events, such as our recent European Tour, Grammy win, Colombia trip, etc.
---
Do you have any recurring series on your blog?
Jeff Fickes (Seattle Shakespeare Company): We've had several recurring series at different times, including Playing Shakespeare interviews or Read/Watch/Listen recommendations. One series we've been doing for several years is called Bluff Your Way Through the Play. We research interesting facts about an upcoming production and then distill them into a listicle of 8-10 short paragraphs. Originally this was a written piece of content, but with our past two productions, we've taken a cue from Vox media and tried to present the information in videos with accompanying graphics. Learning how to create simple motion graphics was key to making this happen! It's nice because once we've gathered up the list of interesting tidbits, we can post them individually on Twitter or Facebook, or include them in emails and newsletters.
Calvin Dotsey (Houston Symphony): Our Backstage Pass series features Q&A-style features with our musicians, which gives our patrons a glimpse into their lives, hobbies and which concerts they're most looking forward to. Also, specifically for our POPS series, we create either concert preview blogs or a Q&A-style blog post featuring our guest artists.
---
Do you have any specific marketing or fundraising "wins" that have come out of having a blog?
Krystina Tran (Stanford Live): Since many of our magazine articles are written by local writers and university partners, our blog has become a subtle way to partner with organizations without being too loud about it. We've seen other departments on campus sharing our blog posts, which is nice!
Calvin Dotsey (Houston Symphony): Blog posts play an important role in our paid digital/social media marketing strategy. During last spring's eight-city European tour, we brainstormed ways to keep our audience informed and excited. Four of our musicians created blog posts for us chronicling their daily activities on scheduled dates and we even included photos they captured during the tour.
Jeff Fickes (Seattle Shakespeare Company): I think our biggest win is having all of our main content and news contained within our website. It serves as the hub for everything that we send out through different digital channels, so we're always driving people back to the site to learn a more and hopefully discover something new.
---
How are you following search engine optimization (SEO) best practices?
Calvin Dotsey (Houston Symphony): Our blog is powered by WordPress, which comes with some helpful, built-in SEO tools that we use to optimize titles, keywords, URLs, meta descriptions, etc.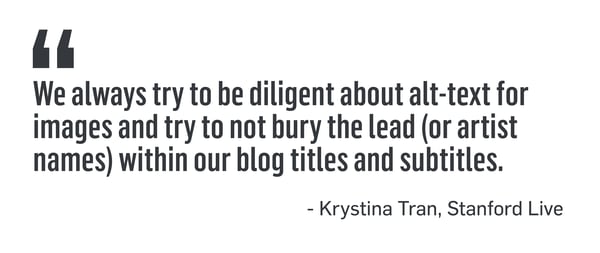 Jeff Fickes (Seattle Shakespeare Company): We've chosen a theme framework for our site that makes adding SEO elements pretty simple. For each piece of content that we create, we add a document title, meta description, and meta keywords. For images, we try to include alt titles and captions.
Krystina Tran (Stanford Live): We always try to be diligent about alt-text for all images, and try to not bury the lead (or artist names) within our blog titles and subtitles.
---
Would you recommend adding a blog if an organization does not have one?
Krystina Tran (Stanford Live): Yes! It might sound scary and it does require upkeep, but I do think that you can run robust blog with simple and/or repurposed content. This content can be anything from performance reviews and press coverage to YouTube videos and so much more—just be sure to build in the functionality to credit media outlets and writers in the blog view.
Calvin Dotsey (Houston Symphony): Any performing arts organization can benefit from a blog. With so many compelling stories to tell, Houston Symphony's blog is a crucial component of our communications strategy.
Jeff Fickes (Seattle Shakespeare Company): I think if organizations can swing it, they should find some way to create regular new content for their patrons. It's the best way to tell and share your organization's story.