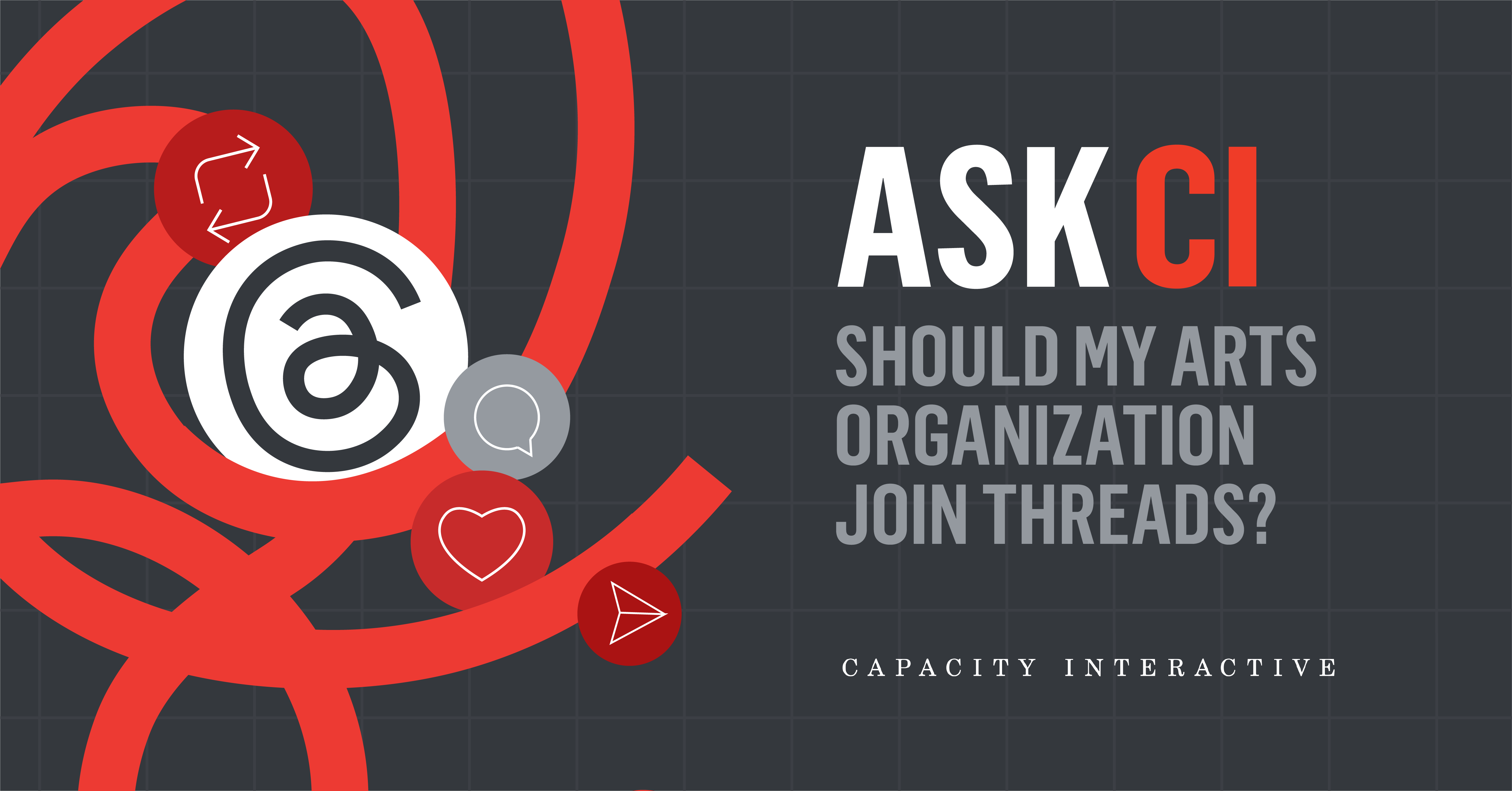 Last week, Meta bolstered its social media domination with the launch of its newest app, Threads. Threads grew its user base to over 100 million accounts in just five days since its launch. (Twitter is currently sitting at around 350 million users.) For comparison: it took TikTok nine months to achieve that same milestone. Threads is officially the fastest-growing online platform in history.
7/14 update: Threads engagement dropped off by 20% since its peak on 7/8, with time spent for users down by 50%.
7/17 update: Although Threads adoption slowed down, it's still climbing. Threads has 150 million downloads and reached 1/5 of Twitter's active weekly user base.
As arts marketers, we're feeling a mix of excitement (a fun new platform!) and apprehension (another new platform!). Many companies have already joined in, and you're probably wondering: what steps should your organization take?
---
What Is Threads?
Meta describes Threads as a forum for "sharing text updates and joining public conversations." In other words: this is Meta's answer to Twitter.
Threads has a lot going for it: because of its connection to Instagram, creating your account is a seamless experience—your Instagram profile carries over to Threads. This means you have a built-in audience; no need to start from scratch. Posts can be up to 500 characters long and can include links, photos, and videos. Meta also has plans for Threads to be compatible with open, interoperable social networks—so content will be transferable to other services, and users on other compatible apps can view public Threads content without having a Threads account. (What this means for you: added reach with no added effort!)
Meta has also emphasized their desire to create a positive and safe community, particularly highlighting that Threads lives within its "existing suite of safety and user controls."
7/18 update:

Due to increasing spam attacks, Threads introduced rate limits—just as Twitter recently did—which restrict the number of comments or follows a user can make in a day.
Additionally, the algorithm that powers Threads recommends posts from accounts that a user follows if they meet Meta's community guidelines and "content from new creators you haven't discovered yet," according to Meta. But due to user complaints, Meta is looking into an alternative home feed for posts as well as posts showing up chronologically.
---
Should Arts Organizations Be on Threads?
If you're wondering about taking the plunge into Threads, there are a few things to consider:
Are you already on Twitter (or recently were)? Whether you still actively participate on Twitter or recently stepped away, if your team is equipped to create content for a text-based platform, we recommend joining Threads and starting to post, engage, and measure. You can't advertise or schedule posts on Threads yet, so this is a time to explore, have fun, and think about your approach and benchmarking. Feel free to use similar content across Twitter and Threads (or recycle top-performing old Tweets!).
7/17 update: Brand engagement on Threads already looks promising. On average, brand threads are getting 8x normal tweet engagement.
Is Twitter entirely out of your workflow? Maybe you quit Twitter long ago—or maybe your organization never had an account. If text-based content is brand-new to you, don't pressure yourself to add it to your (likely overflowing!) plate just yet. Just set up your Threads account and explore the platform if you have a free moment. As the dust settles on the app's debut—especially if advertising becomes available—you'll better understand how Threads needs to fit into your marketing mix… if at all. It remains to be seen whether Threads will go the way of TikTok or Vine (if you don't know what Vine even is: exactly!) in terms of influence and staying power, so if you don't have the bandwidth to create content for yet another platform, don't worry about it for now.
Important Arts Industry Note: Our strongest recommendation is that your social media strategy should be intentional and sustainable. In our field, resources are limited, and marketing teams are stretched thin—and if adding a new social platform isn't feasible for your organization right now, that's okay! We always urge organizations to focus on the platforms that make the most significant impact rather than chase something shiny and new.
We've never encouraged arts marketers to spend time and resources on Twitter, which might also be the case for Threads. Twitter's user base has always been much smaller than other platforms; it remains to be seen what Threads will grow to. Text-based content often limits arts organizations' multimedia storytelling abilities. Twitter has also never been the best venue to find arts buyers; according to the 2021 Performing Arts Ticket Buyer Media Usage Study, Twitter is not a vital source of information for arts ticket buyers. Whether or not arts buyers will flock to Threads is still up in the air—but as always, we'll meet audiences where they are.
7/17 update: Another deciding factor? Your organization's location. Threads is not available in the EU right now due to privacy concerns and data collection practices.
---
READY TO TAKE THE THREADS PLUNGE?
If you're feeling ready after considering the above questions, below are some tips to get started—we'll continue to release advice/tips around this platform as we see how it develops:
Don't just hop on without a plan. It bears repeating here—don't just hop on without an intentional and sustainable plan.
Embrace the natural learning curve. One of the best parts about being an early adopter of a new platform is fully embracing experimentation—everyone is in the same boat right now.
Engage and delight. Right now, Threads feels like a fun group chat with 100 million users—embrace it! Just like with any social platform, it's essential to engage your audience in thoughtful ways. The last thing someone wants to see right now is a sales message on Threads—this is a perfect opportunity to embrace that social sweet spot: where your organization intersects with the world. And remember: social platforms are a two-way street, so be sure to engage with other Threads users and reshare content from related accounts.