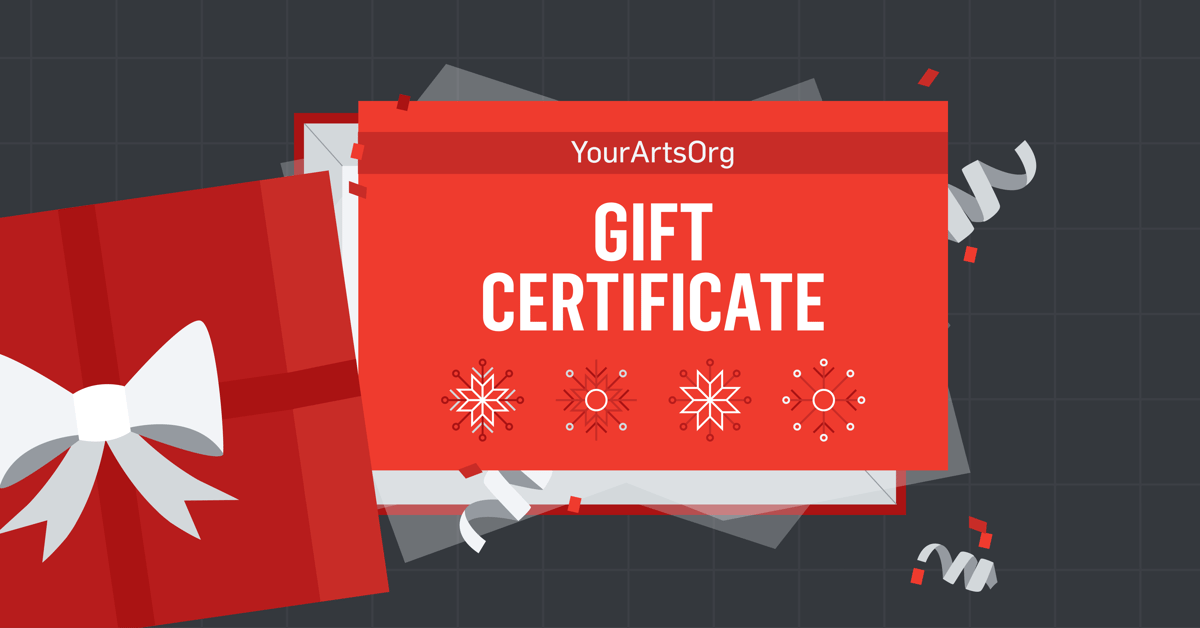 'Tis the season for giving—and there's no better gift to bestow than the magic of visiting a cultural institution. If your organization offers gift certificates, now is the opportune moment to remind your patrons that they can gift an experience at your venue.
Read on for some quick tips to maximize your holiday gift campaigns and prepare to deck the (concert) halls with added revenue.
---
FOCUS ON YOUR INNER CIRCLE
While we would love to have every campaign engage with audiences across the spectrum, from acquisition to retargeting, the reality is that some ads simply won't appeal to everyone.
Over the years, we've found that holiday gift campaigns perform best when they reach those already in your inner circle. These patrons know and love you, but gifting an experience with your organization likely hasn't crossed their minds—which is where your holiday gift campaign steps in.
In Action: Goodspeed Musicals ran a gift card campaign last December on Meta. We've run this same campaign with them in years past, and last year, we opted to leave out acquisition audiences because of their weaker performance the year prior in 2021. Compared to 2021, last year's campaign had a slightly smaller media cost but drove stronger results.
Results:

In Action: Customer lists pulled from an organization's database tend to be the top-performing audiences across campaigns. We ran a stellar "give the gift of theater" campaign on Meta with the Alliance Theatre last December, focusing on mid- and bottom-of-funnel groups. Of these, the customer list drove the highest purchase rate and lowest cost per purchase.
Results:

In Action: The Goodman Theatre's gift certificate campaign similarly did not include acquisition audiences—and all included audiences saw purchase activity directly attributed to them. A list we built of past Goodman online purchasers had the highest ROI of any audience.
Results:

---
KEEP CONTENT FRESH AND LIGHT
Take this moment to have fun with your content. Remember that your holiday gift ads aren't just competing with other arts organizations; you need to make a case as to why someone should gift an experience at your organization over any other potential present out there, from jewelry to electronics. The best way to do this? Keep it light and filled with delight!
In Action: Miami City Ballet ran a holiday gift campaign on Meta last December and early January (for the forgetful gift givers out there!) that drove a 593% return on investment (ROI). The goal of the campaign was to encourage patrons to buy Miami City Ballet tickets as presents.
They tested two ads: one with a stock image featuring prominent text reading "Tickets make great gifts," and the other with a funny photo of the Nutcracker walking a dog on a palm-tree-lined sidewalk. The latter yielded double the engagement rate plus a higher clickthrough rate.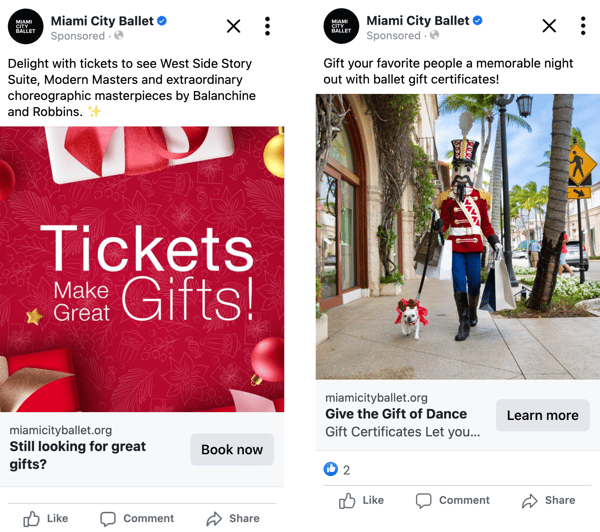 Results:

In Action: For their Meta campaign promoting gift certificates last December, the Goodman played with their pre-existing production photos from their classic production of A Christmas Carol. Instead of posting the photos as is, they added images of gift certificates into the pictures so that it looked like the characters were engaging with them. They paired these cleverly tweaked photos with fun copy.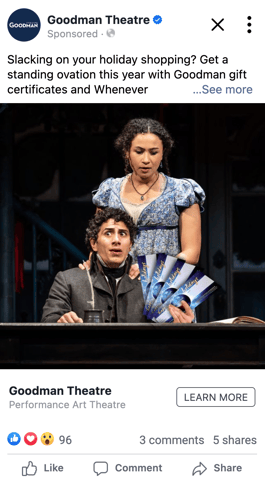 Results:

---
UNWRAP HIGH ROIS
A visit to your organization would make the perfect holiday present; you just need to plant the idea in your patrons' heads. Start by focusing on your core audience, and don't be afraid to have fun with campaign creative. Before you know it, all they'll want for Christmas is you. *Cue Mariah Carey*
---
READY TO JINGLE-BELL-ROCK YOUR WINTER CAMPAIGNS?
Let's talk about how we can help you optimize social efforts and cut through the holiday noise.