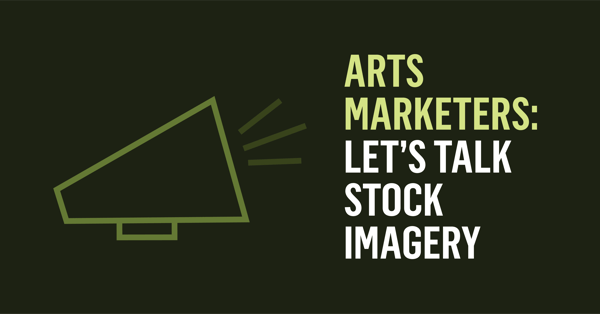 Ah yes, the stock image. It's a creative resource we have at our fingertips, yet rarely use. It's officially time to stop fearing stock images and focus on the value they can bring. We're in an age of high-caliber creative stock resources that will keep your ticket sales flowing when you'd otherwise be at a loss for content.
This past year, Dorset Theatre Festival, a small summer theatre in southern Vermont, diversified their portfolio and discovered what stock images can add to the performance of their season's Facebook campaigns.
---
Let's Talk Stock
Creating high-quality, original content remains the goal, but when visual assets are limited or nonexistent, stock images can set us free. But sometimes that A-rated content just isn't available. Perhaps you're premiering a production and have no visual assets yet or copyright restrictions limit you. That was just the case for Dorset Theatre Festival's summer season, where three out of the four shows they were producing were either world premieres or new plays, leaving them with limited photos and videos before rehearsals and performances started.
To be clear, we're not advising you stop getting creative in sourcing original, authentic, and thumb-stopping content - far from it. Get into those rehearsals, take some behind-the-scenes shots of installations or the artistic process, or plunge into your archives! Over the course of your campaigns, you may still find yourself in need of more. This post will help you round out your portfolio and integrate stock images into your content strategy instead of falling back on disingenuous or overly-used creative assets that your audience finds easy to ignore.
---
Taking Stock of Assets
Dorset Theatre Festival's experiment with stock imagery started with Dig, their first world premiere of the summer. We started running a promoted Facebook campaign at the beginning of June, but performances weren't starting until the middle of July. We had no production photos, the actors weren't in rehearsals yet, and we had reached the point of, "How many articles about the playwright are too many?"
For the first few weeks, we worked with what we had. We incorporated several articles about the playwright, crafted slideshows dedicated to various actors, and used all the behind-the-scenes content that had been captured.
The time had come to either repurpose content or rethink our strategy, as ticket sales were tapering and the demands of creating new content were weighing on everyone. Cue our first use of stock content, a short 10-second stock video:
This first experiment yielded what we expected - it didn't drive the most key page views, purchases, or engagements, but it didn't have the least either. We had hit on a decent solution to a tricky content problem. We kept the option of using stock content in our back pocket and moved on to our next challenge: the world premiere of Mrs. Christie.
Mrs. Christie had a bit more to work with right off the bat. We had all sorts of content featuring Agatha Christie, ranging from quizzes to articles to photos of the famous mystery author. As the campaign progressed, we hit a similar lull as we did in Dig. Without hesitation, we used a stock image that was striking enough to stop audiences in their feeds and acquaint themselves with the upcoming world premiere. This photo even snagged the third-highest page-view rate of the campaign, another reliable investment!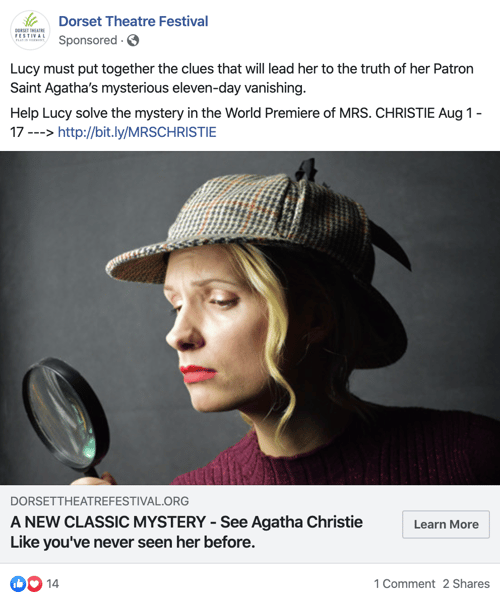 Following Mrs. Christie, Dorset Theatre Festival had its final new play of the summer. Slow Food had a tricky situation:
1. They didn't have a ton of existing assets.
2. Most of the actors had their internet presence copyrighted.
Given the Slow Food's theme of restaurant dining, we knew we could lean on stock images as needed. We used stock images three different times throughout the campaign.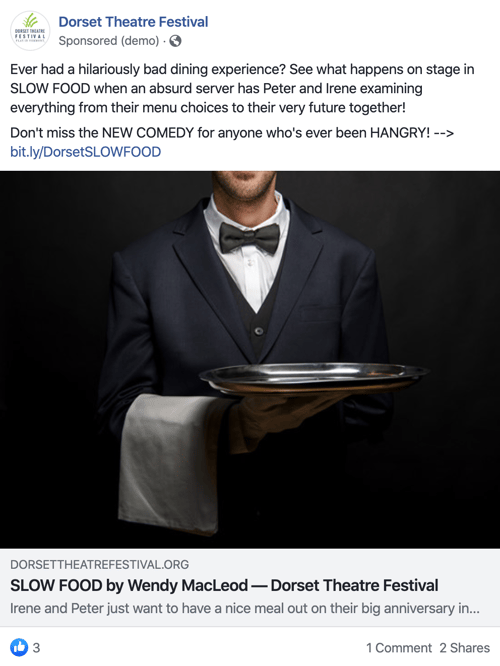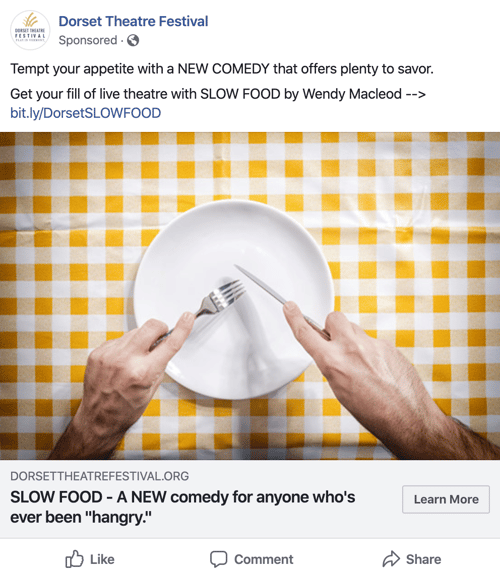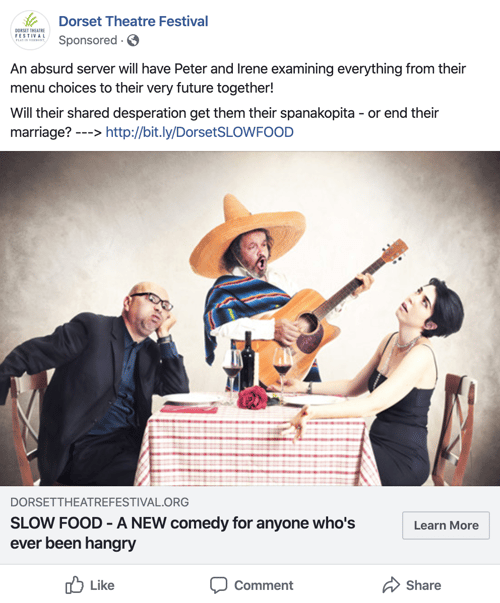 Every single one of these stock-image posts drove healthy numbers of key page views, engagements, and purchases. Campaign-over-campaign, these stock resources were like our best supporting actors. They weren't the stars of the show, but they played a critical role, engaging potential ticket buyers with our story when otherwise our Facebook stage would have been dark.
---
Stock imagery, But Make it Fashion
Make it relevant
While this seems like a given, it still needs to be said. If it has nothing to do with what you're selling, your audience won't be buying (literally). Look at Dig's stock video. It captured the solemn and serious tone of the play--it wasn't filled with smiling faces, irrelevant scenes, or upbeat music.
Your ad copy matters
While the content might not be yours, the voice in which you write is. Take the opportunity to hook people in by playing with fun (and relevant!) CTAs. See Mrs. Christie's "Help Lucy solve the mystery…" in lieu of "buy tickets." This CTA fits the content, copy, and production detail, and ties up the post like a pretty little bow.
Know your stock libraries (Google Images doesn't cut it here, folks!)
Here are three to get you started:
1. Through Facebook's Business Manager tool, you have access to Creative Hub. Within Creative Hub, you have Facebook's entire free stock image library right at your fingertips. You can likely find exactly what you're looking for right there!
2. Pexels is another great resource. Unlike Facebook's stock library, Pexels gives you access to stock photos and videos.
3. Roll up your sleeves and take a look! A quick Google search can help you find both free and paid stock libraries. Find one that works for your organization's needs!
---
Incorporate as a Plan B, not a catch-all
While stock imagery has come oh-so-far, it can't be your main source of content creation. Repurpose, rethink, and reshape your existing assets first. If that doesn't work, try a stock image! Your creative archive is the star, stock images are the filler. But for the love of creative content, let's stop reusing the same three actor headshots in every post.
All in all, there's no one-size-fits-all when it comes to stock content. What works for your organization might not work for others and vice versa. Focus on your long-term and short-term goals, invest in the assets you need to get you there, then listen and learn from how your audience responds.