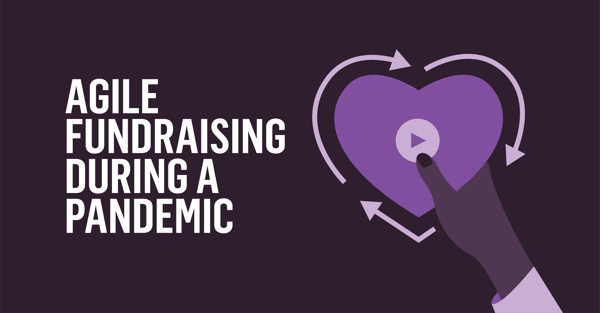 Gibney is a dance organization based in New York City. We asked their team to write about the evolution of their fundraising efforts in light of COVID-19.
On March 19, Gibney's spring Gala—The Wonderful World of Gibney—publicly shifted to the "Keep the Wonderful World of Gibney Turning" campaign. In lieu of celebrating Gibney's "world" of artists with a fundraising event, we would instead find ways to support them during the COVID-19 pandemic.
Over the next 6.5 weeks, this campaign went through more iterations than any we've ever worked on. It became a testament to the moment: so much is unknown and changing by the minute, there is a relentless cascade of information, opinions and emotions are right at the surface, and there is no precedent to fall back on.
We were faced with myriad strong and conflicting opinions. One day, the artists who call Gibney home were at the forefront. The next day, our work with survivors of domestic violence took center stage. A week later, we weren't even sure if it was appropriate to fundraise for Gibney at all.
We made a series of reactive efforts. It seemed like nearly weekly we would build out newly positioned case statements, webpages, communication schedules, digital media plans, and video messaging.

Meanwhile, our marketing team became the conduit for the entire organization's shift to remote programming, while our digital media team navigated an uptick in work for external clients looking to repurpose their content, aggressively pursue new content during quarantine, or proactively plan for the future. Public fundraising and campaign messaging was stalled in a state of limbo.
---
Iteration 1: Keep The Wonderful World of Gibney Turning
Name: Segue from Gala name to campaign
Position: Support those who make up our world: artists, arts workers, audiences, survivors, youth.
Digital content plan: Highlight the work that Gibney has always done across its Company, Community, and Center—just as the Gala would have; consider a special focus on the Company given recent news of its planned expansion.
Why we landed here: Seamless shift in language and messaging from Gala to campaign.
Why we abandoned it: The name quickly felt too long and the effort too internally focused for a broad, public campaign in the midst of spiked fundraising across all sectors.
---
Iteration 2: Gibney Connects
Name: More active, alluding to external reach, pointing to connection in a time of isolation.
Position: Support our responsive programming to stay connected with all the communities we serve.
Digital content plan: Meet people where they are and acknowledge that Gibney the organization is made up of people; as we moved deeper into remote work, more of a personal touch felt necessary.
Why we landed here: Effort to fundraise for something "new," externally focused, and timely.
Why we abandoned it: Still too Gibney-focused and almost too timely: what about the future and a proactive look beyond COVID-19?
---
Iteration 3: Art + Action Rebuilding Initiative
Name: Highlight the unique art and social action angle of Gibney's work and future plans.
Position: Support the potential of socially active artists to rebuild New York City's culture.
Digital content plan: Tone turned to one of reassurance—how can we let the field know that we will still be here and are actively creating programming to meet the needs of right now and when we reopen? The entire staff was invited to submit video messages reflecting on various prompts surrounding our field, our work, why art is important to them, and why they are committed to our future. Their anecdotes and sentiments drove this "we're still here" message home.
Why we landed here: Developed in response to suggestions to put social action at the center of the message as something unique to Gibney.
Why we abandoned it: Too complicated and required a great deal of context; specific programs were being highlighted at the expense of Gibney's holistic mission; the word 'rebuilding' became one to reconsider.
72 hours before our planned launch, we shared the Art + Action Rebuilding Initiative with our friends at Capacity Interactive. Their advice was to once again reconsider: go back to the drawing board, get to the heart of our mission, and give some thought to what makes us and this effort remarkable.
So, we did. We got on the phone with Founder, Artistic Director & CEO Gina Gibney to discuss. We had to start with a blank page, let go of all the noise, and harken back to the constant that we know should be our beacon: our mission. Our mission hinges on artists and a belief in their power to enrich and transform our world. We not only serve artists, but they also make all of our work possible across every inch of our space, every stage we grace, and every domestic violence shelter or school we visit.

Soon, the ideas and the words started to flow easily. It felt genuine, like a return to what we have always known. The next day, Gina filmed the first video message sharing her thoughts on how artists have shown up for New York and why she has committed her life to being "here for artists."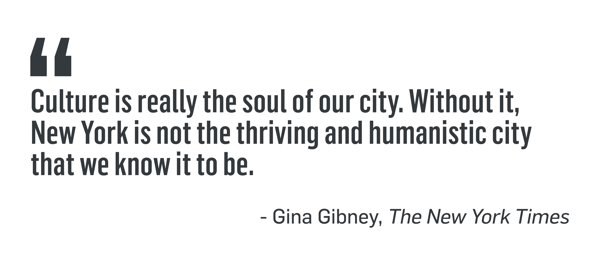 ---
Name: Direct, inspiring, bigger than Gibney, no prior knowledge of Gibney required, lends itself to creative digital messaging.
Position: Join us in supporting New York City artists who have been 'here' for us and our City time and again.
Digital content plan: Center on the future-focused "here for artists" message; pivot the use of existing staff footage for this angle; plan to integrate voices of external communities like artists, board members, renters, dance teachers, audience members, survivors, youth, etc. through their own #HereForArtists video messages incorporated in campaign messaging throughout the weeks ahead; plan to launch a social media open call for friends and followers to add their faces and voices to the conversation using #HereForArtists.
Why we landed here: We remembered our mission, found a simple humanistic theme to draw upon, and built off the big picture sentiment that the arts make New York City what it is.
Why we committed to it: On Monday, May 4, we proudly launched the #HereForArtists campaign. The broad, engaging, New York-centric approach felt relatable from a public vantage point, while holding true to what Gibney has always stood for.

#HereForArtists: Gina Gibney from Gibney on Vimeo.
What we learned may best be summed up by James Langley in the recent CI to Eye: A Fundraising Masterclass: "Stop thinking like an organizational leader and start thinking like the leader of a cause."
If we could go back in time to two months ago and give some advice to ourselves, we would say:
Start from scratch: There is no roadmap right now, we're all creating it as we go.
Go back to basics & keep it simple: Focus on the heart of your mission.
Listen, but: Seek advice and stay in the know, but let go of the noise.
Consider your "Purple Cow": Ask yourself the hard questions and don't settle for an idea or message that feels unremarkable.
Forge ahead: Resist the urge to react to every suggestion or wait for certainty or consensus. Go with your gut and take action!
For us, May 4 marked a bright spot. We entered the conversation authentically. As a result, we can focus on discovering new ways to share, highlight, and reimagine how to best be #HereForArtists, now and in the future.