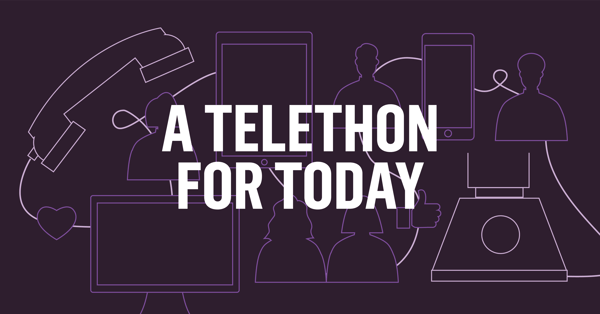 Perhaps you were among the many thousands gathered around a YouTube livestream on March 22 for a one-night-only return of The Rosie O'Donnell Show. It was a live benefit for The Actors Fund and was billed as "Broadway's Biggest Stars...At Home!" You're reading this on our website so you're likely an industry insider and familiar with the wonderful work of The Actors Fund. If not, go here – maybe make a donation – and then come back and read on.
There were so many facets of this benefit concept that appealed to me. First, I'm a huge fan of Rosie and I loved her talk show. I would tape it (yes, tape!) every day and watch it when I got home from work. Second, I love Broadway and its biggest stars. And finally, there was the "at home" component. I'm an introvert so I like being at home and could support and enjoy the livestream from the comfort of my sofa (and pajama pants). On a serious note, this was also the age of COVID–19, so everyone had to be at home – host, guests, and audience members.
This was after all, a benefit to support a community that only days prior to its broadcast, found itself essentially laid off overnight. On March 12, Broadway – along with most New York cultural organizations – was ordered by the governor to extinguish its lights and shutter for 4.5 weeks (at least) in order to observe a concept with which we are now all too familiar – social distancing.
It was that night in particular that spurred actor Erich Bergen into action to support a community he loves. I am a big fan of his character Blake Moran on the CBS television series, Madam Secretary (if you're looking for more binge-worthy TV, this is a good one). It was his idea and labor to bring Rosie back for one night with the hopes of raising money for The Actors Fund.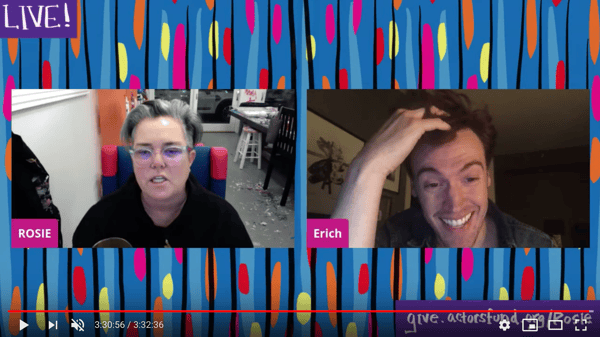 The event was three and a half hours long—I was rapt with 90s Rosie O'Donnell nostalgia and comforted by a shared experience of being in the homes of Broadway's biggest stars. Not to be forgotten – and the entire point of this piece – this was a benefit. I parted ways with my donation within the first hour.
By the time the night was coming to an end with the delightful Lea Salonga and Barry Manilow (it's as though it was programmed just for me), I looked at my husband and exclaimed with glee that we had just observed something truly special.
We had also just witnessed an entirely fresh approach to the good old fashioned telethon. My mind began to race as I started to consider how arts organizations could emulate this unique benefit format. The COVID-19 pandemic has cut our industry off at the knees. If we are to survive, we're going to have to reinvent ourselves and that includes how we ask for financial support.
I recently sat down with Erich Bergen to learn how this all came to be and how we can all get inspired to produce a YouTube benefit of our own.
---
The Rosie O'Donnell Connection
Rosie's daytime talk show was one of the only national television outlets for Broadway in the 90s. She was also instrumental in bringing audiences back to Broadway after 9/11. If there is one person to unite the Broadway community, it is she. Erich is "friendly" with Rosie so he "slid into her DMs" on Twitter to make the ask:
Erich: "The DM said, 'I know you've seen the news about Broadway, what if we bring back The Rosie O'Donnell show for just one night and have a bunch of Broadway people on. Everyone would be in their own homes. You'll host live from your house, and each guest will be in their own homes. We'll go live from guest to guest and do it as a fundraiser for The Actors Fund. Will you do it?' She wrote back and said, 'Yes, if you put it together.'"
If you're shaking your head and muttering, "I don't have access to a Rosie O'Donnell type," – this idea still has efficacy. Who in your own star network possesses affability and can engage your audience with uncommon elan – a principal dancer, the music director, or perhaps a popular curator?
---
The Team
I'm compelled by the scrappy nature in which Erich produced this event —it's why I think we can all take inspiration from it. He partnered with Revelations Entertainment (his producers on Madam Secretary) who also connected him with the social impact team at YouTube.
Erich also reached out to Broadway.com as a corporate partner, which allowed him to work with Paul Wontorek, Broadway.com's Editor in Chief and also access their in-house team. While Erich certainly reached out to his own network for guest talent, he also connected with Craig Burns at Telsey + Company.
Erich: "Craig was someone just like myself— a young theater kid obsessed with The Rosie O'Donnell show. He immediately said yes, or I should say he immediately screamed yes, and booked the talent."
---
The Timeline
Let's all consider the last gala, benefit or fundraiser our organizations assembled and how long it took to pull it all together. For this event, the team did it in eleven days.
Erich: "If I had tried to shop this around to the networks, we'd still be having meetings about it."
Thursday, March 12: Broadway shutters, Erich becomes inspired, Rosie commits
Friday, March 13: Call everyone
Monday, March 16: First full meeting of The Team
Wednesday, March 18: Press release deployed
Sunday, March 22: The Rosie O'Donnell Show Live
---
The Technology
Erich didn't want guests to download and learn any software or confusing apps. He bristled at the thought of Chita Rivera encountering technical issues. The desire was to have it feel as simple as a FaceTime call. Through former The Rosie O'Donnell Show comedy writer and Broadway aficionado Seth Rudetsky, Erich discovered StreamYard, a browser-based, live streaming studio that streams directly to YouTube and Facebook.
StreamYard by some miracle seemed to have the team's dream wishlist of features. The team had to work around some minor limitations and that's to be expected of any digital platform. However, this was being used for a live event, and I was curious what unexpected obstacles the team encountered.
StreamYard has a backstage area that guests could log on to prior to Rosie coming to them in the broadcast. Erich learned the hard way – live – that there was a limit to how many people were actually permitted backstage. Because of social distancing and mandates to stay at home, all of the guests were on time – even early – logging on before their call times. So when it was time for Rosie to go to Sarah Jessica Parker and husband Matthew Broderick, Erich was receiving texts from SJP because they couldn't log in – the maximum number of participants had been reached! Bergen had to politely ask other guests to get out. StreamYard is already developing to overcome some of the limitations shared with them in an event post-mortem.
---
The Cost
$50 bucks. The only hard and fixed cost was the $50 fee to use StreamYard. According to their online pricing, this remains the going rate so it's certainly priced affordably for our field.
---
Payday
At the time of my interview, the total amount raised from the benefit was over $627,000. There were more than 7,380 gifts, the majority of which came from new donors. The average gift was $71 if you account for the incredibly generous $100,000 outlier/gift from Rosie.
One thing that was important to Bergen was that users be able to donate directly within YouTube without being taken away from the broadcast. This functionality is available within YouTube for arts nonprofits to leverage and certainly provides a good user experience.
---
The Buzz
This fundraising innovation garnered attention from The New York Times and prompted calls from the likes of the Oscars and The Late Show with Stephen Colbert.
Erich: "People are overwhelmed by uncertainty and fear and that they're trapped in their homes. Everyone feels alone. The show gave the audience a three and a half hour opportunity to spend time with their heroes and favorite performers who are all going through the same thing. Kelli O'Hara explained that she is unsure how to talk to her kids about this. We got to hang out in Idina Menzel's kitchen and learn that just like the rest of us, she too is using this time to cook."
---
Advice To Arts Organizations
Curious about trying something similar for your organization? Erich recommends "going with your big idea." Explore what might be possible before settling. By producing this event without network involvement, for example, resulted in a connective, grassroots, community-based affair. It may not have been as glitzy, but the money saved from production costs delivered a stellar return on investment (ROI).
We're all craving connection right now. The art you create is valuable to your community. Whether you're a ballet or theater company, symphony orchestra, or museum, your biggest fans and supporters care about the well-being of your organization – even during a pandemic. A live stream telethon is an opportunity to invite your constituency into – most likely – your homes, to create a shared experience using the power of your art and humanity, and to ask for what your organization needs to survive this economic crisis.