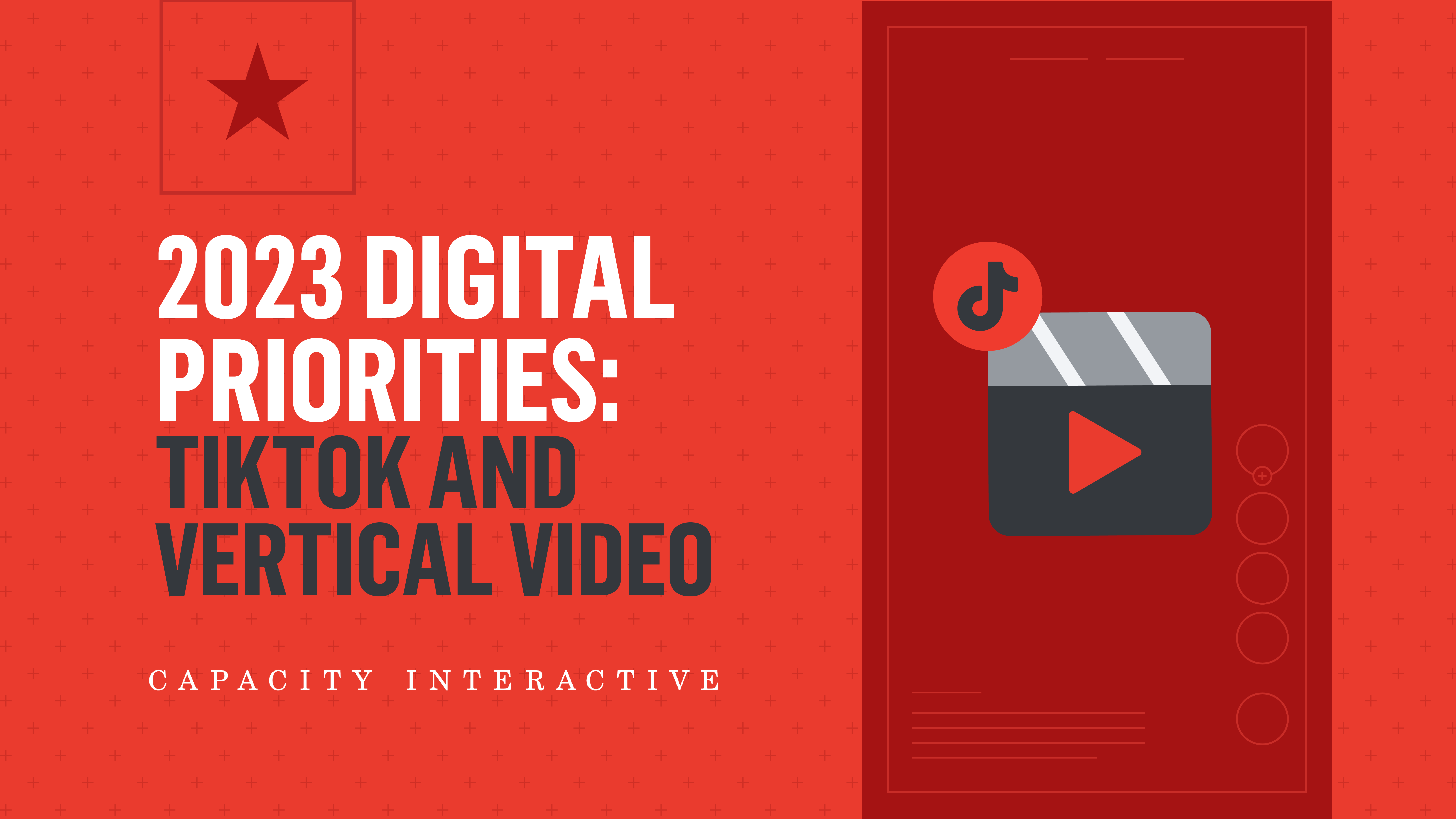 From TikTok to Reels, vertical video has taken over our social media feeds and our free time. With TikTok's explosive growth and Meta's algorithm favoring Reels, the ratio is 9:16, and the time is now.
Vertical video is a top priority in 2023 and beyond—but where do you begin? Fear not. We're outlining the best tips, resources, and advice to get you started on your vertical video journey.
---
Why Vertical Video? Why Now?
It's a great question, and the answer starts with TikTok. TikTok has seen explosive growth over the last few years.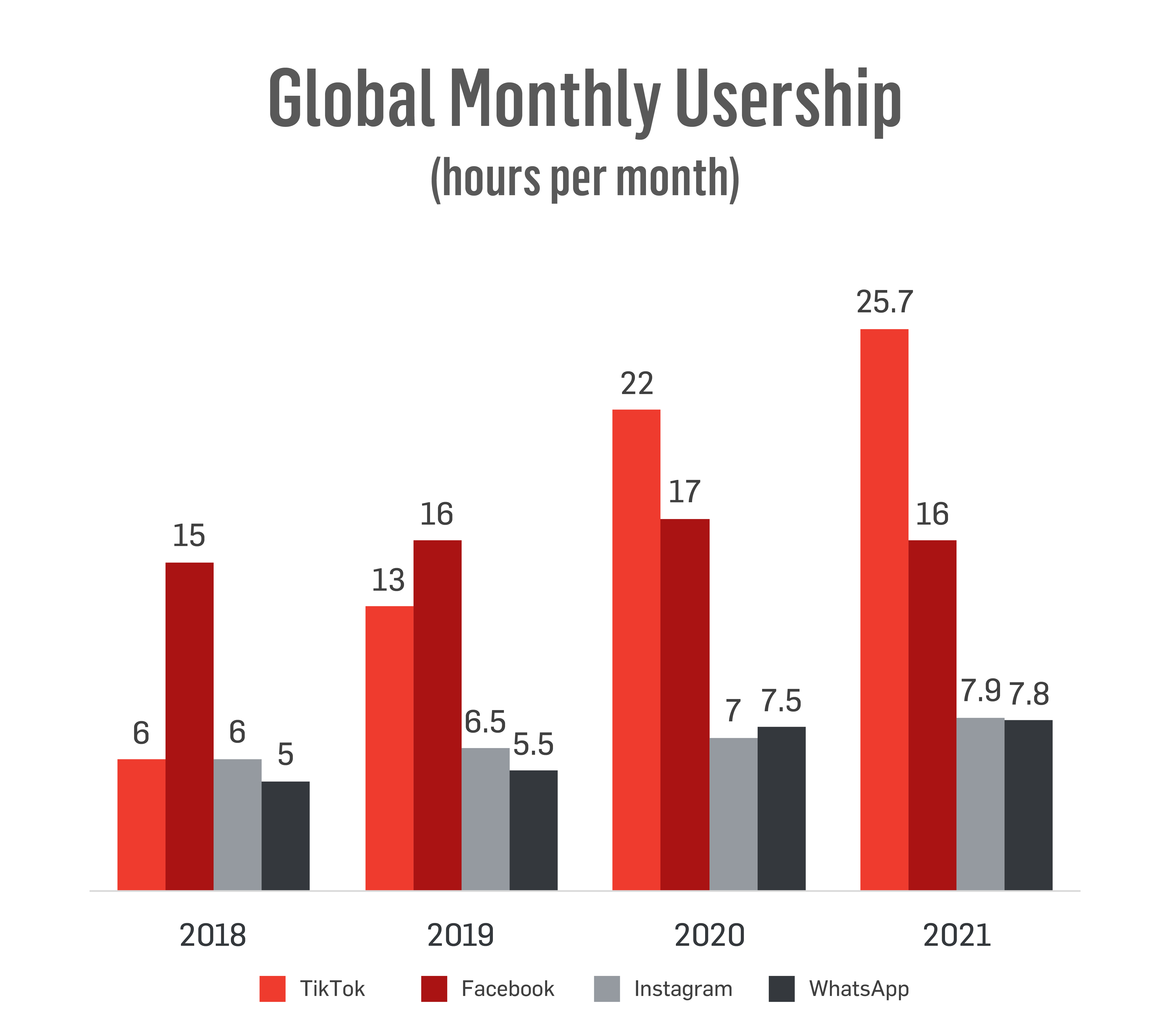 Global monthly usership increased from six hours per month in 2018 to 26 hours per month in 2021. To put this even more into perspective, TikTok users spend about 5% of their waking hours watching TikTok videos.
People love TikTok because the platform has perfected the art of attention-grabbing. Creating short bites of entertainment is the key to capturing hours in a consumer's daily life. And you'll notice that other platforms, like Meta and YouTube, are all prioritizing their versions of vertical, short-form video just to keep up with TikTok.
Now you might ask yourself, "Okay, but are arts ticket buyers on TikTok?" I'm so glad you asked! Over the last few years, we've been advising arts organizations to keep an eye on TikTok but not jump there immediately. In fact, our 2021 Performing Arts Ticket Buyer Media Usage Study indicated that only 11% of ticket buyers were using TikTok.
But now, we're seeing TikTok's influence rising to enough prominence for arts marketers to take the vertical video leap. We are not recommending that you start posting videos on TikTok tomorrow. But we are definitely recommending that you at least download the app, make an account, get accustomed to the landscape, engage with the algorithm, and get inspired.
---
What Makes Great Vertical Video Content?
Tone: Vertical video tone should be different than what you use on your website or emails. It trends much more casual and fast-paced.
Trends: Trends are an essential piece of vertical video. Take a look at your feeds and note sounds, hashtags, and video concepts that keep repeating. Can you iterate on these elements, so they fit your organization?
This last part is significant. I'm not suggesting you jump on every trend (honestly, you shouldn't). Here's a handy flow chart to help you decide if a vertical video trend is right for your organization.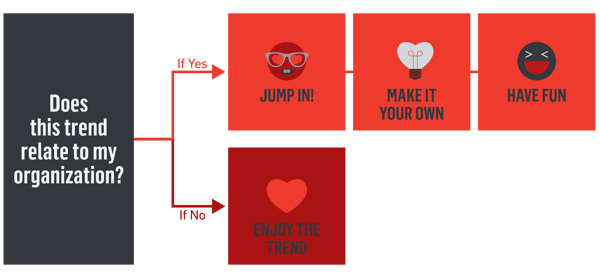 Below is an example in action from The Royal Opera House. The trend was "dance moves for the club to keep the boys away," outlandish moves to keep people… at a distance. So what's great about this example? They used footage they already had, the tone felt goofy and fun, and most of all, they made a trend their own.

Native Text and Sounds: Reels and TikTok are both sound-forward placements, so it's vital to include audio of any kind. And the more relevant it is, the better. In fact, 90% of TikTok users share that sound is vital to their experience on the app, and over 80% of Reels are viewed with the sound on.
Additionally, native features like text and sounds help ensure your content looks native to the platform. It's also crucial because visibly recycled content from other apps is actively suppressed when reposted on other apps. Everyone is competing for TikTok's user base right now, which means rival social media companies are looking for indicators that the content was created for their respective channels.
Legibility: A 9:16 aspect ratio takes up the entirety of your screen, so it's crucial to be mindful of how your content will appear. The meat of your content needs to be in the upper two-thirds of the screen and slightly over to the left to avoid being covered by the engagement widgets and description. Don't forget that Reels and TikTok descriptions are white, so the text will be hard to read if you have busy parts of your video at the bottom of the screen.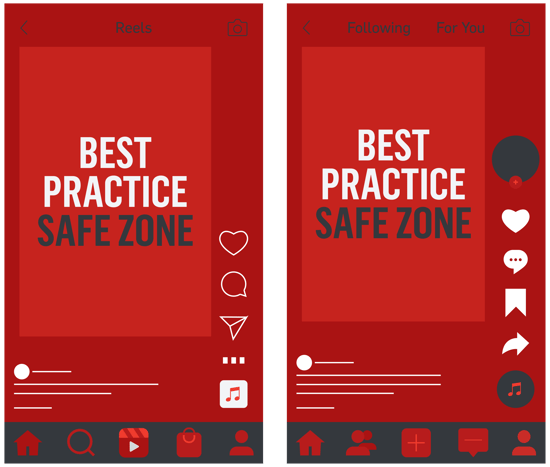 ---
Vertical Video Best Practices
Remove layers of approval. Appropriate tone hinges on empowering your content creators and removing layers upon layers of approval. If too many cooks are in the kitchen, you won't feel free to lean into TikTok lingo or cultural references. And remember, embracing imperfection is the name of the game. You likely won't be shooting professional video footage, and that's okay.
Don't aim to go viral. Period. If you try too hard, it won't feel authentic. Try to participate honestly, and pay attention to what is working and what isn't.
Don't hard promote. Soft promote, instead! Here's a great example from The Kennedy Center's Carmen. It uses a short, trending sound, and the end result is funny without feeling forced. The post isn't directly selling tickets, but the caption explains that the horse is from Carmen and piques viewers' curiosity about the production.
Keep the short in short-form content. If you shoot a long video, it doesn't have to be posted all at once. In fact, users expect things to turn into a series or be seen again later on.
Repurpose content. I suggest repurposing vertical video content as much as possible. It's not worth your time and energy to create two entirely different content streams because they get suppressed on other platforms. There are ways around this via editing. You can edit the video outside the platform, but leave out any text overlay or sound components until you post it.
Engage with viewers. Take advantage of features like comment reply videos, Stitches and Duets on TikTok, and Remixes on Reels. These provide built-in content ideas and a much more interactive way of engaging with your audience and other creators.
Stitch:

Duet:

Friendly Reminder About Reels
Meta has officially converted all video content on Instagram into Reels, which means all newly posted videos are Reels by default. You're immediately placed in the Reels feed when you click on a video. As a result, everything before and after your video is likely to be vertical. The takeaway here? Prioritize vertical aspect ratios whenever you're creating video content for social.
---
The Takeaways
1) TikTok and vertical video aren't fads. They're not going away anytime soon, and other social media giants are investing heavily in short-form vertical video.
2) Download TikTok and explore! I AM BEGGING YOU. Don't just download it; engage and spend time on it.
3) Collect inspiration. Pay attention to what you enjoy as a user, and don't worry about what trends will make you go viral.
4) Experiment with tone and voice. Find the best fit for your organization and the platform. Remember: it will be different than what you're used to, and that's okay!
5) Let go of perfection! You'll learn as you go. Remember to have fun and be authentic as you create vertical video.