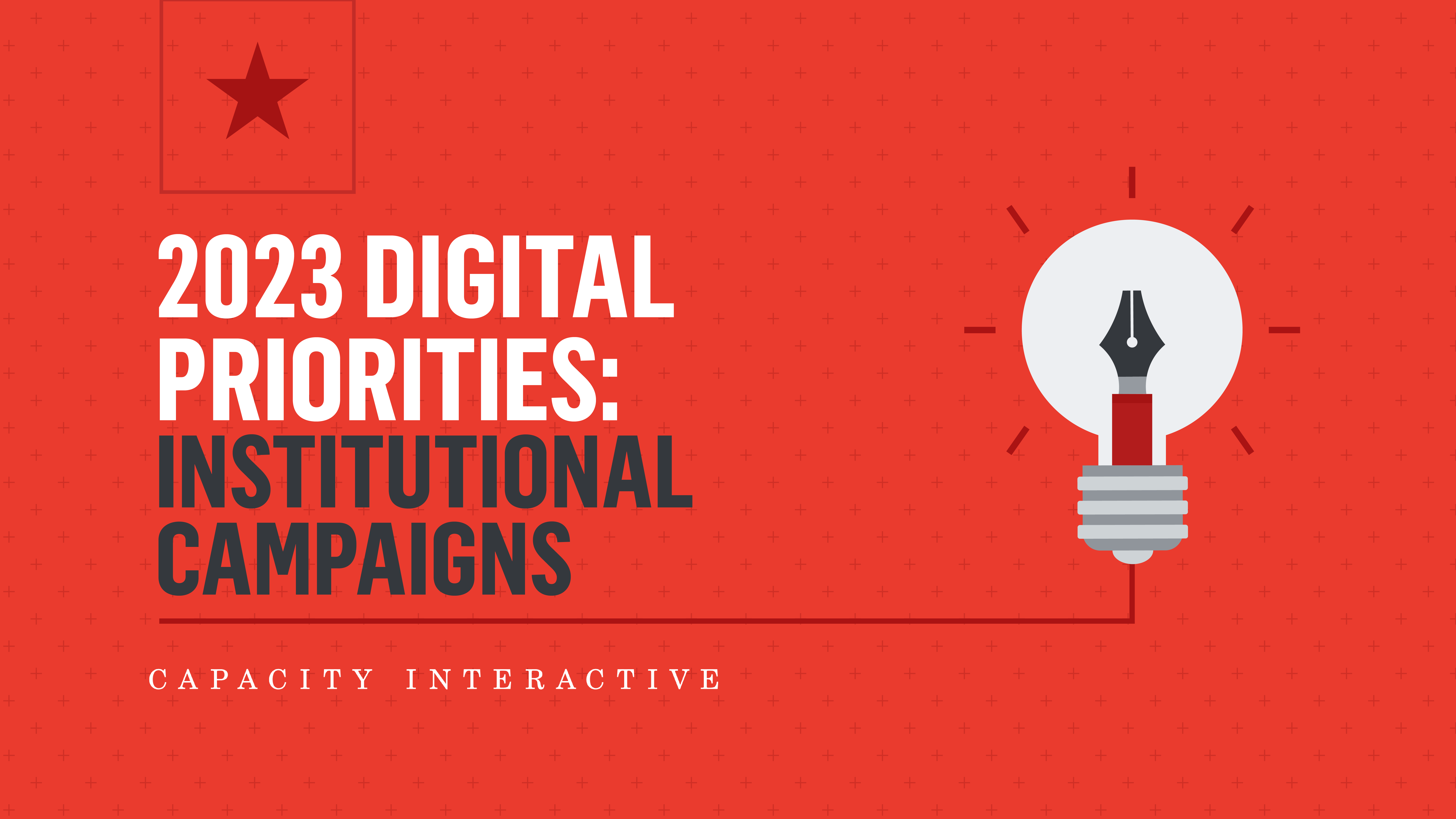 When crafting a digital advertising campaign, most content seeks to answer the question, "Why should I see this show/concert/exhibition?" This has valuable short-term sales results and is a significant part of the puzzle as arts marketers work to bring in audiences and meet their show-specific sales goals.
But while shows eventually must close, your organization's purpose remains evergreen. Investing in long-term campaigns—also known as institutional campaigns—is a strategic investment in future audiences and a great way to diversify your marketing strategy.
2023 brings increased competition for leisure activities, which means you'll need every tool at your disposal to cut through the noise. In 2023 and beyond, institutional campaigns will be your new best friend. I've outlined some tips to help you get started.
---
What's an

institutional

Campaign?
Institutional campaigns are not built to simply drive immediate ticket sales (though they often inadvertently do). Instead, they are designed to answer the question, "Why should I visit your organization, regardless of programming."
Campaigns that successfully answer this question in a memorable and meaningful way can connect, inspire, introduce, and intrigue folks who might later see an ad from a show-specific campaign. By that time, they will have gotten a deeper sense of who you are, what you offer, and why they should visit, moving them further down the marketing funnel and preparing them to make a purchase when you next share an experience that's right for them.
---
A Data-Driven Approach
AdWeek shared a study by Meta and Nielsen that found digital advertising often has a long-term sales impact for brands that isn't visible in weekly reports. This is especially true given the limited 7-day click, 1-day view attribution window we've worked on within Meta since iOS14. When you set aside funds to invest in brand-level storytelling, you're harnessing the power of long-term ROI and helping sell tickets to shows you haven't even planned yet. (*High-five from future-you!*) Additionally, competition with the couch has increased dramatically. It's more important than ever to stay top-of-mind when folks want to leave the house.
---
Don't Start from Scratch
If you're embarking on your first institutional campaign, fear not! Take stock of what you already know.
Use what you already have. You likely have a brochure or a landing page about what your organization does and represents. Use this pre-existing copy as inspiration to articulate why folks should visit your organization.
Explore your organization's experiences. It's important to ask yourself, what are the variety of ways someone might attend? Imagine how it would feel to visit as a family, on a solo exploration day, or with a date. Then demonstrate the feeling of that experience, your organization's ideals, and the benefits of being a part of your community at any level.
Remember to tell one story at a time. You have plenty of posting opportunities, so don't cram more than one idea into each post. Instead, give folks a moment to take in each idea before sharing what's next.

---
Get Content Inspiration
The posts can include your space, artists, shows, or reviews, but should do so in a way that paints an evergreen picture of what folks can expect when they walk through your doors. Test out something simple, then optimize based on what resonates most with your audiences.
Here's a good rule of thumb: tell the story about your organization that you wish the media was sharing on your behalf. As arts organizations continue to evolve into their own media agencies, this is a great way to share the story of your organization you want the world to see.
Below are a few examples developed by Capacity Interactive's content creation team to help clients strategize, design, and implement these initiatives for paid advertising around their own goals.
CI's content team worked with Crystal Bridges Museum of American Art to run a summer tourism campaign to both local and regional audiences. In this post, the team leaned into answering the age-old question, "What should you do this weekend?" The answer? Crystal Bridges. From renowned American art to 120 acres of Ozark nature, there's something for everyone.

Audience: Local
Audience: Regional
CI's content team also works with Dallas Symphony Orchestra on a long-running institutional campaign. In this post, the team took existing b-roll footage of The Meyerson to tell a new story that highlights some of the hall's best features to evoke that irreplaceable live music feeling.

And here are a few more examples of incredible content made by our clients. These videos do a great job of explaining why folks should visit the organizations regardless of what's playing.
Chicago Symphony Orchestra crafted the animated video below to introduce brand-new folks to the organization and prepare them for a future trip to the venue. The message is clear and concise, and the creative style captures the CSO's distinct brand voice.

Guthrie Theater centered the patron experience in their video about accessibility. Amplifying the voices of your attendees is a wonderful way to establish authenticity in a brand video.
Cincinnati Symphony Orchestra highlighted the power of emotional connection through art, and demonstrated how a trip to their venue can be a highly personal and memorable experience.
---
See It In Action
We helped Cincinnati Playhouse in the Park run an institutional campaign throughout their 2021–2022 season. They shared content that highlighted their mission, demonstrated what it's like to visit their theater, celebrated institutional milestones, and more. We optimized the campaign to drive key page views (KPVs) while focusing on spend efficiency and keeping acquisition costs as low as possible.
The Results
The campaign generated a healthy average cost per KPV of $1.23, and KPV rates reached up to 4.61% depending on audience segment.
---
Ready to start your own institutional campaign?
Awesome! Get in touch with us to learn more about our digital advertising and content creation offerings to help you craft a compelling institutional campaign.